A silly Nerf mod Mass Effect build
I've been working away on this Mass Effect group Nerf mod for some time and it's finally finished. Five – count em! – five blaster mods all with the one theme, "Mass Effect". If you follow me you will know two things, one: I LOVE the "Mass Effect" games and two: I've done "Mass Effect" mods before, though they've generally been a repaint and the iconic N7 logo. That was something I really wanted to avoid here, I wanted this mod set to scream "Mass Effect", but without the usual markers denoting it as such.
I've done 'character' mods or mods that denote other things before and they're a hoot, trying to bring a character to life through what is essentially a plastic gun (a Transformer, motorbike, train, scrap-bot, Panzer tank, Big Daddy, TARDIS, deep space cargo vessel, an Alien from the Alien franchise, and of course R2D2). This one was a group mod, so that meant multiple characters from the one franchise. The characters I chose were Wrex, Liara, Shepard, Garrus and Mordin. I was going to do Ashley too, because I figured a Nerf gun with boobs, well that's not something you see everyday, but I had too many on the go so I dropped it.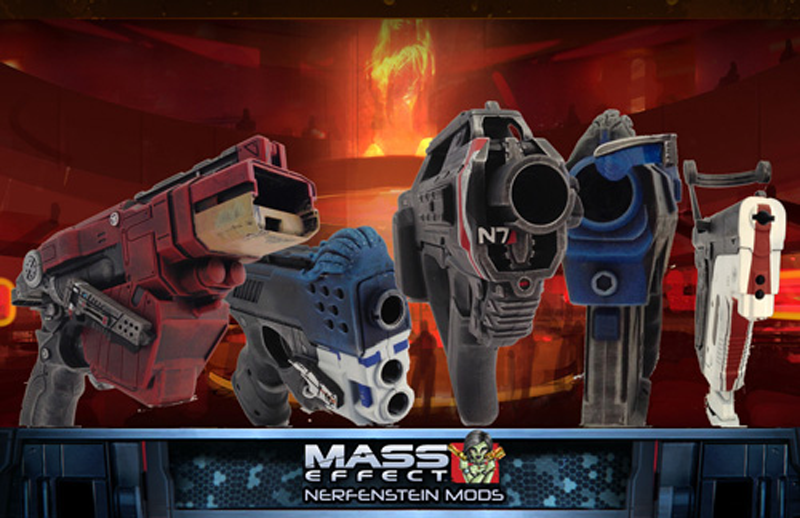 There's the team, my photoshopping skills aren't fantastic, but I thought it was a bit of fun to do it that way. Below you can see the different mods sans Mass Effect background.

This build was a lot of fun in my mind, but I think I will stick to regular one off mods from now on, as this took weeks of time to get them all finished for release at once and I'm not thrilled with the overall outcome.
Hope you're having a good weekend!
Till next time you bunch of crazy kids!
Do Good Things!
———==oOo==———
Post written for GirlyGamer.com.au home blog of Nerfenstein… the geek you can catch up with on her Facebook page, or if you Tweet… there's always Twitter!
———==oOo==———