Steam Deck, the handheld gaming device I never knew I needed
Last Friday I got a Steam Deck delivered. I'd decided – after much deliberation – to cancel the pre-order of the PSVR2 headset and place that money on this purchase. I came to the conclusion this was more user friendly, in the sense I can take it places and I'm not socially cut off when in use at home (my one hate of playing VR titles).
I've had the Steam Deck for around 5 days now and thought I'd do a bit of a layman's terms Steam Deck review / first impressions for those that are interested (I know a lot of you regulars who follow me are avid video gamers as well as board gamers).

Steam Deck layman's terms 'review':
The Steam Deck is essentially a hand held PC gaming platform that utilises Steam to bring full PC gaming experiences to the handheld gaming market. If you have a Nintendo Switch, think of the Steam Deck as an upgrade to that, with better power / processing.
Steam Deck Ease of Use:
The one thing I worried about when buying the Steam Deck was how hard it would be to use for someone with not a lot of PC gaming experience (other than PCVR). I'd sold my VR PC at the end of the year and worried that was a mistake. Simply put you don't need a gaming PC or even a Windows machine to enjoy the Steam Deck. It is an ecosystem unto itself. Sure it's easier to drag files to it from a PC than it is on my Mac, but it's still as easy as plugging in an external drive.

Steam Account Use:
I hadn't overly ever used my Steam account, despite having one for a fair while. I'd bought all the Tomb Raider games in a sale a couple of years ago – because they were stupid prices – and that was it. I have one friend on Steam at time of writing and he's a board game pal from Twitter. I'm not even sure how we became friends on there, but he's given me some great game tips, so I'm glad he is.
My Steam account usage has been busy the last few days, researching games, making collections etc. and it's a great interface, no problems at all. It all runs seamlessly on the Steam Deck and Mac Desktop.
Steam Deck Emulation:
The Steam Deck is an emulation BEAST! I own a lot of older games, from the Amiga, through Sega, SNES, Gamecube, all the way up to the PS5. I've installed games I own onto the Steam Deck and it's been great to be able to play them, without all the hassle of going through storage boxes to find the originals. Steam Deck has built in emulation that means you don't need to be a dev to get it all up and running, it's pretty much install EmuDeck and drag your games across. The UI is fantastic when running Emulation Station, meaning all games are neatly collated and simple to find on Steam Deck. It's like an all in one device. If I could work out how to get my Switch games on there I would and that would save me getting that out as well!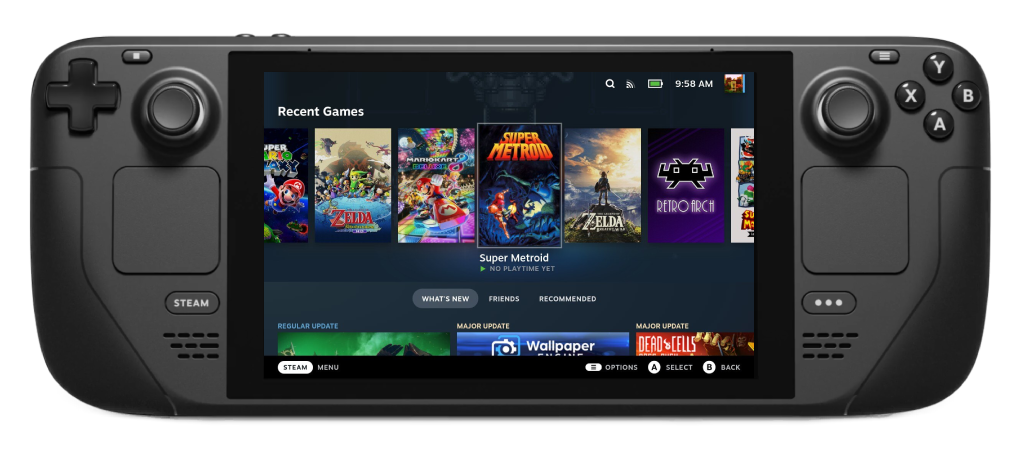 That's my initial thoughts on the Steam Deck 5 days in. I'll no doubt be covering this and some Steam Deck games (including some Steam Deck board gaming) going forward. I love this thing that much!
If you have any questions about the Steam Deck in Australia and I can answer them for you I will. Just drop me a comment.
Till next time, have a great day whatever you're doing.