Maliwan themed blaster from Borderlands
Ladies and Gents! Back with a quick little update for you, the Borderlands inspired Maliwan pistol prop. You may recall I have not long completed an actual Borderlands Nerf mod, 'actual' as in I took an image of a Borderlands screenshot I liked into the workshop and tried to copy it as much as the base blaster would allow, the result was the Nerf Maverick Torgue blaster pistol. This little build is based on the other big weapons producer in the Borderlands video game universe, that of Maliwan.
Maliwan weapons work off elemental forces, so this puppy features expendable chrome elemental rounds in a drum chamber… yes absolute story drivel, but I had to explain the ammunition drum somehow! The 'drum' area you Nerf enthusiasts will have spotted I'm sure, as part of a Maverick barrel (waste not want not!). Within each chamber I've used the applicators from ladies toiletries, yes remember I shared that little tip with you on my facebook page some time ago? Here they are cut down so the tip sticks out slightly, the capping end is glued to the back and inside is a chromed 'bullet' (hard foam bullets from a cheap blaster cut down) to fill all the hollows bar one, because it's been fired obviously ;p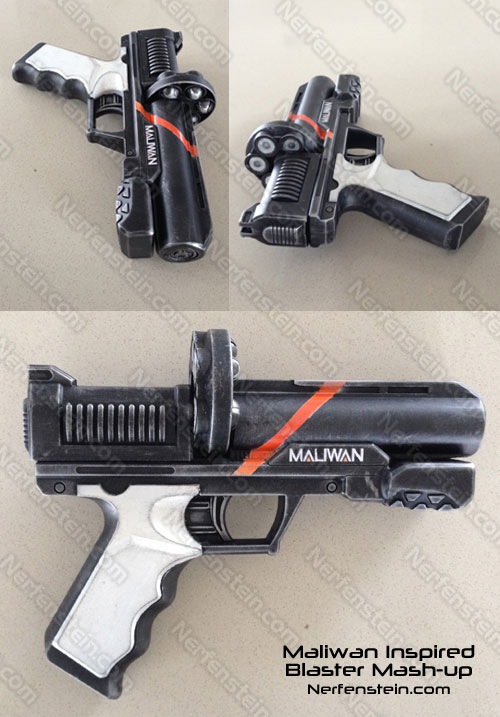 I cut down the main gun, removing the front section completely and leaving the air-restrictor section bare, a great little bit of texture and detail for the barrel exit and in keeping with an elemental blaster pistol. Nerf aficionados will no doubt have also spotted part of what I think was a stock, this was used for more texture, to cover a hole and to chunky it up a bit.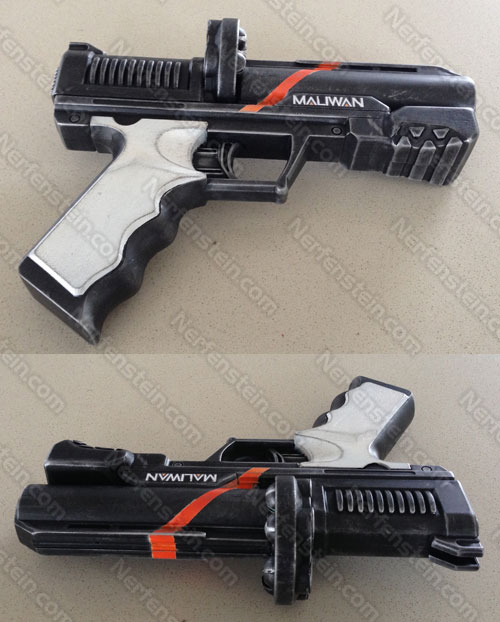 So there you have it, a quick one today, with Nathan in mind from my Facebook page as he suggested a Maliwan mod in the comments.
Till next time you bunch of crazy kids!
… what do we say?! ….
DO GOOD THINGS!
———==oOo==———
Originally written for GirlyGamer.com.au home blog of Nerfenstein / GirlyGamer / BoardGameGran. Catch up with me on my Facebook page, or if you Tweet… there's always Twitter and guess what, I actually reply!