Making a light up Loki Sceptre prop for cosplay
I usually get commissioned to modify blasters, but lately I've had a few swords, scratch built throwing knives, medallions and this, the Loki Sceptre from "The Avengers" movie franchise. I was going to mold this bad boy, but time has become of the essence so it's the master for the commissioning party.

Finished!
Oddly I didn't have a huge amount of Loki Sceptre art at my disposal, so I saved what images I could find, printed them off and set to work.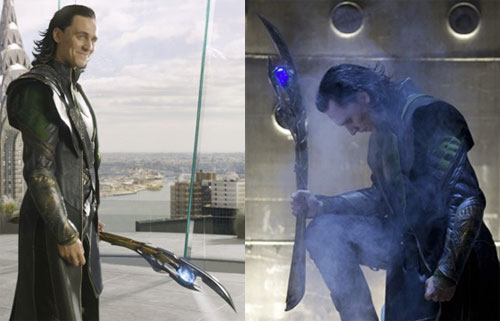 This is Loki, for those who don't know, that's his evil sceptre, not a euphemism
I have to thank my routing mentor Steve once more for his help on this one. I REALLY need to get myself a band saw also, again Steve helped me with that too.. so what I'm saying is the Loki Sceptre / Scepter is made of wood, nice and weighty. A villain needs to feel intimidating after all. Although it wasn't called for by the commissioning party I added a blue LED and it emits an awesome blue glow when it's switched on. Switched off I made the light area blue, so that even off you can see it's the Loki Sceptre. Here are some iPhone images of the Loki Sceptre in a dark room.. yeah.. the iPhone camera sucks!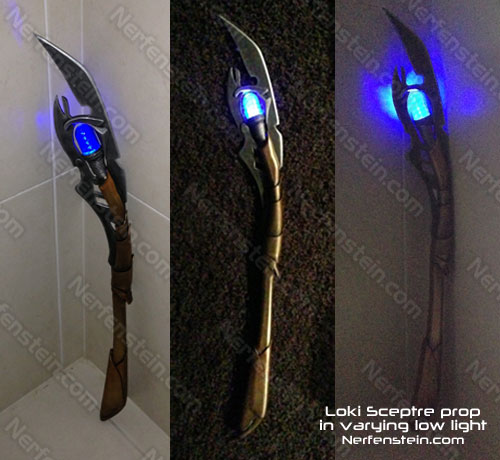 And on in more regular lighting….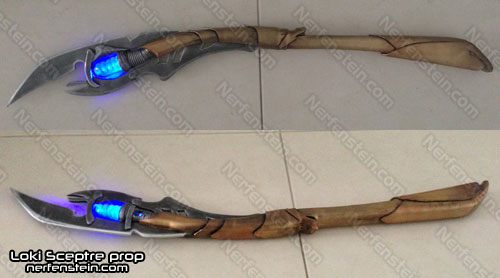 This will be used as part of an epic Loki costume, hopefully I will be able to add an image of that once it's with the person who commissioned it.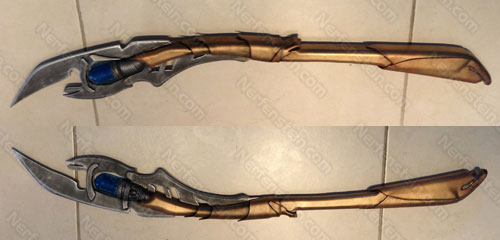 I hope you've liked this latest build, it was something a little different!
Now.. by the power of Odin… I'm outta here!
Till next time people… what do we say?! ….
DO GOOD THINGS!
———==oOo==———
Originally written for GirlyGamer.com.au home blog of Nerfenstein / GirlyGamer / BoardGameGran. Catch up with me on my Facebook page, or if you Tweet… there's always Twitter and guess what, I actually reply!