Copying Borderlands in art Torgue blaster art
As a gamer it goes without saying I play the Borderlands games. I have had "Borderlands mod" written on my to-do list for some time and I've finally gotten around to it with this, the Nerf Maverick Borderlands Torgue pistol mod. You may remember I did the first flat Mav mod last year with the flattened Steampunk Maverick, I used the same idea for this Borderlands prop pistol. Essentially I found a screenshot of a Borderlands gun I liked (inset below – beneath top image) and working from that set to work. Given I didn't know what the other side would look like, I just went with logic and left part of the Nerf Maverick domed area as I thought that added some nice detail and a nod to the fact this is at heart a Nerf modification art piece.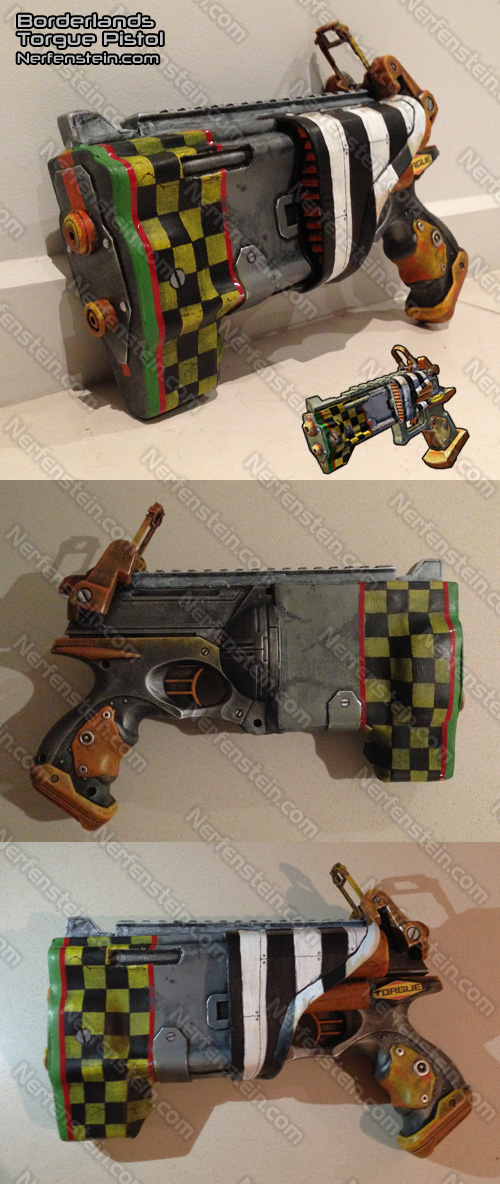 I went for a paint scheme that would reflect the cel shaded nature of the Borderlands universe, including wear, 'cracks', fades and the little markings from the one piece of game art I had as a reference. The annoying thing is the photos aren't really picking up the bright colors, which lay somewhere between the darker ones and the flash on ones, nice and vibrant, without being silly.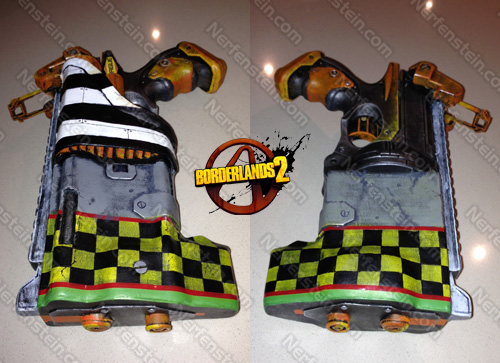 If you want to give this Borderlands Torgue gun mod a crack, start by building out the base with all those lovely hills and valley's of that original artwork. You have to hand it to the design team at Gearbox Software, their design on this series is spectacular and unlike most other gaming titles featuring ballistic and melee weapons, they feature full vibrant color over the stark blued metal look of many other titles. Sweet!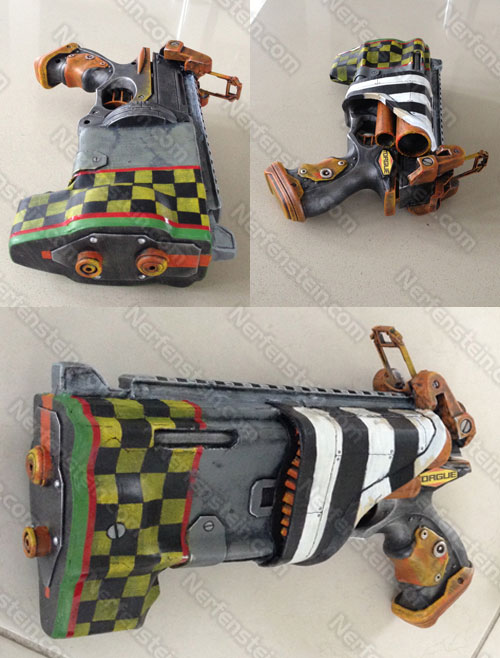 I hope you've liked this build… if you've seen the featured banner image you'll see there's a Borderlands notebook in it, this was part of a press kit with the first game. If you share or comment on this mod on Facebook / or here at my blog there's a chance you might end up with it, as I'll be sending it out to someone at random. I couldn't really think of an easier way to run this 'not really a competition competition', so that will make it easier and I'll post the winner on my FB in a week or so.
Happy gaming folks!
Till next time people… what do we say?! ….
DO GOOD THINGS!
———==oOo==———
Originally written for GirlyGamer.com.au home blog of Nerfenstein / GirlyGamer / BoardGameGran. Catch up with me on my Facebook page, or if you Tweet… there's always Twitter and guess what, I actually reply!