Nerf Maverick steampunk mod
The FlatMav – Steampunk Nerf Maverick with a twist – is a flattened Nerf Maverick that came about because I wanted to do a steampunk Maverick (the Nerf Maverick is the iconic steampunk sidearm) with a difference, the result is the FlatMav, the worlds first flattened leather look Maverick lol
I like the Nerf Maverick, but it does look cooler flattened. I also weighted this bad boy so it feels nice and meaty when you pick it up. It's more for display than cosplay, but it would do either. Cosplayers do tend to love just spraying the Maverick bronze or brass and then using it as part of their costume, I hope this brings a new twist.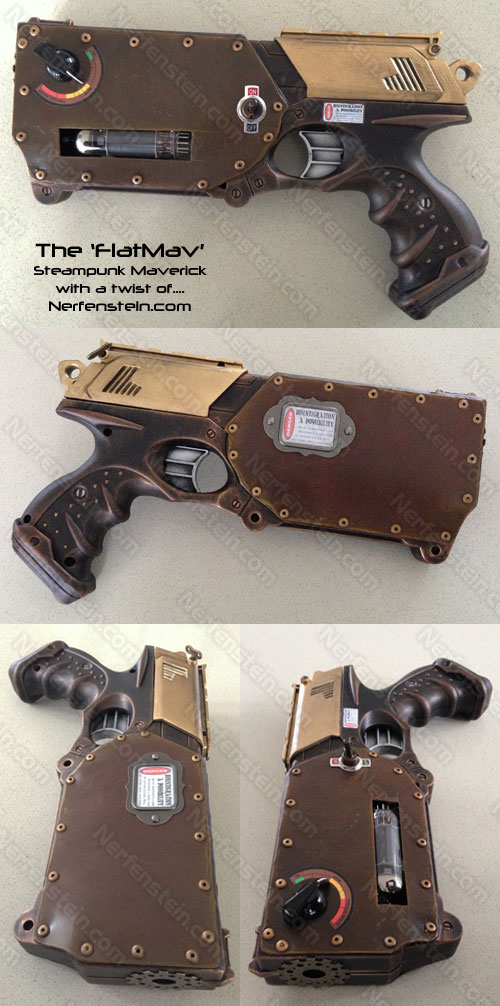 The warning states: "Disintegration a Possibility. We at Nerfenstein Labs recommend a good pair of leather gloves, real, not those awful faux ones". The gauge has three settings: "OK, OUCH and CERTAIN DEATH".
I know people are going to copy this idea, it's happening to me more and more and more, it's really frustrating because it seems giving credit to the original idea isn't done by everyone, which is uber-lame. If you use it, at least give me a link okay. Better still, why not just commission me to make one… starving artist and all that ;p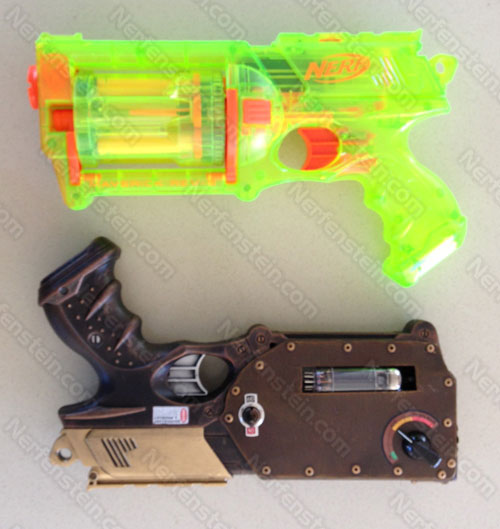 The above is just a comparison to a pre-modded Nerf Maverick. Sadly the only other one I had was the transparent green Maverick as opposed to the usual yellow, still gives you an idea I suppose.
This steampunk badassery was made by Nerfenstein. Check out the Facebook Page for first looks and sneak peeks as well as hints and tips and general geek chat. This post written for GirlyGamer.com.au the official blog of artist Nerfenstein. The FlatMav is an original concept by Nerfenstein, crazy prop maker wannabe and cosplay weapons loon on the Gold Coast in Australia.
Till next time people… what do we say?! ….
DO GOOD THINGS!
———==oOo==———
Originally written for GirlyGamer.com.au home blog of Nerfenstein / GirlyGamer / BoardGameGran. Catch up with me on my Facebook page, or if you Tweet… there's always Twitter and guess what, I actually reply!