Two of my favorite blasters are headed to Cassandra's Closet for their Steampunk Exhibition, part of the Lamplight Spectacular, a Steampunk Street Party. I had the great pleasure of meeting Cassie and her family at SupaNova earlier in the year, so I was so thrilled to work with her on arranging this (please check the addendum below). Of all the many blasters I've done, these two have a very special place in my heart, mainly because steampunk is something I'm really enjoying exploring and I find the whole culture of it truly fascinating and really quite beautiful.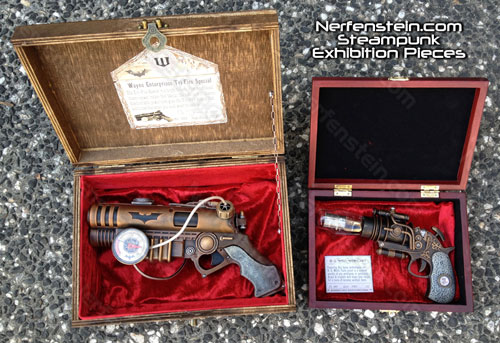 I decided to box up these blasters specifically in steampunk style, so that had to be kind of old style antiquity meets a little bit of lush! The boxes pushed up how much these blasters cost, but I didn't want just any old tat, I actually searched 3 weeks for the Batman box, as did other members of my family. The one I found – accidentally – was fairly expensive, but was so perfect for the gun I had to have it. The red velvet added the 'lush' factor and really makes the Wayne Industries Tri-Barrel Blaster POP!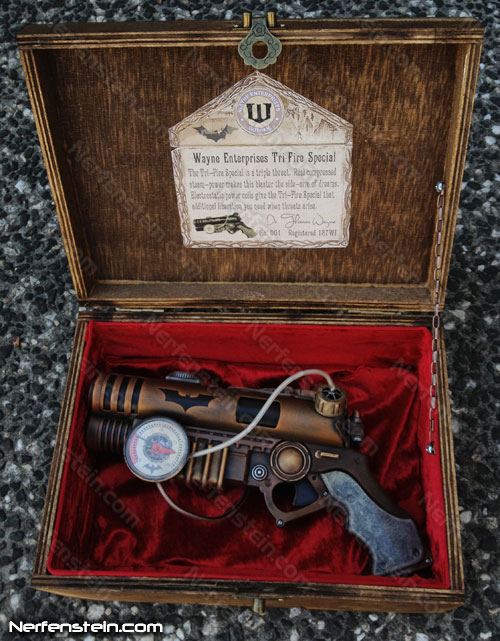 It's all in the detail….
Needless to say I also hit up photoshop for a few hours to get the labelling just right for both blasters. The box features a matching smaller label on the lid externally, stating what is inside. The Steampunk Batman Wayne Industries Blaster features a full rundown inside, signed by Dr. Thomas Wayne… father of a certain Bat loving caped crusader. The Tesla features a tea-stained info card insert.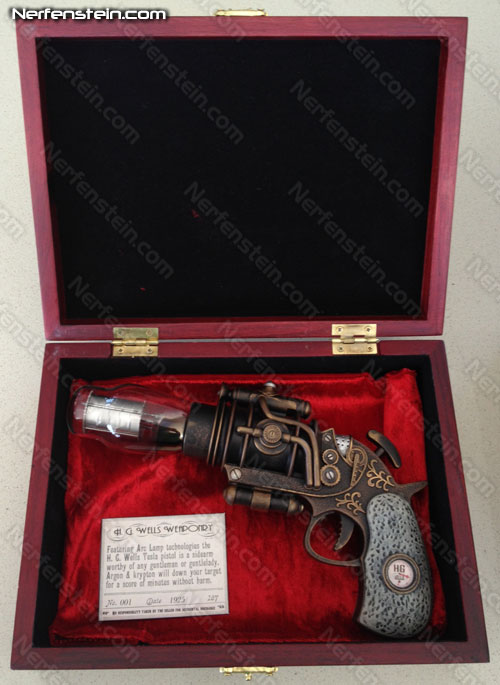 I'd like to thank Cassandra's Closet and the folks at Lamplight Spectacular for inviting me to be a part of their awesome event. Sadly I'll be in the US while it's on, so I hope it all goes well for them.
ADDENDUM:
Re Cassandra's closet… Cassandra and her husband Shaun never paid me for a couple of thousand dollars worth of props they had on consignment. I am devastated by this. They've disappeared (links don't point to them any more, their stores are gone). If anyone knows them, let me know, or let them know I need that money as much as the next guy. Thanks. 
————-========————-
Till next time people… what do we say?! ….
DO GOOD THINGS!
———==oOo==———
Originally written for GirlyGamer.com.au home blog of Nerfenstein / GirlyGamer / BoardGameGran. Catch up with me on my Facebook page, or if you Tweet… there's always Twitter and guess what, I actually reply!