Fallout cosplay rifle prop
My latest 'foamidable' prop build is here, the AER9 Laser Rifle from video game "Fallout". Foamidables are of course my props made from compressed foam, thus the name… formidable foam props aka Nerfenstein's 'foamidables'! Thought I'd better explain in case you missed my previous foam builds, the Warhammer 40K Bolt gun or the Halloween props.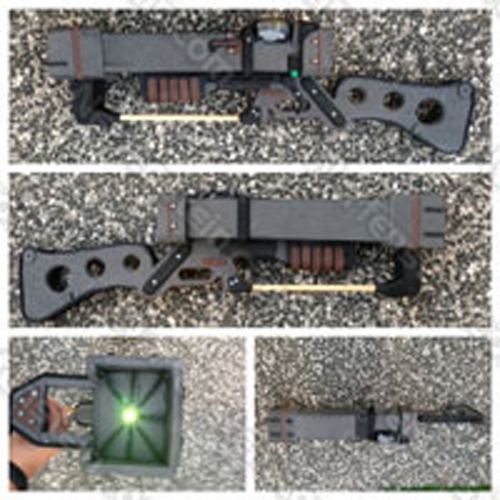 Right… so if you're a regular here or over at my Nerfenstein Facebook page, you'll probably already know that Interplay / Bethesda video game "Fallout" is one of my favorite gaming franchises. I've done a few Fallout inspired blasters, including a mini AER9 Laser Rifle from MDF, but I wanted to do a cosplay prop from foam, this is the result of that idea. It's light so you could carry it around a convention all day, which you couldn't really do with a full size MDF AER9 build (though I'm working on that still for display).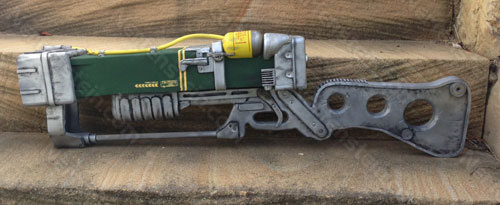 I used Ethylene vinyl acetate – EVA foam – for most of this build and it worked really well, spent a lot of time on all the little details and thanks to – my idol – Harrison Krix, had some great images and decals to use as reference points. I also took a few lessons from this build that I will be implementing in the next incarnation, so expect an AER9 Laser Rifle V2.0 at some point in the not too distant future.

For kicks I added a multi LED green tube down the center on the inside, so when you turn it on (button in the rear panel) it glows green out of the hole in the front, kind of pointless, but in a dark room it looks kick ass. The V2.0 version will have a more obvious sunken section at the front, so the light can leak around the edge of the entire inside block, thus making it a more obvious addition.
The AER9 Laser Rifle is a brilliant looking weapon, because – like many of the "Mass Effect" blasters – it's so iconic, you know it as soon as you see it. I tried to be VERY detailed with this build, adding in all the venting, buttons, switched, screws etc. Needless to say it needed to be weathered so it resembled the in game weapon.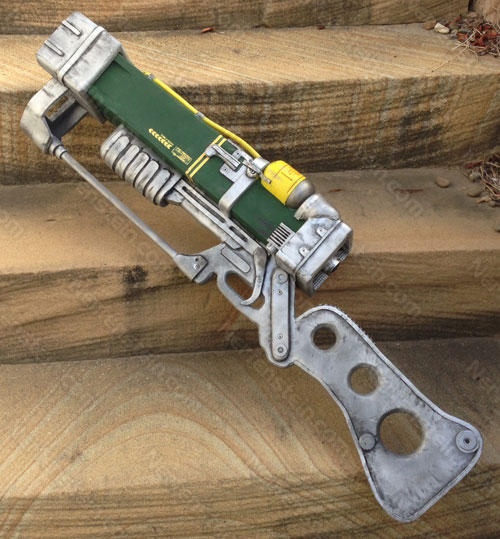 Hope you've liked this latest prop build, if you want one you can commission it, but be aware it took 20+ hours and materials weighed in at over $100.
Till next time people… what do we say?! ….
DO GOOD THINGS!
———==oOo==———
Originally written for GirlyGamer.com.au home blog of Nerfenstein / GirlyGamer / BoardGameGran. Catch up with me on my Facebook page, or if you Tweet… there's always Twitter and guess what, I actually reply!