Warhammer 40K Bolter pistol 'foamidable' prop build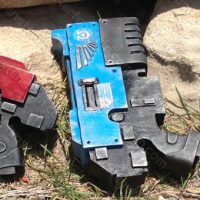 Featured Prop: The Warhammer 40K Bolter pistol 'Foamidable'. You'll be seeing a few Foamidable builds here, it's a sector that greatly interests me and I think great things can be done with this material in whatever form it comes in (be it EVA, compressed, polystyrene or whatever). 'Foamidables' is what I'm calling all my foam builds because I think it's cute! I'm working on a few foam prop builds at the moment as it's almost Halloween and foam is great for making Halloween props. To begin with though let's look at the Foamidable Warhammer 40K Bolter pistol prop build.
Over on my Facebook Page I mentioned that I had a disaster with this build, so I'll cover that a bit too. The red Warhamer 40K Bolter pistol is the second one I made, the blue one is the disaster. I wouldn't sell the blue one as it's not up to standard, but I took a photo of it anyway, just to show you how just changing the paneling colors lends itself to the different chapters of the Warhammer 40K universe.
After getting help from the AWESOME folks who follow me
on Facebook
(thanks guys!), I settled on the two chapters I was going to theme these after, that being the Ultramarines (Blue) and the Ordo Xenos Deathwatch. I'd like to thank everyone who suggested them and others, but particularly Tom M and Ordo_Malleus on Instagram aka Dag R on Facebook (check out
this guys Facebook page
, BEAUTIFUL steampunk stuff), as I went with their suggestions.
Next up I'm working on an mdf build of the Warhammer 40K Bolter, that baby will be heavy! More on that when the time comes. As always you can commission me to build you a Bolter (with your chapter choice), keep in mind it's fairly time consuming.
Post written for Nerfenstein's official blog, sitting neatly at GirlyGamer.com.au and various other awesome domains on the interwebs.