Halloween prop making tutorial – Partial coffin and spooky candles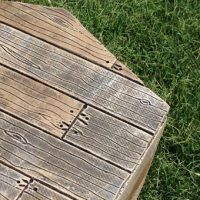 Featured Props Tutorial: So, it's almost Halloween and as a prop maker wannabe this is a fantastic time! We're throwing a party and so it's time to get my Halloween horror prop making hat on. Halloween isn't HUGE in Australia like it is in the U.S., but every year the neighborhood kids come to our house because we always take part and give out plenty of candy. This year we're ramping things up to the next level… U.S. style.
I thought I'd share a few simple tips and tricks should you want to make some simple / cheap Halloween props yourself. We'll be looking at 3 props .. all very easy and cheap to make.
The creepy bleeding candles Halloween props

These are dead easy (muhahaha), you need a hot glue gun, hot glue sticks (obviously), cardboard tubes (toilet roll centers, kitchen roll centers etc), cheap battery operated flickering tea-light candles and paints. The tea-lights should be the small ones, you should be able to get these for about $2- for 2. These will sit inside the finished product, so make sure you check the tube diameter to ensure that's the case.
As you can see in the picture what you essentially do is take the hot glue gun and run it around the rim of the cardboard tube and overdo it so in certain areas it begins to drip down the sides. You can go crazy with this, or just a few here and there. When done, spray paint them, then dry brush them a lighter shade of whatever you painted the base… creepy Halloween melted candles DONE! You can also use a little red paint to the drips if you want a blood effect as in the image.
The partial coffin Halloween prop
You will need some foam (styrofoam is what I've used, though you can use pretty much any foam), a hot knife (I haven't tried it, but an old soldering iron might work… CAREFUL!), acrylic paints (black, white, shades of brown). This is a partial coffin (it's going to be coming up out of the ground on a slight angle when it's all set up, but you can make a full one if that's what you need, same rules apply.
Cut out the pieces you need (coffin top / bottom – same size), Top sides (same size), Bottom long sides – same size) and back and lid! Tape it all together, other than the lid, I chose tape as glue can be funny with styrofoam (it eats it, or it takes forever to dry). Tape it all together (on the inside other than the main edges!). Now for the woodwork… get the hotknife and rule off lines like planks, even all the way across the coffin as pictured. Then use the hotknife to score in the grain, just be messy with this, slightly curved here and there, straight here and there and of course some eye shaped 'knots' (see in the picture). Do this on the entire coffin and lid (other than the back unless your visitors are going to see it).
Painting your Halloween coffin
You can't use enamels here, it will do awful things to your foam, so cheap poster paints or black Gesso is the way to go, with a big brush. Paint the whole thing black, wait for it to dry. Now dry-brush the entire thing white, not full white, just lightly, so the top brown color stands out and isn't too dark. Now dry-brush the entire thing light brown. Once that's dry, pick out certain planks and dry brush those again a darker brown, just to break it up a bit…. and Coffin DONE!
Gravestone props….
Just a quick one, gravestone props follow the same rules as the coffin, cut your foam and hot-knife into it your wording, cracks and image, paint black, dry-brush grey to bring out the detail you cut in. Gravestone Halloween props DONE!
Want to hit your neighborhood with full graves, easy, get some potting mix, cut some cardboard to the grave site size to match your gravestone and cover the card with the potting mix (makes clearing it away easier).
I hope these little hints have given you some ideas / help with your own Halloween prop making!
Till next time funsters.
Post written for Nerfenstein's official blog at GirlyGamer.com.au.
Join me on Facebook for more prop making hints, tips, fun and general banter.