Nerf train mod
Choo Woo! Nerf Rayven disembarking from platform 9¾. All Aboard! This is what happens when 1. Someone from my Facebook page suggests I try 'dieselpunk' (thanks James!) and 2. I am hopped up on Lemsips and other flu medicines. I'd like to thank James for the suggestion, I realize a diesel train probably isn't what he had in mind when he made the suggestion, but on looking into what dieselpunk is, trains are a big part of it, most notably, sleek streamliners (high speed diesel railway of the 1930's) and that's what I saw when I looked at the Nerf Rayven. Check it out, just like R2D2 was hiding in the Nerf Maverick, so too there is a railway car hiding in the Nerf Rayven, slice off the bottom, add some wheels… you see it!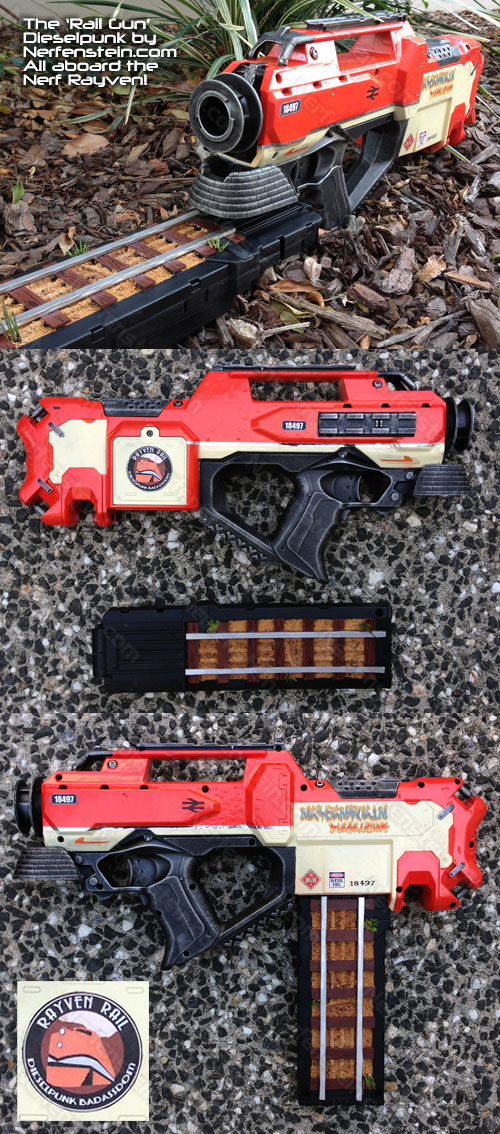 I wanted to do something a little funky with the ammunition clip on this mod, rather than leaving it plain, so I went with railway tracks (I know, I'm not sure how my brain works either lol). I went all out here, modding the heck out of it, with fake dirt, fake grass, pebbles rocks, tracks and sleepers. Most importantly, it's all still functional, so though I did this as a display / art piece it's also a fully functioning Nerf Rayven.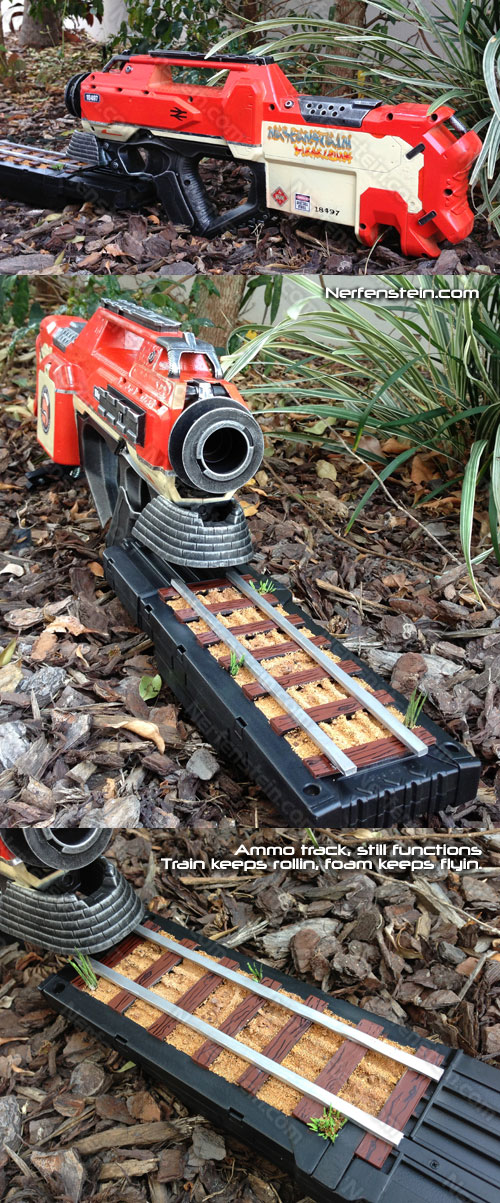 Well that's my latest Nerf mod, I hope you like it!
Now… I've got a train to catch!
Till next time people… what do we say?! ….
DO GOOD THINGS!
———==oOo==———
Originally written for GirlyGamer.com.au home blog of Nerfenstein / GirlyGamer / BoardGameGran. Catch up with me on my Facebook page, or if you Tweet… there's always Twitter and guess what, I actually reply!