Doctor Who Nerf mod
On my Facebook page (Nerfenstein) I put out the hint "This new Nerf Vortex Proton may have you guessing who…." a few days ago, well the Doctor is out of the bag, this latest Nerf mod is a nod to "Doctor Who" and the Tardis. You probably already guessed that, given the blue colour scheme, but I wonder how many of you Doctor Who geeks also get the other color scheme it has going on?

Nerf Vortex Proton Doctor Who Tardis mod
This is a pretty straight forward cosmetic Nerf mod, so I won't bore you with the details. Needless to say (as always!) this started with taking it out of the box and sanding the hell out of it, every little nook and cranny (well as good as you can, you'll never get EVERY bit sanded). The Nerf Vortex range has some really nice geometric detailing on it, but sadly, you'll lose most of this when you sand it (I think I mentioned this in the Blade Runner Proton mod post). Not to worry, there's still plenty of detail in the Proton to keep you happy.
As you can see I've added detail to the obvious sections once more. This time I made the Tardis Window area (so it was 3 dimensional, rather than just another decal), next to that a decal of the Tardis notice. Also added a decal of a sonic screwdriver to break up the centre area. This was originally a Jelly Baby bullet decal, but it looked too kiddie, so I removed it and replaced it with the Sonic screwdriver tip, which still broke up the blue, but didn't look as silly (live and learn!).
For those who spotted the color of the 4th Doctors scarf, well done you! I figured the 'striped' area is pretty plain, and given the stripy nature thought the iconic Scarf of Tom Baker's Doctor would be a perfect fit (thus the Jelly Baby idea, to tie it all together, ahh well).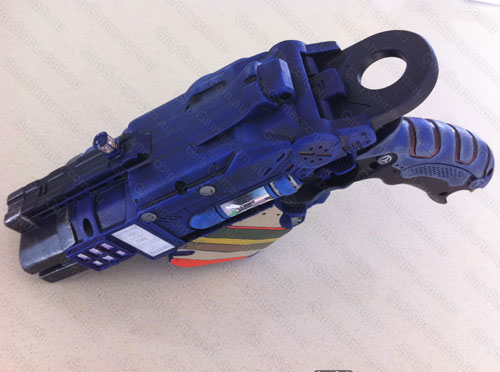 As you can see, this is another one that is dry brushed. The most fiddly part of this mod was the window frame, made out of…. matches. Yes it may sound strange, but I tried cut plastic and it was smooth and hard to work with. Matches – cut to size – were easier to work with, durable once coated and when dry brushing the frame, the woodgrain – tiny though it is – came through. Bonus! You can see I also added a Tardis light I had laying around (as you do), just to set it off.
More pics at my Facebook Page – Nerfenstein.
This post written for GirlyGamer.com.au and fired via Nerf to Tumblr and Posterous and the like.