Achtung Panda! ….
Thought I'd do a little army mod, but had to add my usual twist. This is based on the Panzer Tank Division 10 .. the Panda's tears and mouth are actually the 10th Panzer Division logo. The signature is that of a guy named Rommel.. though I'm sure you already spotted that too. Needless to say this is a base Nerf Rayven, fully sanded and prepped and then detailed. I came up with the concept, which tickled my funnybone. The "Achtung Panzer" thing is fairly recognizable and a Panda.. well who doesn't love a Panda?!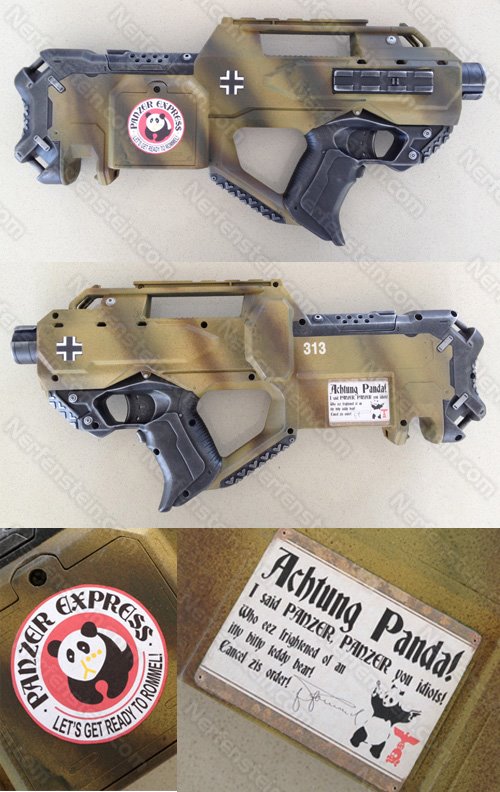 The Panzer Express is a play on fast-food chain "Panda Express", somewhere I loved when I was in the US… right or wrong lol.
This is an art piece, it's really meant for display and as a conversation piece, something that has been spurred every time someone new sees it in my house, it hasn't failed to please yet, which feels so great obviously.
I hope you all like it as much as those who have seen it in the flesh.
Till next time people… what do we say?! ….
DO GOOD THINGS!
———==oOo==———
Originally written for GirlyGamer.com.au home blog of Nerfenstein / GirlyGamer / BoardGameGran. Catch up with me on my Facebook page, or if you Tweet… there's always Twitter and guess what, I actually reply!