Cel-shaded goodness of Borderlands cosplay props!
Borderlands props! Who doesn't love Borderlands props! Yes it's time for more cel-shaded goodness from awesome video game Borderlands by Gearbox Software and 2K Games. You may recall I've done a few Borderlands props before, but it's been awhile. If interested they were the 3D printed Borderlands Shield and Vault Key, Borderlands Claptrap Nerf mod, Borderlands Jacobs Law and stand and one of my favorites the Borderlands Torgue blaster. There are a few more, but those are the main ones.
This time it's a commission from one of my favorite cosplay people, the lovely Isobel aka The Artful Dodger. She is cosplaying Athena from "Borderlands: The Pre-Sequel" and needed sword and shield props. I set to work looking at reference images. Gearbox are a gaming company who support their fans in such a way that they actually release hi-res images of characters / items and also cosplay guides. I think they're pretty awesome for doing so and it made my job much easier.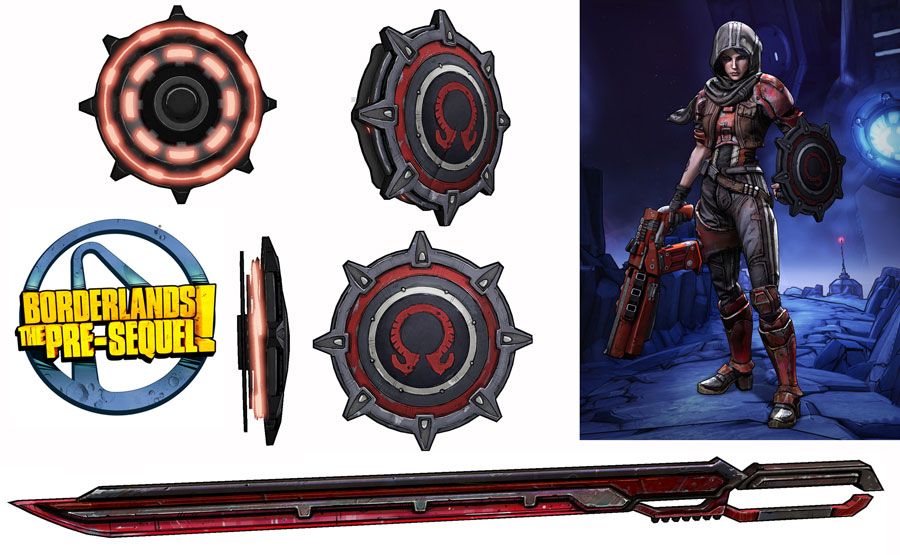 Sweet official reference shots to try and copy!
The Athena shield prop took me a lot longer than I had anticipated, some of it was quite fiddly and I had to throw a few things out and start over. I also spent a good few hours just sketching out how to do the back, after I watched a multitude of gifs and videos to see how it worked and try and get a rough idea of how to do it. Whilst this isn't 100% accurate, I went with the blades closed on the back and housed the battery pack within. This too took time, but it was worth doing the back as well as the front, for overall realism and also to have somewhere to mount the handle / battery pack.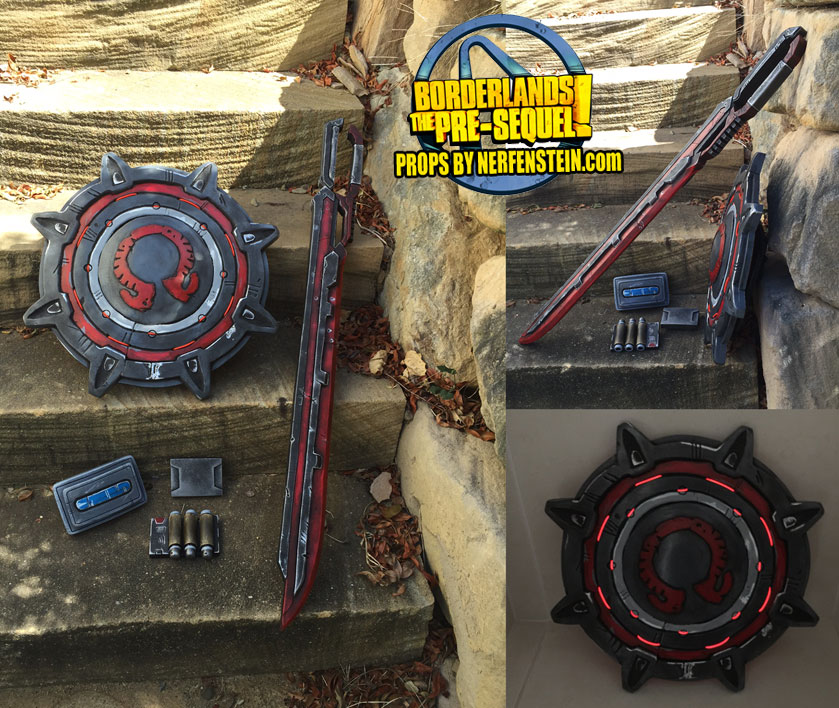 Trying to get the sweet Borderlands cel-shading was fun!
The sword looks fairly straight forward, but this is Borderlands, so there is plenty of texture. I reinforced it with a dowel rod running almost the full length (handle to tip), because it's long and thin and therefore in foam it might be a little too floppy.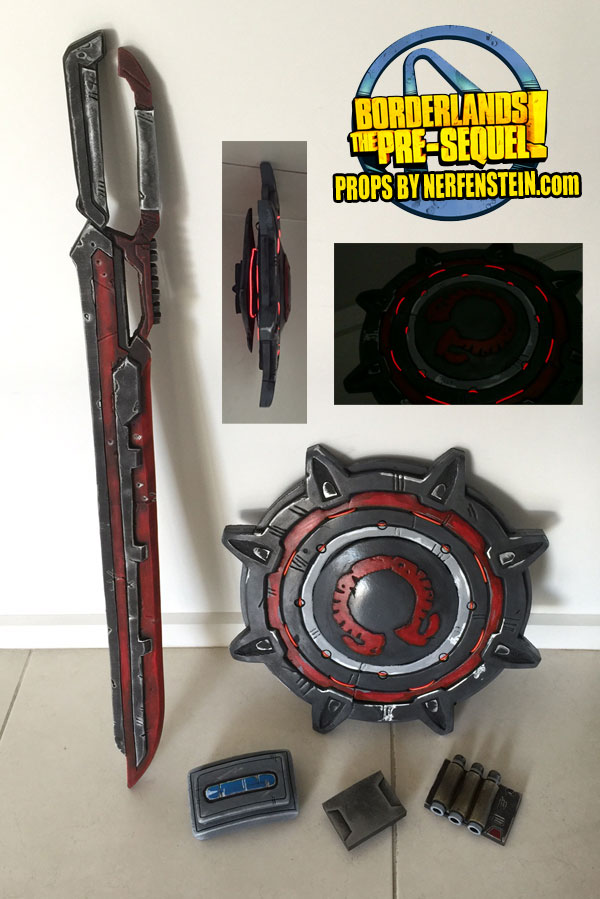 I do love the Borderlands aesthetic!
You'll see there are extra accessories here, that's because I made this project my Random Act of Kindness for October, that's where I do extra for a customer or just give away random things to people on my Facebook page. I threw them in as extras. Again they're all made out of foam, so they're light for cosplay and great for photoshoots, which is what these are for.
Also added some sweet lighting to the shield, but accidentally deleted the video.. oopsy!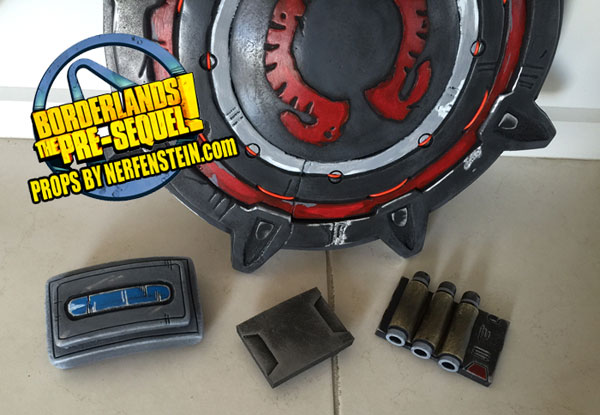 And that my friends is that, another cosplay props commission complete. I really can't wait to see what The Artful Dodger does with these, she's an amazing cosplayer so be sure and check out her page. You can see her brilliant Harley Quinn cosplay here, in which I made the giant Harley hammer and pop gun.
Till next time people… what do we say?! ….
DO GOOD THINGS!
———==oOo==———
Originally written for GirlyGamer.com.au home blog of Nerfenstein / GirlyGamer / BoardGameGran. Catch up with me on my Facebook page, or if you Tweet… there's always Twitter and guess what, I actually reply!