Harley Quinn hammer time! Can't touch this!
Another commission done, this time it's Harley Quinn's 'pop' gun and giant hammer. These are for a lovely girl who is going to cosplay Harley, can't wait to see them in full swing… bad pun, but I will post pics when I get them. I LOVE Harley Quinn's giant hammer, it was such a cool prop to finish because it's just so insane, a bit like Doctor Harleen Quinzel herself I guess.
Harley Quinn's hammer has various styles, dependent on the artist / medium inspiration is drawn from. I collated a bunch of reference shots and mixed them together and came up with something I hope is unique for the photoshoot.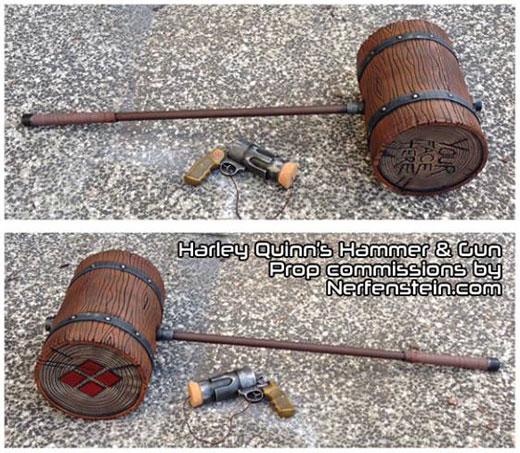 As you can see I went with a giant section of log / tree trunk for the head of the hammer, this was made out of foam, the reason being, it would be WAY too heavy otherwise, given it's size. I detailed the heck out of it, with age circles, bark texture, 'Your Face Here' engraving, a little 'battle damage' and some Harley Quinn diamonds. The staff is a giant dowel with foam and plastic details, and a faux leather wrapped grip.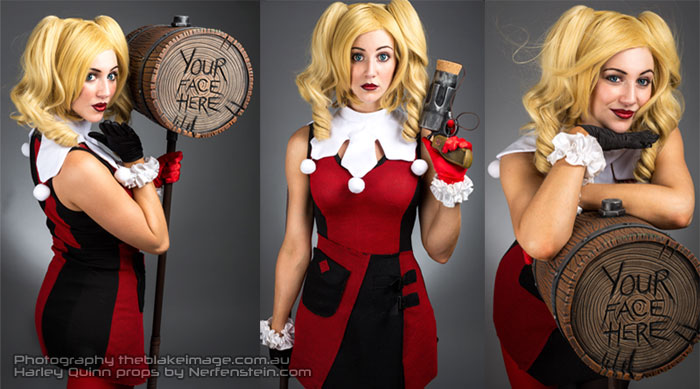 This was actually a commission I'd been asked to make almost a year ago and the person disappeared and so it remained unfinished, I'm so glad the lovely Isobel brought life back into this project and I can't wait to see the photoshoot photos (Addendum – photoshoop images added above).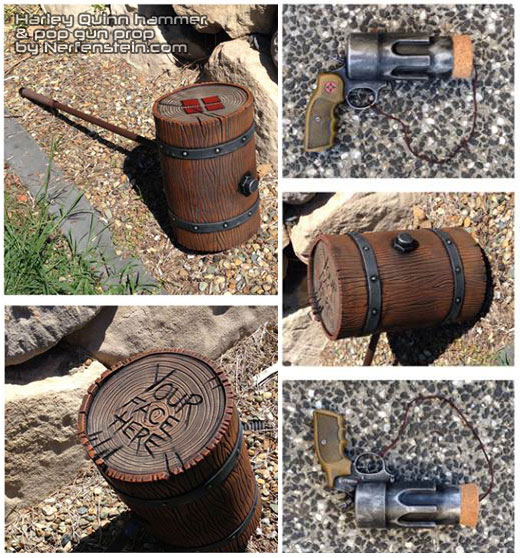 And that's your lot, another cosplay prop commission complete. The Harley Quinn prop hammer and Harley Quinn pop gun will be off to their new home later this week and I will bid them a bittersweet goodbye.
This is also the second lot of props I am adding a gallery descriptor to. Those are the little white cards you see in galleries with – generally speaking – pretentious explanations of what the piece is trying to say. This is just a fun thing I will be doing to each mod and prop from now on, you know, because it's art… or something.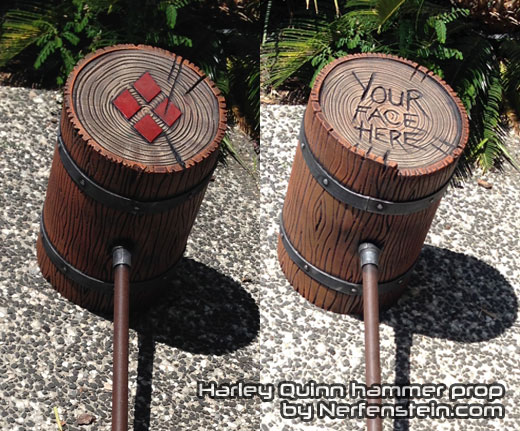 Galleria de Nerfenstein
Dr. Quinzels Tools of the Trade! – Nerfenstein Circa 2013
Harleen Quinzel is the epitome of the dichotomous characterization in popular media. Nickname Harley Quinn, the psychologist come jester villain shows us the fragility of the human mind. The hammer as destructive tool speaks to us in parallel with the obliteration of Harleen Quinzel, a hammer as building tool covers the rebirth as Harley Quinn. The 'pop' gun stands as a symbol of non-violence, wrapped in an over-compensation in size. Really? No, it's just a big ass gun and a bigger ass hammer… BOOM!

Harley Quinn is 'bat'sh*t crazy, I hope she puts these 'bat'sh*t crazy props to good use! …. do good things people!
Nerfenstein out!
Harley Quinn cosplay photo credit [TheBlakeImagePhotography].
———==oOo==———
Originally written for GirlyGamer.com.au home blog of Nerfenstein / GirlyGamer / BoardGameGran. Catch up with me on my Facebook page, or if you Tweet… there's always Twitter and guess what, I actually reply!