Why do we even need boys and girls Nerf?
You might consider this a politically motivated mod and that's cool, I do want to make a statement about gender restricted toy marketing… again. If you've followed my Nerf modding work for some time you will already know my feelings of restricting toy blasters to strict gender role demographics, I despise it (see my thoughts on the Nerf Rebelle range in the article Rebelling Against Hasbro's Nerf Rebelle Range).
Toys have – in some way – always been segregated by gender, but recent studies actually suggest toy companies are getting worse and not better. So, as women / girls make small strides in gaining equality, so it is that we still entrench our children in damaging gender roles, knowingly, or unknowingly.
Girls toys are generally more about domesticity, caring and of course beauty. Boys toys on the other hand are generally aimed at building, competitiveness and learning. Whether you're a parent or not you can already see the problem, it's glaringly obvious and it's damaging to girls. Think about that next time you're shopping for your daughter, niece or other female child.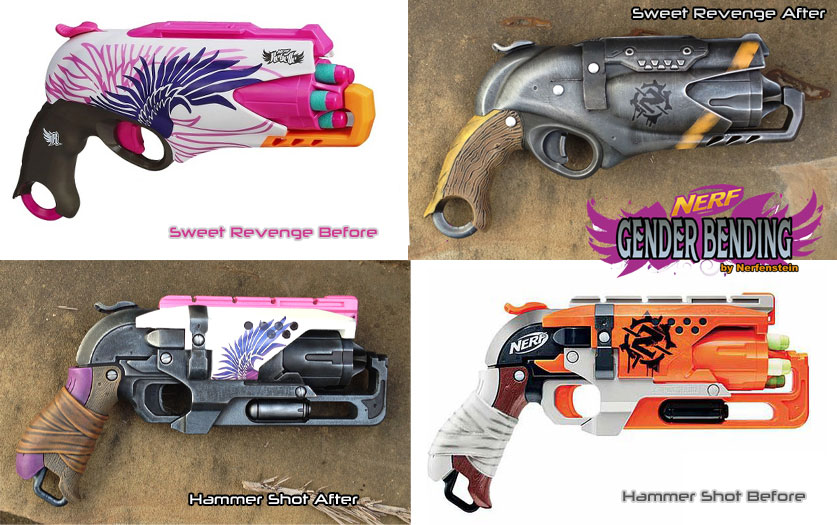 Hasbro's Nerf line is clearly marketed towards boys, other than the new Rebelle line. I have issue with the Rebelle line, not with the overall design, but with the color choice, naming and accompanying nonsense, social app, silly additional genderised info etc. Come on! Hasbro is a GREAT company and this is the best they could do? I said it in my Rebelle article, ALL Nerf should be marketed to ALL people, not just young boys. Hasbro has now split Nerf into a distinct boys and girls line of blasters, when what they could have done was release the new range as completely non-gender specific and marketed to both. This would have been a nice transition into follow-up lines being neutrally marketed. It's not a big ask to add girls to regular Nerf box art, or to have the Rebelle line be a segway into open marketing. That's where the idea for this mod came from.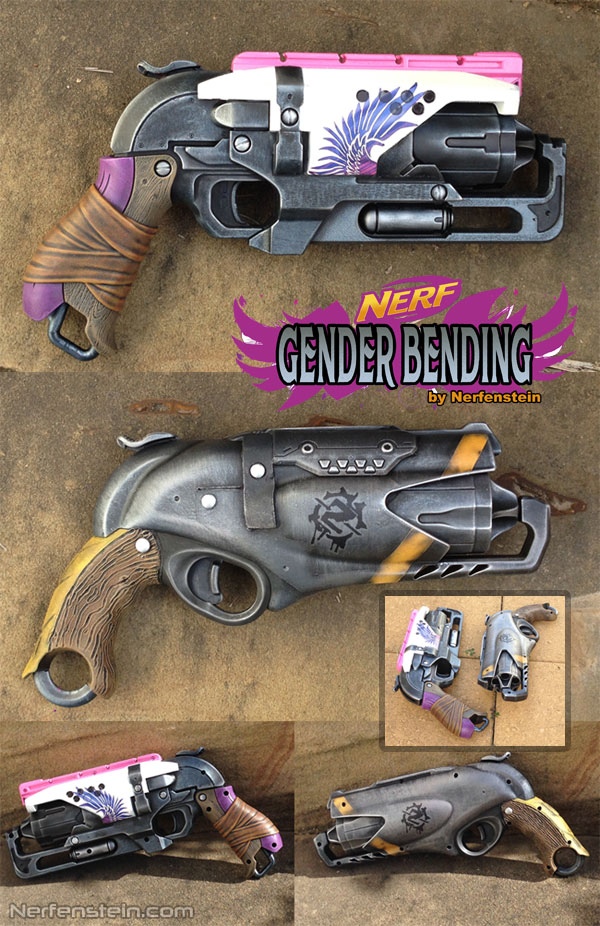 I chat with Nerf fans a fair bit on social media, via email, private messages etc and it became apparent guys like the Rebelle line, but not the pink (because eewww pink is for girls 'obviously'). I decided to swap the elicit gender roles within the inanimate and show how colors are everything. Sure the Rebelle line / Nerf uses the age old artistic adage of curves for girls, angles for boys, but color is key. In changing the colors between both weapons, my aim was to show that sadly, we are all entrenched in assuming certain colors are for certain genders. When can we move away from this and – as already stated – work towards more neutral inclusivity. What of the girls who don't like pink? Where are they on the normal Nerf packaging? What of the boys who prefer the curves of the Rebelle line but are too afraid to buy it because it's marketed towards girls? In 2013, it just seems all a little bit dated, so that's why I wanted to change it up a little and see what I could come up with.
Galleria de Nerfenstein
Gender Bending – Nerfenstein Circa 2013
The aim of this piece is to show the outdated hegemony of the genderization of toys. The sleek curves of the Nerf Rebelle line juxtaposed against the masculinity of the post apocalyptic paintwork show how the shallow exterior overshadow the true core of an object. The angled design of the Nerf Hammershot impregnated with the seed of the Rebelle Sweet Revenge color aesthetics challenge your conception of gender and the visual aesthetic. Sound wanky enough?
Still Rebelling, but as always …. do good things!
Nerfenstein out!
———==oOo==———
Originally written for GirlyGamer.com.au home blog of Nerfenstein / GirlyGamer / BoardGameGran. Catch up with me on my Facebook page, or if you Tweet… there's always Twitter and guess what, I actually reply!