They're pink.. because girls
Well it's been a couple of days now since the Nerf Rebelle line images hit us and I thought I'd jot down my thoughts given it's related to female Nerf fans and that would include me.
My initial reaction was.. well.. somewhat reactionary. As a woman who has always had 'guy hobbies' or been into 'guy stuff' the whole 'paint it pink and call it girls' burns me like almost nothing else. I despise it, it is lazy marketing at its finest. We've seen this in gaming for many, many years, pink controllers and keyboards, but no REAL solid marketing that is inclusive of a female audience. With this in mind, this is where my initial reaction comes from, hard to understand unless you've put up with it for years and you're in that minority.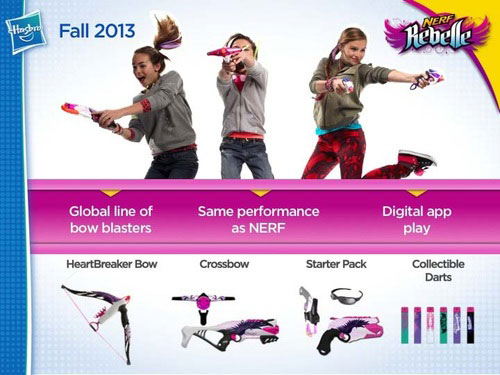 Having said that, there will always be a niche market for this sort of thing and that's where I believe Hasbro are coming from with this approach (wrong though I may find it). The downside is it perpetuates the marketing tide of this sort of nonsense and supports the present sexist hegemony. The upside is there will be girls / parents who buy into it and that means more girls realizing Nerf isn't just for the boys and this is a good thing. Hasbro will hopefully tweak follow-up marketing for ALL merchandise that is inclusive, in a non-derogatory manner, thus opening up the entire range to the female audience (have you seen regular Nerf box art / ads?!).
On the actual design of the Rebelle line of blasters – color choice / marketing aside – I like them a lot. They're sleek and different, which is what's been missing (imho) from the line for some time. I personally think they should have released the line with clip on cover accents, maybe coming with two different colors and you could choose the accenting color you wanted (over a white blaster with say the black filigree), thus denoting it feminine or masculine if you like those annoying little pigeon-holes. Then of course Hasbro could make more money by releasing additional theme packs of the clip in accents panels. These would be great for people who want a really quick way to mod their blasters without the hassle of actually going through the stages it takes to mod them cosmetically.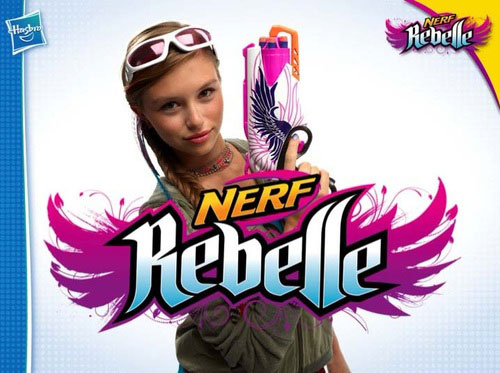 Bows are for girls
Not hair bows, we're talking Katniss, Merida, Abigail Whistler arrow shooting bows. The trouble here is Hasbro are jumping on a bandwagon of strong independent female characters, but they're doing it with Nerf bows that fly in the face of everything they stand for. I find that sad and again, annoying. Are the designs nice, yeah, but splitting the bow series into the pinky and perky Rebelle "Heartbreaker Bow" (ugh) and the Nerf N-Strike Mega Blazin' Bow is just a kick in the female face again.
Despite Hasbro stating: "Just to be clear, we could have taken some of our Nerf blasters and just made them pink and put them in pink packages — but that's not what we did", this is still pretty close. Sure they designed them from the ground-up and for that they should be applauded…. loudly, but there are still steps to take.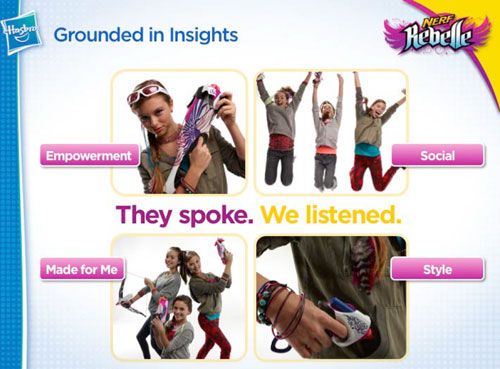 Whose insights?
One day articles like this won't need to be written, because we'll realize gender is a socially constructed mess. You know years ago girls were dressed in blue and pink was the color of boys, that's how natural these seemingly 'natural' things are. Think about that next time you're in the toy aisle, looking through a toy catalog (they are so split by gender it is unbelievable), or watching an advert for toys.
Anyway that's my thoughts on the Hasbro Rebelle line. I know I don't usually 'blog' about Nerf things here, but I figured this was important enough to do so and probably too long for a Facebook update.
Now if I could just get that job as remote aesthetic design assistant at Hasbro we wouldn't have this problem lol.
Some other articles you might find interesting that cover the gender problems of the Hasbro Nerf Rebelle line:
ReelGirl has a small mention that sums up the feelings of some
Good article over at Phek Trek's Blog on Why Gendered Toys are the Wrong Direction
Rebecca Pahle over at The Mary Sue has a positive spin whilst intelligently covering the gender annoyances.
FeministSonar has an interesting take and asks the big questions.
Addendum:
Adding in my twitter pal Ragegirl's article because it made me LOL and she says vagina…
Ragegirl talks Nerf Rebelle "Dear, Hasbro/Nerf/Companies in general who want to make things female friendly, I don't like pink. I never have. I know, strange, because I have ovaries and a vagina and other bits that the Republican party of America is afraid of."
And another great article via Jet in the comments. Nella over at Chez Apocalypse investigates the Nerf Rebelle line and how sometimes it is truly all in a name. "So let's have more toys of equal quality that encourage kids to play in the way they want to play without us adults clutching our pearls for boys and girls". Nice one Nella.
—===—
Written by Nerfenstein for her home blog. She loves Nerf, so this makes her sad.
Till next time people… what do we say?! ….
DO GOOD THINGS!
———==oOo==———
Originally written for GirlyGamer.com.au home blog of Nerfenstein / GirlyGamer / BoardGameGran. Catch up with me on my Facebook page, or if you Tweet… there's always Twitter and guess what, I actually reply!