Repeat prop commissions update!
Hi lovely people, it's been awhile since I've updated things, so here we are with a mixed bag of what I've been up to lately. If you follow me on social media (Twitter, Facebook, Pinterest, Tumblr etc.) you might already know I'm heading off on a long holiday soon (yay!), that means ensuring I've finished and posted all outstanding commissions. Here are a couple of the latest, you may have seen these before because they're repeat makes for different people (they're slightly different because they're handmade).
First up it's time for another giant Harley Quinn hammer I designed and made last year (slightly smaller than this new one). To get this safely shipped overseas it is the head of the hammer only and the lovely Haley is going to insert her own handle. For this reason I inserted internal structures into it so it had extra strength and also so the pole could essentially only be inserted in one way.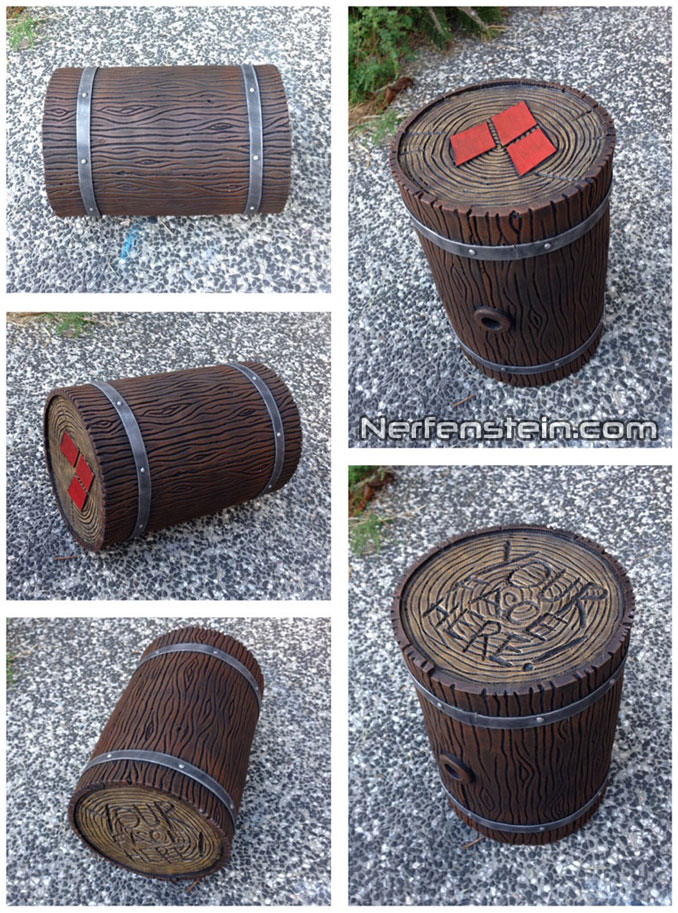 Another Harley Quinn hammer head is in the bag! 
Next up another working Nerf Bolter commission. I essentially did a copy of the 'Birthday Bolter' for this one and it turned out great, so I'm hoping Michael will enjoy it when it arrives with him today or tomorrow 🙂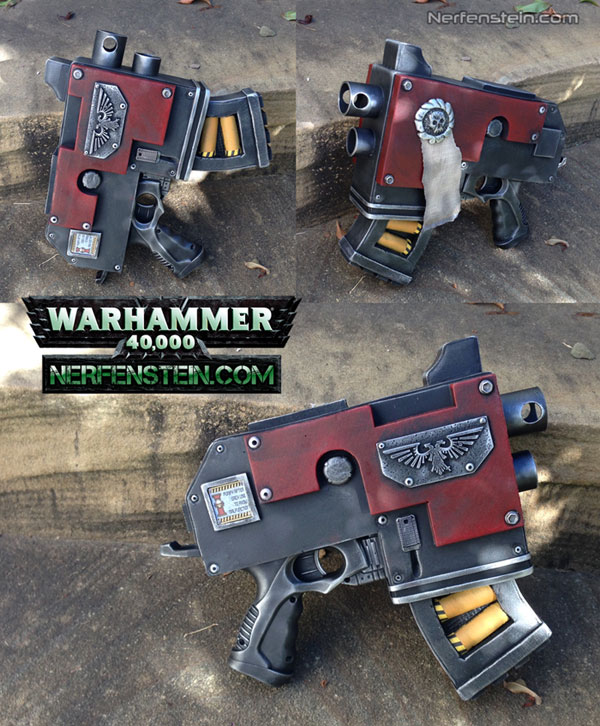 UPDATE:
Well, what a traumatic week or so it has been for me. I didn't get to publish this last week when I'd originally wanted to (so it's probably backdated – it's actually June 4 today as I type this addendum!). I honestly thought my number was up last week… suspected heart attack… ambulance… hospital stay… the whole shebang… total nightmare. Well, turns out my mortal coil still has spring.. WOOHOO! Thank goodness too as I don't feel I've finished even half the things I would like.
I wanted to thank everyone who took time out of their lives to email me, private message me and leave lovely comments on my FB page after my partner posted there. The internet can be a scary realm, but I have to say it's been good to me, very good and that's down to you guys, here, there and elsewhere who take the time to interact with me. THANK YOU!
Till next time people… what do we say?! ….
DO GOOD THINGS!
———==oOo==———
Originally written for GirlyGamer.com.au home blog of Nerfenstein / GirlyGamer / BoardGameGran. Catch up with me on my Facebook page, or if you Tweet… there's always Twitter and guess what, I actually reply!