As you know from my last blog post I got my hands on some of the Nerf Rebelle line thanks to Hasbro and my buddies from Canberra & Southern NSW Dart Tag (Nerf Wars, HvZ). Which ones to mod, well, I decided to start with the Nerf Rebelle Power Pair ('Sneak Attack' blasters) and these are the result.
I wanted both guns to look totally different, so I went with a modern look pistol mod and an antique style pistol mod. Both still fire as they did prior to the mods and I have to say, though there is nothing inherently wrong with the Nerf Rebelle Power Pair design, it's a lot cooler firing them post modification.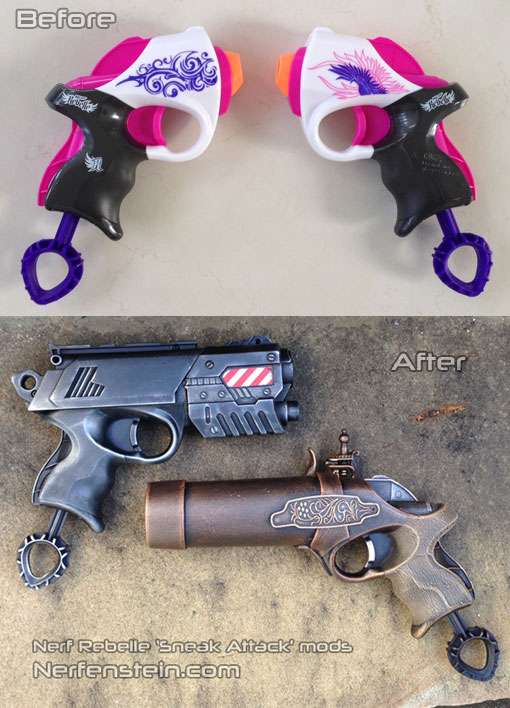 Now Ryan on my Facebook Page asked me to go into a little detail on the modern one, so here's the upshot of that for him and others who are interested. Essentially I lucked out because I found additional parts that fit perfectly, these parts were the Nerf Maverick slide and the front section off a cheap toy gun I had in my parts bin. I also got the largest diameter PVC pipe as would fit the width of the front piece and cut it down to fit inside, snug to the dart eject exit on the original blaster and the internal end of the addition. The PVC was added to the inside just to ensure smooth dart ejection. The mod has in no way impeded blaster performance.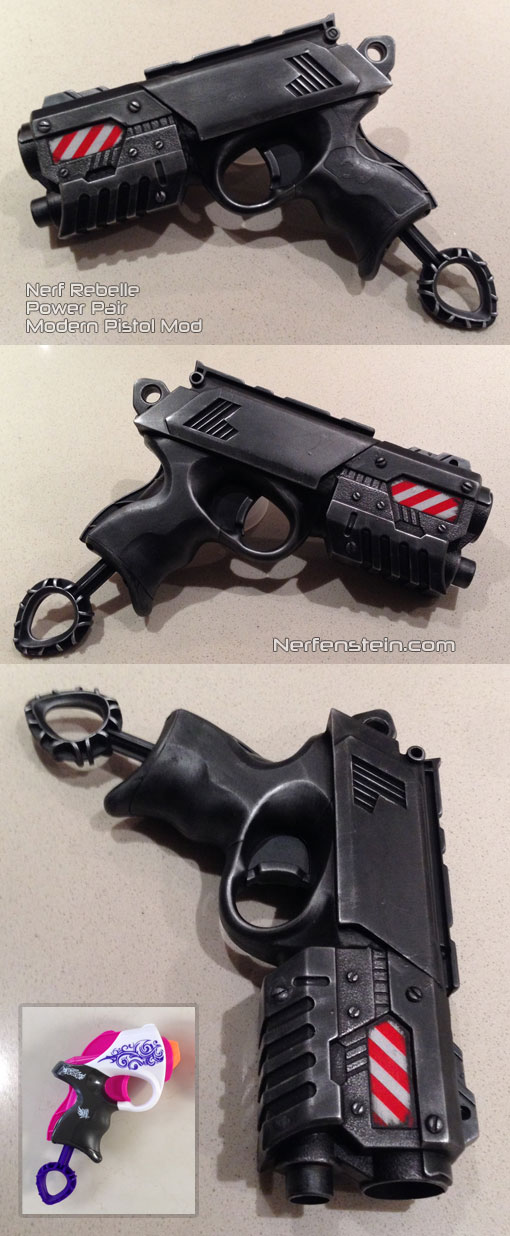 Next up something a little different, I'm calling it the "Nustet Pixtor", you really don't want to know how I came to that name. This is a take on a flintlock pistol, a steampunk flintlock pistol, ahh heck an antique hand cannon. There's one thing about this mod I'm not thrilled with, but other than that omission, it's fun and I like the crazy chunky pirate hand cannon look.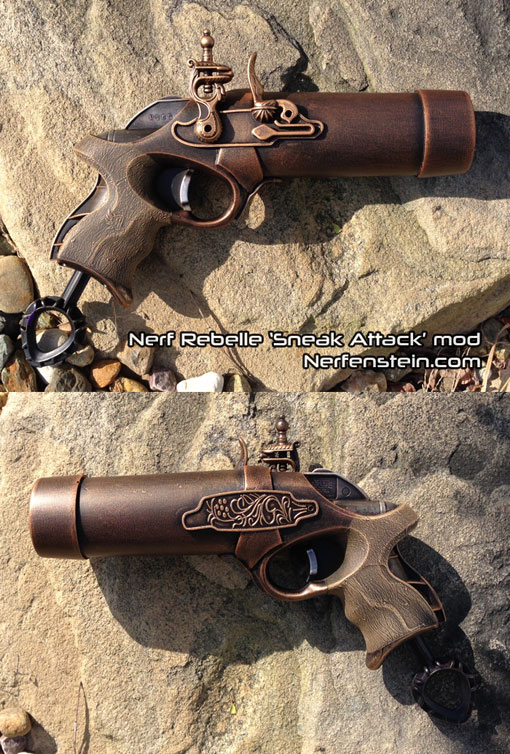 And some of the detail for you, though to be honest my phone really isn't showing the 6 or so shades of brass, coppers, gold and silver, nor is it really showing the woodgrain effect as it looks in reality, but you get the idea…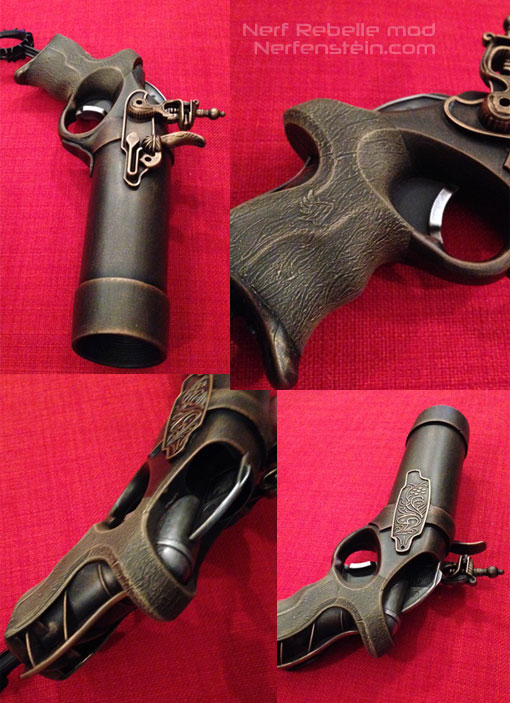 That my Nerf loving friends is that, the first Nerf Rebelle Power Pair mods done. I will be buying more of these when they're released here, as there's just so many crazy things you can do with them and the power on them is awesome.
Till next time people… what do we say?! ….
DO GOOD THINGS!
———==oOo==———
Originally written for GirlyGamer.com.au home blog of Nerfenstein / GirlyGamer / BoardGameGran. Catch up with me on my Facebook page, or if you Tweet… there's always Twitter and guess what, I actually reply!