Just some Nerf Firestrike repaints
Multiple Nerf Firestrike mods this week, in the form of a Fallout mod, Mad Max mod and finally a Mass Effect mod. I tried something new here with the Fallout Nerf mod paintjob. I essentially reversed the way I usually do it and I think you'll be seeing more of this style in the coming months, I really loved the outcome.
Anyway more on that shortly, the other mods were the Mass Effect pistol mod and the Mad Max pistol mod. If you've been following my antics for some time now you will know what a HUGE Mass Effect fan I am, that was essentially the reason behind the ME Nerf mod in this batch. I haven't done one in awhile and after painting the plating blue, it just said "Mass Effect" to me so I went with it. As for the Mad Max mod, again, after adding the strapping to the grip and the gray plating it just said rugged, dirty and sort of post-apocalyptic theme, so the Mad Max mod was born.
Here's the Fallout inspired Nerf Firestrike mod up close and personal: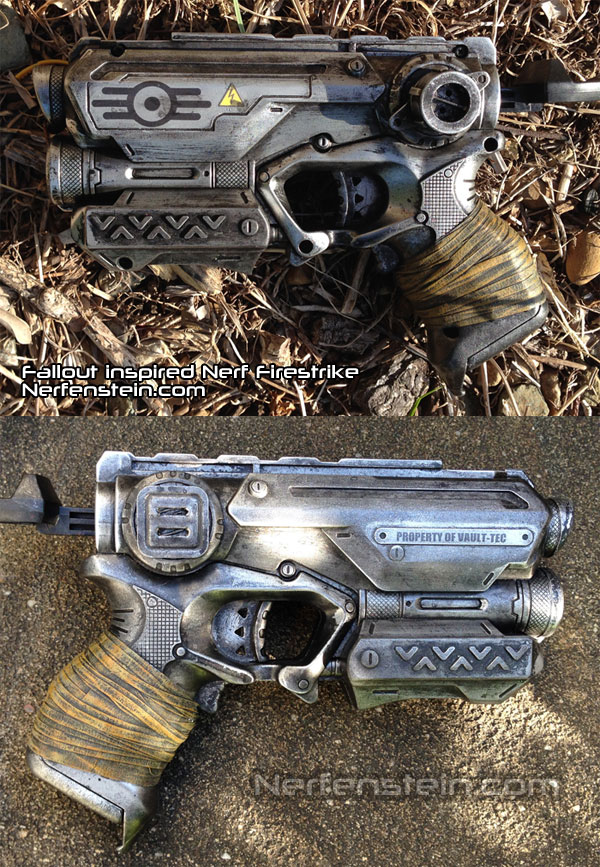 As you can see I added taping to the grip and went with a backward paint style, opting for dark over light, as opposed to light over dark, as I tend to usually. Fallout is such a wonderful series, with some masterful execution by the designers, I just have to keep on revisiting it, with awe and wonder.
———-==========———-
Here's the Mass Effect inspired Nerf Firestrike mod up close and personal: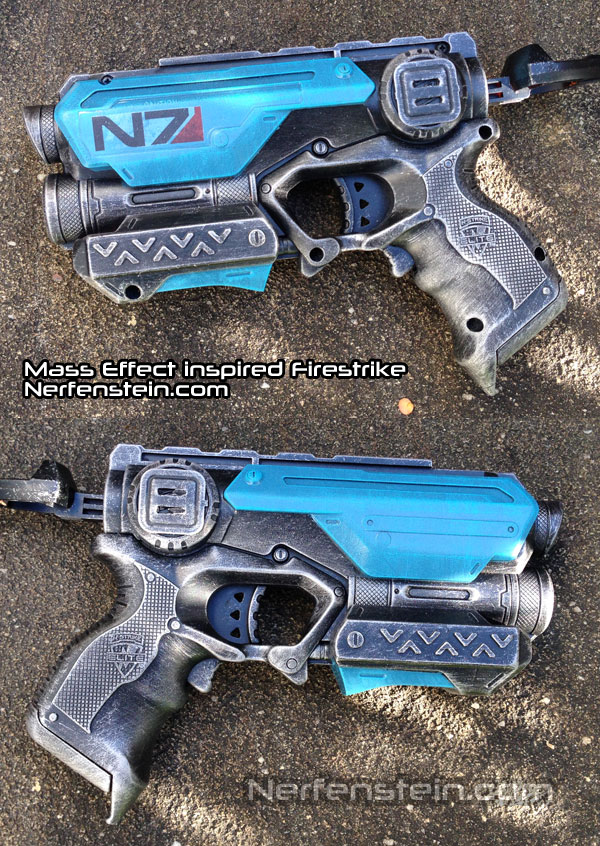 Not much to say about this one really, it's a Mass Effect Firestrike pistol prop, sweet for display, but to my mind a little bland in its execution. Hopefully you will like it more than I do, I think with this lot a third grunge filled, post-apocalyptic mess would have been cooler, live and learn.
———-==========———-
Here's the Mad Max inspired Nerf Firestrike mod up close and personal: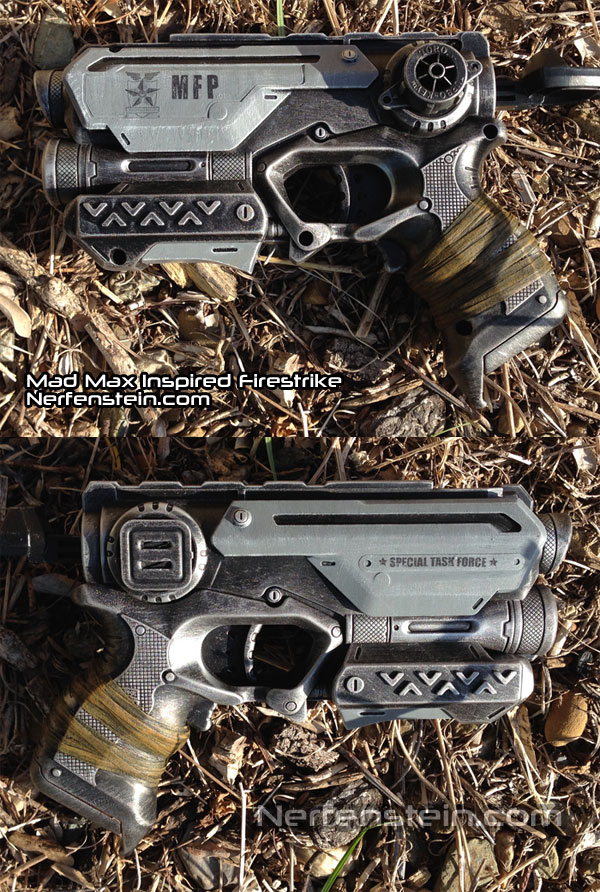 Max "Mad Max" Rockatansky will soon be back in a new movie and video game ("Mad Max: Fury Road") and though we might be dubious as to how good they will be, that doesn't mean we can't have a little fun with the Mad Max universe. This Nerf Firestrike mod is a homage to that. I went with an MFP (Main Force Patrol) style sidearm as it seemed most obvious.
There we have it, another three new art pieces done. All are for sale (at time of writing) and will be with me at the Alternative Expo in Brisbane, October 20, 2013, unless sold before that.
And that my friends is that!
Till next time people… what do we say?! ….
DO GOOD THINGS!
———==oOo==———
Originally written for GirlyGamer.com.au home blog of Nerfenstein / GirlyGamer / BoardGameGran. Catch up with me on my Facebook page, or if you Tweet… there's always Twitter and guess what, I actually reply!