Steampunk, what's not to love!
Time for some steampunk Tesla love! I've been working on a few specialist steampunk display art pieces for an upcoming expo I'm attending. Here you will see a steampunk six-shooter prop pistol with display stand, a steampunk Tesla Deringer pistol with display stand and lastly a Jules Verne / Captain Nemo inspired steampunk Tesla prop with display stand. Whew! That's a whole lot of steampunk / Tesla art.
I tried to veer away from the usual steampunk cliche of 'add a gauge add some tubing' and instead went with a more basic approach. I think this turned out pretty nice and a gentle dry brushing technique done multiple times really teased out the detail in all these pistols.
Jules Verne inspired steampunk Tesla pistol
Had a bit of fun with this one, adding in some Nautilus inspired windows to the display base. Also added in some rust and leaking effects to the window framing, bolts and floor.
Needless to say the rust and leak effect is made up of a multitude of different shades of various colors, most notably oranges, reds, greens, browns, black and some yellow.
The rivets are actual rivets with the center hammered out and just glued into place, this adds a more realistic effect to the overall build.
The window frame is a steampunk styled gear I had. Handy!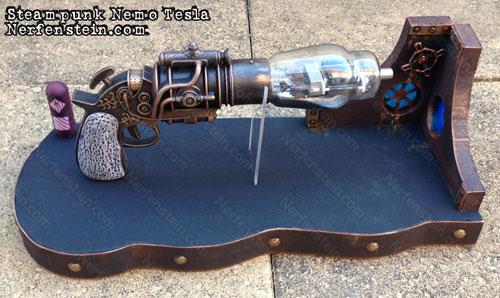 ———-=====oooOOOooo=====———-
Wild West steampunk six-shooter Tesla pistol
Yee Harr! Howdy Pardner! Here we got the steampunk six-shooter Tesla boomstick with themed display base.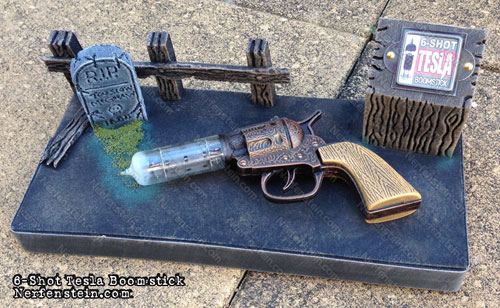 ———-=====oooOOOooo=====———-
Mini Deringer Tesla pistol prop
This is fairly close to the Claudia Deringer pistol prop I did some time ago, though less specific to "Warehouse 13". The Deringer is such a cool looking gun and this little art piece has plenty of detail. Just went with an industrial feel for the display stand on this one.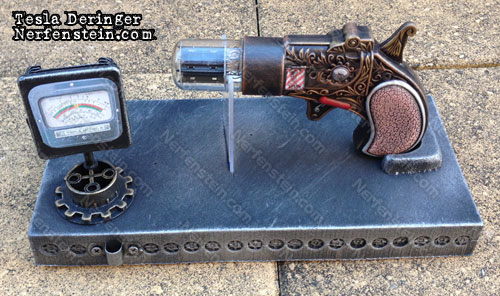 There we have it, three new art pieces in the steampunk style. All are for sale (at time of writing) and will be with me at the Alternative Expo in Brisbane, October 20, 2013.
Till next time people… what do we say?! ….
DO GOOD THINGS!
———==oOo==———
Originally written for GirlyGamer.com.au home blog of Nerfenstein / GirlyGamer / BoardGameGran. Catch up with me on my Facebook page, or if you Tweet… there's always Twitter and guess what, I actually reply!