Ugh here we are genedered Nerfing
I'm baaaack and now I have actual Nerf Rebelle merchandise in my hot little Nerf loving hands. I've decided to cobble together some Nerf Rebelle mini reviews. I'll preface this by saying I got these from Hasbro and as much as I appreciate that fact, it will NOT taint a word in this article, that's not how I work, so expect honesty here, but honesty based on one persons opinion obviously.
Right now that's out of the way I will remind you that in my last article about Nerf Rebelle (Rebelling Against Hasbro's Rebelle Nerf Line) I was less than impressed at a few aspects of the range, most notably the lazy marketing of 'paint it pink and call it girls' and some of the present sexist hegemony in the toy industry as a whole. I did also state I liked the design of the blasters a lot and that hasn't changed on seeing them first hand, in fact it has only grown.
Now onto those mini Nerf Rebelle reviews.
Nerf Rebelle Sweet Revenge Mini Review (previously titled Wildfire apparently)
The Nerf Rebelle Sweet Revenge might have a questionable name, but as Nerf blasters go I have to say I LOVE this one. The range on it is pretty good (around 40-45ft in my hallway – so no wind etc.) and the hammer single action mechanism is so cool. The gun comes with Vision Gear glasses, 5 darts and a holster. I did try the 'fan-fire' where you hold in the trigger whilst fanning the hammer with your palm for rapid fire, but it was a bit meh and quite sore on your hand after awhile.

My only real negative for this blaster is that the gun slides into the accompanying holster one way and that way means if you're left handed – like me – it's on the wrong side if the gun is facing the right way. You can put the gun in the holster backwards, but it's clearly meant to go one way. Having said that you could still dual-wield like a boss, just the left sided blaster wouldn't be holstered as tightly as the right. A small gripe, but something that should have been covered by the designers. Overall this is a sweet blaster, there is definitely something to be said about hammer primed blasters… cool!
———-==========———-
Nerf Rebelle Guardian Crossbow Mini Review
The Nerf Rebelle Guardian Crossbow is essentially a six-shot pump action blaster that can do single shot or rapid shot with the trigger held in and multi-pump action. The 'bow' aspect of the blaster is really a gimmick in many ways with the bow arms being fairly short (30cm tip to tip). The overall design of the blaster though is great, with the bow string drawn back when primed and the shoulder stock being comfortable enough, at least for my small stature. Accessory whores will find one small tactical rail atop the bow. Range for this one was oddly lower than expected, averaging around 35-40ft in a closed hallway.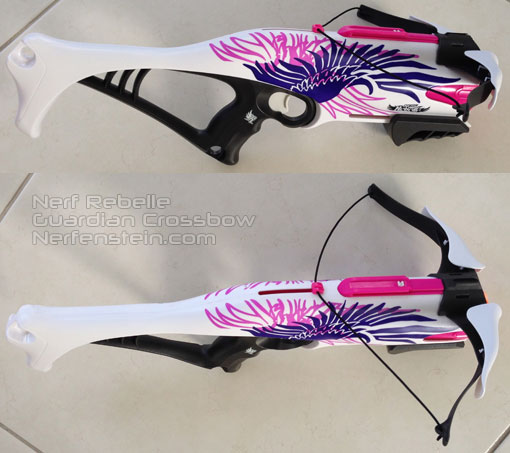 ———-==========———-

Nerf Rebelle Pink Crush Mini Review
Pink Crush.. ugh, name aside, this seems to essentially be a glorified Nitefinder or Firestrike. The Pink Crush comes with an optional 'bow' attachment, but this is really just a bit of plastic you can clip to the front if you like, it serves no purpose other than the aesthetic and is fairly flimsy overall. It looks cool without the bow addition and that is how I'll be using it I think. Range came in at around 40-45ft in a closed hallway.

———-==========———-
Nerf Rebelle Heartbreaker Bow Mini Review
Another bad name, ugh, Heartbreaker, really Hasbro? Oh well can't do much about that now, upside girls and bows are the in thing (Katniss, Merida, Abigail), so let's take a look. Oh dear lord what happened to the range on this one? Given the packaging was open and this had obviously been used prior to arrival with me I'm going to call it a dud and assume range is not around 6 to 10ft which is all I could manage. Even with a weak spring mechanism and not a bow mechanism it should have been better than that. The drawstring does nothing to aid range. This truly is heartbreaking (pun intended). Design wise this is nice, though smallish, with bow arms maxing out at 63cm tip to tip. The dart holder is a cool tactical rail attachment, and this should look great on other blasters. I can't help but think Hasbro could come up with a much better bow and crossbow blaster though, I want a medieval Nerf Range now!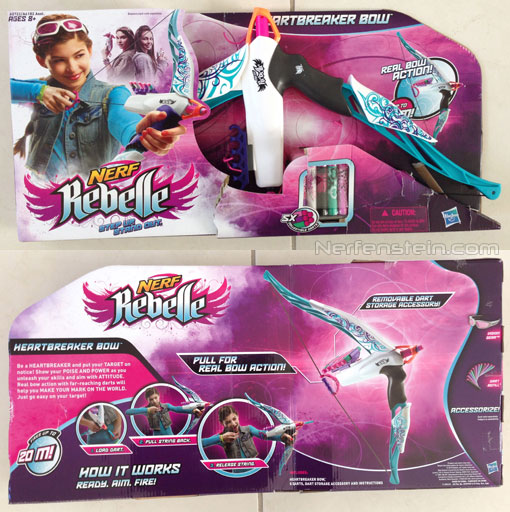 ———-==========———-
Nerf Rebelle Power Pair Sneak Attacker Mini Review
The Power Pair is a twin pack featuring two Sneak Attack blasters and some darts. This is essentially a take similar to the Jolt, it's a single fire blaster with a priming handle in the grip base. The main difference here is the Sneak Attack priming handle resembles a bubble blower, dip it in detergent and blow, dual use! I prefer the T-bar on the Jolt, but it's a small gripe (incidentally this is the same priming handle used on the Pink Crush blaster). The Sneak Attack holds two additional darts in the back, so loaded it holds one ready to fire and the additional two. This is a cute addition to the one shot blaster range and I can see a lot of Steampunkers already dying to get to it, including myself. Range on this one came in at around 45-55ft! A few darts hit 60ft! Small but deadly.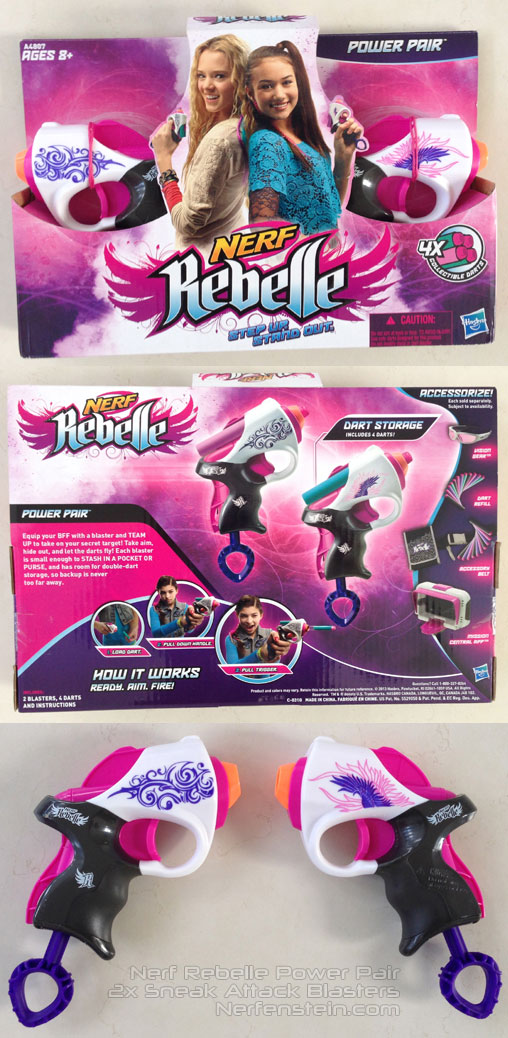 ———-==========———-
Overall I eat my words to a degree, I love this line, the design on most of these blasters is great, sleek and different, which is a wonderful injection into the mostly boxy Nerf lineup. The names of some of these blasters are a bit of a letdown and I'm surprised no one picked up on that long ago. That aside though and taking the blasters on their usability merits, the only one that was a letdown was the Heartbreaker bow, but I've started to at least aesthetically give it more meat… ooooh.
Lastly I'd like to thank Big Pete at Hasbro and my friends Neil and Chris from Canberra & Southern NSW Dart Tag (Nerf Wars, HvZ) for their help in making this article and upcoming mods possible, much appreciated guys! Incidentally, even if you're not in the Canberra area, make sure you follow their page, loads of great stuff going on there.
Till next time people… what do we say?! ….
DO GOOD THINGS!
———==oOo==———
Originally written for GirlyGamer.com.au home blog of Nerfenstein / GirlyGamer / BoardGameGran. Catch up with me on my Facebook page, or if you Tweet… there's always Twitter and guess what, I actually reply!