Firefly pistol prop made out of foam
Here in Australia we have stringent gun laws, this means – more often than not – if you try and import a gun, even a solid resin prop gun like Mal Reynolds prop pistol from "Firefly" customs will seize it (a friend tells me you can't even import a mint in box Megatron transformer because it's in the shape of a gun!).
That is a problem for law abiding fans like myself and also for cosplayers who need the prop pistol to finish off their costumes. I've always wanted Mal's "Firefly" pistol prop, it's iconic to the show and I do love the show. Problem is friends have purchased the official Firefly prop gun online and it's never made it through Australian customs (I know of 4 failures, though one friend says he managed to get his okay). This is a confusing one, given I bought a full metal LeMat replica last year legally – from a museum – no problem (Jayne's pistol in "Firefly" is a modded LeMat), but alas, no solid resin QMx prop allowed by Australian customs, go figure.
With this in mind I decided I'd have a crack at making myself Mal's prop gun from "Firefly" as a test, should someone want to commission one (always better to do the test one for yourself, as opposed to a client lol). This is the result, really happy with it.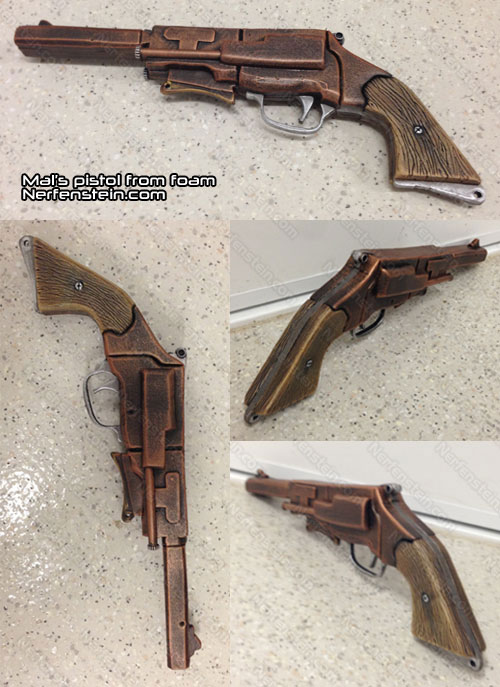 The main material in this build is closed-cell foam, though I did give it a rigid center piece so it wasn't totally floppy. Used a bit of artistic license on the grips as they're plain on the original prop, but I wanted them to have some texture so did faux wood grain.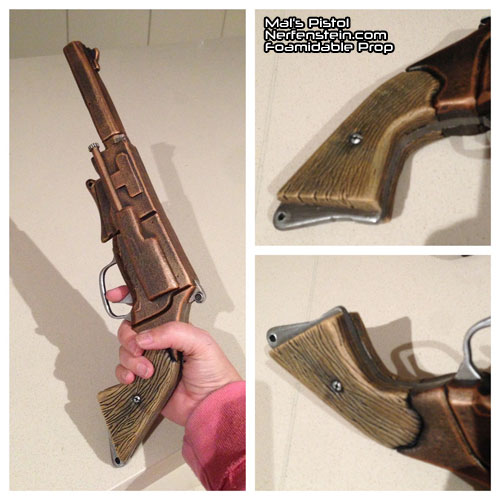 Hoping to make a display stand for this and call it complete so I can put it on my DVD shelf. If you need a Mal Reynolds prop gun and you're in Australia so importing it is out, this can be commissioned and personalized to suit (color, grips etc), for your own shelf, or Captain Mal cosplay. Note it sadly won't be as cheap as a factory made resin replica as it probably takes a couple of minutes for each Qmx model to be done and this took me a few days.
Hope you've liked this latest prop build.
Mal Reynolds bronze look pistol prop from Firefly / Serenity complete!
"They [the Alliance] will swing back to the belief that they can make people… better. And I do not hold to that. So no more runnin'. I aim to misbehave." Mal Reynolds.
Till next time people… what do we say?! ….
DO GOOD THINGS!
———==oOo==———
Originally written for GirlyGamer.com.au home blog of Nerfenstein / GirlyGamer / BoardGameGran. Catch up with me on my Facebook page, or if you Tweet… there's always Twitter and guess what, I actually reply!