Dreadnought Mech model – Not great, but fun.
I've been finishing up a couple of foam commissions for people this week and after a chat with a friend decided to do the fun little project you see here. I'll preface this by saying I'm not a Warhammer 40k aficionado, so if you're going to critique this and say things like 'it's the wrong color', 'such and such faction wouldn't be blue', or 'another faction shoots missiles from the left side'… well, pointless.
I freely admit I am not a 40k player, I am just a fan of the 40k aesthetic. That is to say I love the design of many of their weapons, their models (well sexist crap aside) and the huge overarching history it appears to offer. The design of this dreadnought / mech was mine, it's not based on any one design, I had about 11 images I looked at for this and mashed them together and added my own bits also.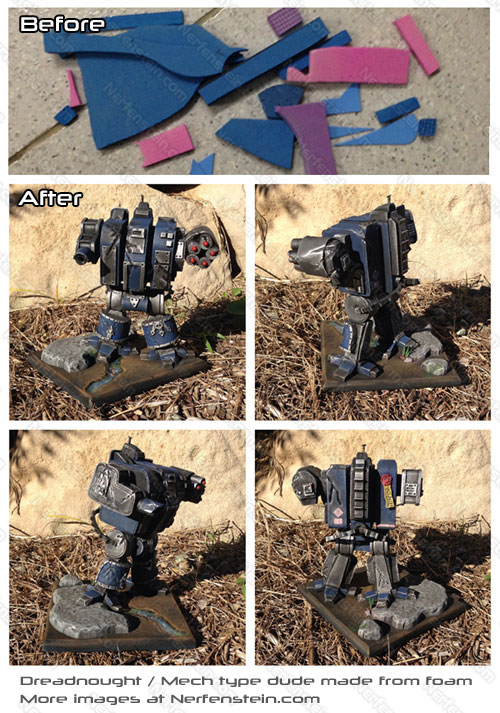 The ENTIRE model is made from foam, other than the missiles (LEDs for those that wondered), the water effect in the brook (PVA), round rivets on the front right knee and one on the back of the cannon (small metal joining pins), warning decals and top antenna (a piece of plastic). Everything else is foam, from the grass, to the pebbles to the base and stone. The missile launcher is also foam, made from foam Nerf rounds.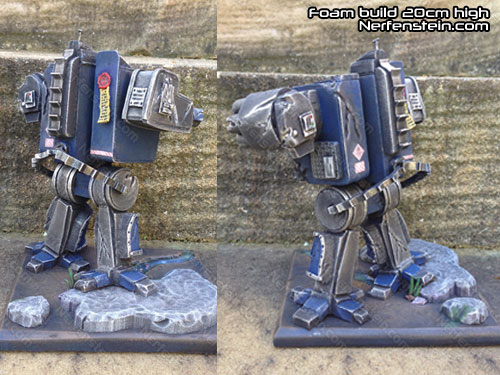 As you can see I went for a battle damaged Dreadnought / mech model, as opposed to a new one. I scarred this puppy up good!
I hope you've liked this foray into foam prop making, this guy was my first attempt at this sort of build, I'm sure there will be others. Have a great day folks!
Till next time people… what do we say?! ….
DO GOOD THINGS!
———==oOo==———
Originally written for GirlyGamer.com.au home blog of Nerfenstein / GirlyGamer / BoardGameGran. Catch up with me on my Facebook page, or if you Tweet… there's always Twitter and guess what, I actually reply!