LARP books light and durable
Looking for an epic book prop for your LARP, tabletop RPG game, bookshelf, library, cinema room or coffee table? Look no further! "NerfenTomes" are here! These are foam props that replicate closed antique books, rare books, collectible books, fantasy and occult books.
If it's a prop book of antiquity you're looking for or any other style you like, you can commission one of those below or something specific / personalized. More info on commissions at bottom of page. NerfenTomes are the brainchild of Nerfenstein… that's me! I've always been quite fascinated by old books and as a fan of the Cthulhu Mythos and movies like Indiana Jones, the idea of doing prop books was always floating in the back of my mind.
And thus.. here goes a new prop making adventure.. the original.. Nerfentome! I won't be updating this post after today (May 13, 2012), but I will be updating the NerfenTomes Main Page with any additions to the collection in the future, so be sure and check that out too.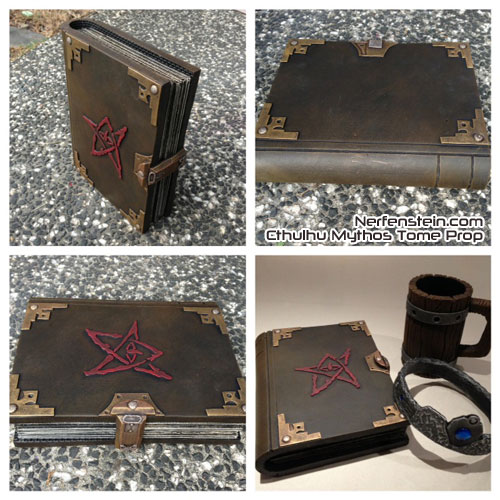 This Cthulhu Mythos / HP Lovecraft inspired book / tome features a raised Elder Sign sigil on the front and locking mechanism on the side. Looks really cool, great prop for any Cthulhu game or just as a talking point.
———-==========———-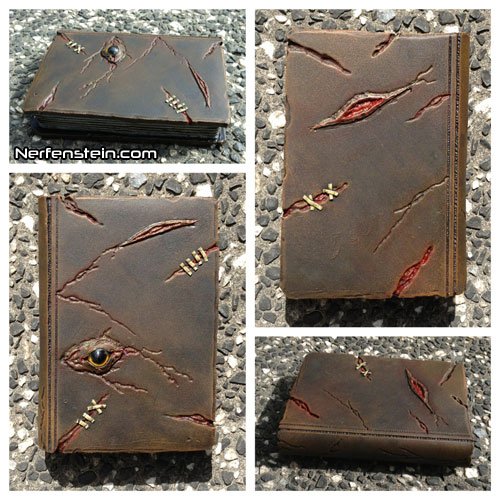 Book prop based on the idea of a soul devouring tome like the Necronomicon. I came up with this scarred design and it turned out really cool. The all knowing eye sees everything!
———-==========———-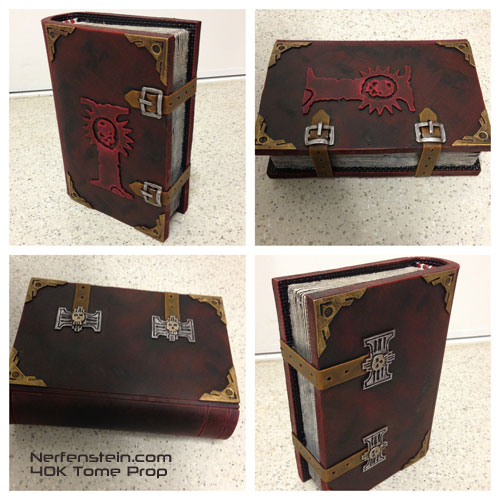 Warhammer 40k inspired tome with strapping and buckles. Imagine the knowledge herein, this giant tome was designed by my good self to replicate what a military tome might look like in the 40k universe.
———-==========———-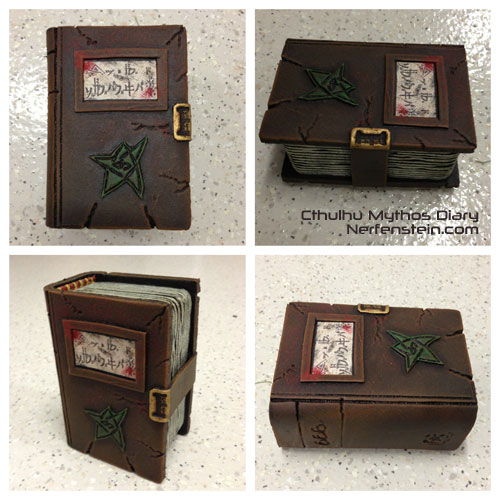 This book prop is smaller and deeper than the larger tomes. Another Cthulhu inspired art piece, this has more of a diary vibe, which is really cool.
———-==========———-
NOTE: These 'books' are prop only, they do not open and contain no written content.
You can commission your own book, just email me (Nerfenstein@gmail.com) with what you need. Given the foam base, these books are light and therefore great for postage, domestic and international. As a loose price guide, the large books commission for $120-$160, medium books $90-$120 and small books $60-90 (Please note this is a guide only, just to save time and give a rough idea. The larger the book or the more intricate the detail, the more costly materials and time and therefore the book price. These are handmade pieces of art and it is that that you are paying for.
Till next time people… what do we say?! ….
DO GOOD THINGS!
———==oOo==———
Originally written for GirlyGamer.com.au home blog of Nerfenstein / GirlyGamer / BoardGameGran. Catch up with me on my Facebook page, or if you Tweet… there's always Twitter and guess what, I actually reply!