Hi prop fans! I've been expanding my prop making repertoire the last few weeks and adding to my 'Foamidables' portfolio. These are props made out of foam for the most part. Foam props are great for LARP (Live Action Role-Players) and there are a couple of LARP groups in Australia I'm very familiar with. My chums Neil and Chris run an epic LARP group based in Canberra called "The Hundred Swords". If you're in or around Canberra with a penchant for LARP check them out, lovely guys and a great group. If you're in the Brisbane area there's a group called "Heroes Odyssey Inc" run by a chap named Warren Woolley so be sure and check that out.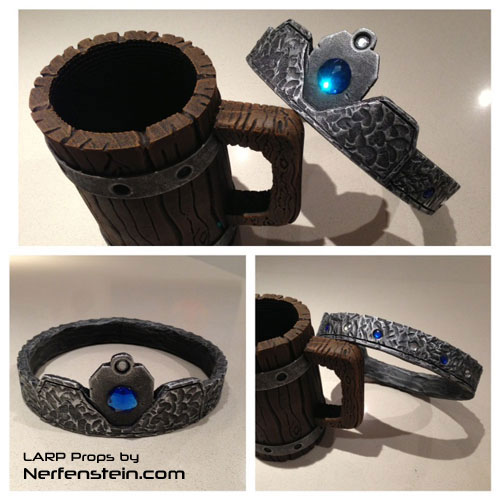 Foam doesn't hurt when you get bonked in the head – or anywhere else – with it, that's why it's great for LARP. There's a lot you can't do with foam, but there's a lot you can. Foam comes in various types, closed-cell and open-cell being the main ones. These props were all made with closed cell foam so they're sturdy but soft.
If you want any of these or something else for your LARP game I can be commissioned, just email me at Nerfenstein@gmail.com and let me know what you need. Each prop is hand made, painted and finished by myself, so is therefore a one off piece.
I hope you've liked these new LARP props in my 'Foamidable' prop range. I've got a new range coming out you may also like for your LARP game, geek shelf, Tabletop RPG and coffee tables.. so keep your eye out for Nerfentomes (featured post coming any day now).
Till next time people… what do we say?! ….
DO GOOD THINGS!
———==oOo==———
Originally written for GirlyGamer.com.au home blog of Nerfenstein / GirlyGamer / BoardGameGran. Catch up with me on my Facebook page, or if you Tweet… there's always Twitter and guess what, I actually reply!