The boys in blue meet Nerf
Hello fellow Nerf fans! Yes I'm back with another crazy Nerfenstein Nerf modification, this time it's the Nerf Rayven. This is of course a police cruiser mod, the lights flash and it has four different siren noises you can activate on the grip of the gun.
Inspiration for this Nerf mod came from the "Total Recall" movie remake, well the police vehicles in said movie, until I realized they had no standard red and blue flashing lights, the thing this entire mod is built around. This meant it taking a turn toward the US Dodge Charger Police Cruiser. So it's kind of a mashup of those two vehicles. Why did I go with a US police vehicle for inspiration, instead of the Australian police? Well I like the aesthetic of the US versions, they are more iconic given they appear in most movies / TV series and there's no checker pattern!

Remember that Borderlands Torgue Nerf Maverick mod? That was enough checkerboard pattern for me for a while.
For this Nerf mod I wired in a bicycle light and siren set into the body of the gun, just a simple snip and rewire and a neat little drill hole in the grip for the buttons. They sit on the grip so a right-handed person can fire the gun and set off any of the 4 sirens and lights.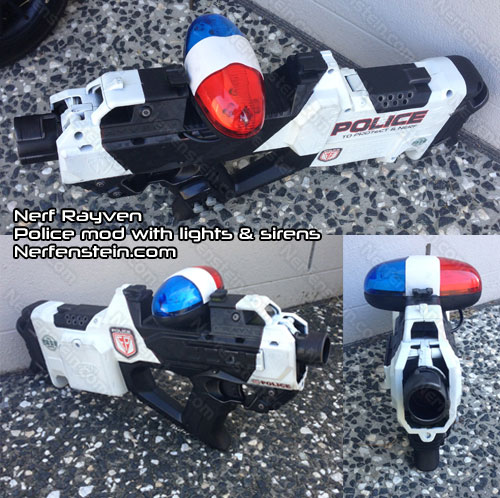 Here's a little Vine I did to show how loud it is, this is just a snippet of the lights and 4 different siren sounds (hover to put the sound on and hover to put it back off lol).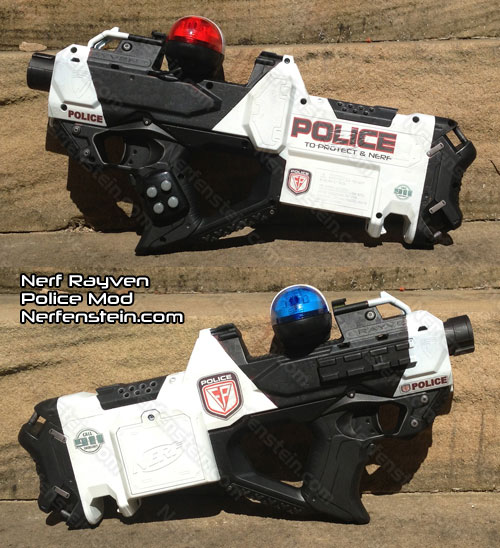 That's pretty much it, as usual the decals I did up in photoshop and bob's your aunty, Nerf Rayven police car aesthetic mod with light and sound. Great for a HvZ game, or even regular Nerf war.
Till next time people… what do we say?! ….
DO GOOD THINGS!
———==oOo==———
Originally written for GirlyGamer.com.au home blog of Nerfenstein / GirlyGamer / BoardGameGran. Catch up with me on my Facebook page, or if you Tweet… there's always Twitter and guess what, I actually reply!