I'll try and Sci-Fi
The upcoming SyFy Channel series "Defiance" is one I've been looking forward to since it was first announced back in 2011. I'm a huge SciFi fan and it is always good when SyFy actually pickup shows in the genre. This series is tied into the "Defiance" MMO video game by Trion Worlds and that is where we have found inspiration from for this Nerf mod.
This is a Nerf Firestrike pistol modded after the style of the awesome looking Infector pistol from the game. I'm not sure if this gun will appear in the Defiance TV series, but keep your eyes open here and on my Nerfenstein Facebook page for other "Defiance" mods / props (I'm working on a scratch built Defiance prop at the moment as it happens). The designers have done such a great job on the weapons and overall look of this series I can't help but be excited, then there's the cast! "Defiance" premieres Monday, April 15, 2013 at 9:00 p.m. Eastern/8:00 p.m. Central in the US.
Okay let's look at the mod…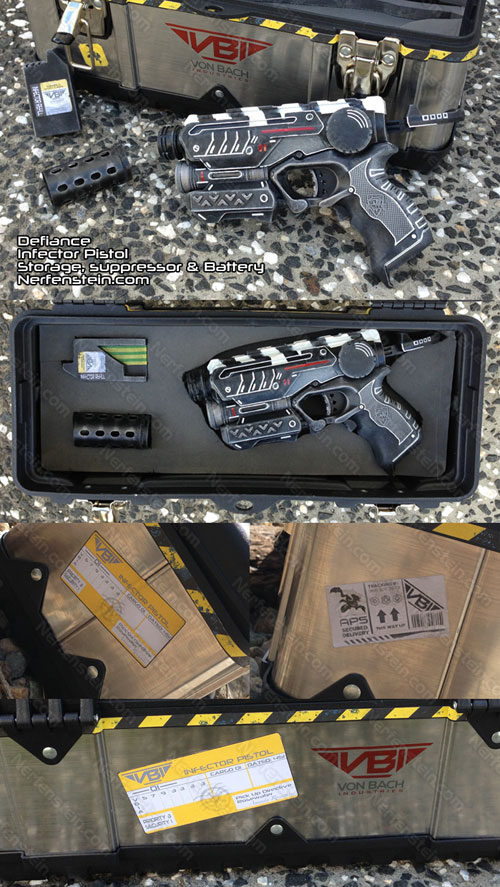 Went with a cel-shaded look to match the video game graphics. I also added a cool carry case because I was devastated the awesome Defiance Ultimate Edition of the game wasn't available in Australia… DAMMIT! I was so excited when I saw coverage of it, but it appears to have been US only.. gutted! Anyway I made my own case based off the case in that edition and I added a 'battery' for the Infector Pistol. Followers of my work will spot this is the Nerf Firestrike mod I did a few weeks ago to show how to make cheap / easy screw on barrel accessories. This is the smallest suppressor from that mod set. You can see how that was done in the DIY Simple Nerf Barrel Extension tutorial post.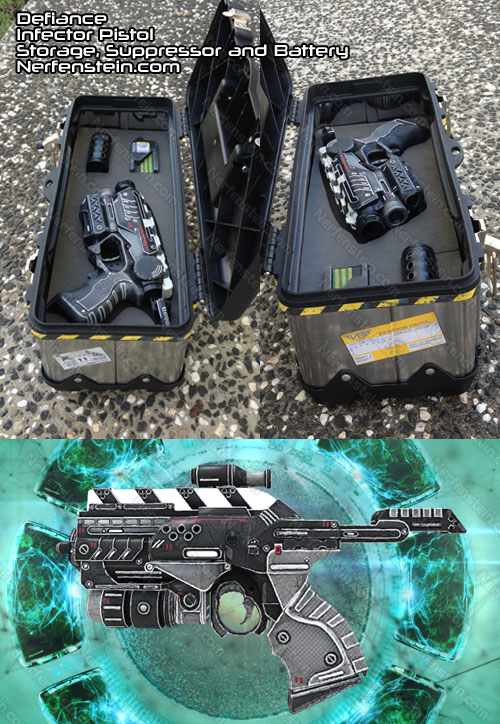 Made some decals in photoshop based on some of the ones on the Collectors edition of the game and I made one of the Von Bach Industries logo and a delivery label featuring Julie Benz' characters name (Amanda Rosewater). Also added a distressed tape all the way around the metal box. Foam inserts with the areas cut out for the pistol, Spare battery (mdf) and suppressor to set it off.
So there we have it, my first Defiance weapon and homage to a show I am really looking forward to! Jamie Murray and Julie Benz, how can this show fail!
Hope you've enjoyed this Defiance Infector pistol Nerf mod.. till next time good people… Nerfenstein out!
NOTE: For those who like bigger pictures, I'll do that on Facebook.
Till next time people… what do we say?! ….
DO GOOD THINGS!
———==oOo==———
Originally written for GirlyGamer.com.au home blog of Nerfenstein / GirlyGamer / BoardGameGran. Catch up with me on my Facebook page, or if you Tweet… there's always Twitter and guess what, I actually reply!