Nerf blaster guitar, because why not!!
Hello Nerf modding fans, hope you're all having a good Easter if you celebrate it… or perhaps you're just enjoying the little break it affords us. I've been working on this latest mod, the NerFender Nerf Rayven electric Guitar mod… TWANG!!
This is a really cool Nerf mod for a few reasons, one everyone automatically looks cooler when they sling an electric guitar, two it has a built in sling and three, well it looks badass to fire foam darts out of a guitar lol.
If you can't tell, I started with a Nerf Rayven and cut off the picatinny rail on the right hand side. This comes off fairly easy if you saw through the holding nub on the right hand side and it makes it nice and flat for the strings to run along, just fill with styrene or whatever you have handy.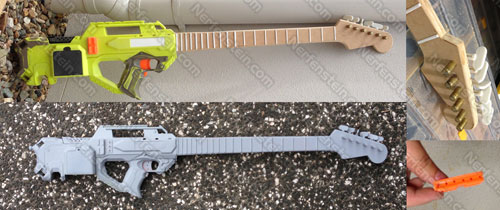 You can see in the image I made the head / neck out of mdf, great structurally and could be sawed to fit around the barrel exit. The bridge is the picatinny removed from the side, the tuning pegs are spent bullet casings and the key sections are made from paint tube squeezers… use what you have!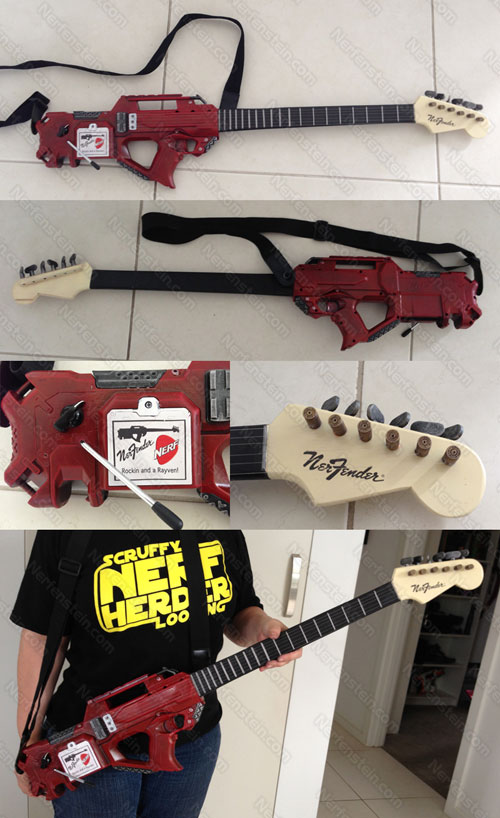 For the paint job I went with a standard red guitar with black neck and ivory head because that just screamed electric guitar to me. The name "NerFender" came to me because Fender is a cool guitar and I thought it was funny to tie Nerf into that. It is actually dry brushed all over in red, bringing out the edges, but the photos aren't really showing it great.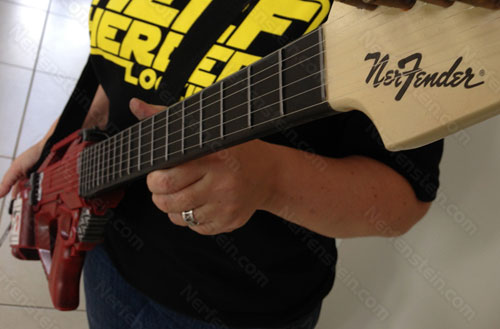 This one took a LONG time to pull together, fiddly bits like adding the strings took a long time, but all the fiddling was worth it!
I'm going to do a video of this in action as soon as I get time and I'll add it here and on YouTube because it's hilarious firing a guitar gun!
*I'm sure there will be at least one smarty pants who will ask, so I'll cover it here… No it doesn't work as a guitar, just as a Nerf gun.
Hope you've liked this latest Nerf mod.
Till next time people… what do we say?! ….
DO GOOD THINGS!
———==oOo==———
Originally written for GirlyGamer.com.au home blog of Nerfenstein / GirlyGamer / BoardGameGran. Catch up with me on my Facebook page, or if you Tweet… there's always Twitter and guess what, I actually reply!