Boba and Jango blaster repaints!
Got a commission from a lovely chap named Cam who wanted his Boba Fett blaster repainted realistic metal style for display. I wanted to do one of these and after finishing it, I kind of want to own one. This thing turned out sweet, great design. Cam wanted basic realism, nothing fancy, a Boba Fett blaster that looks real for display prop purposes, metal and well used. This meant lots of dry brushing, a few hours as it happens.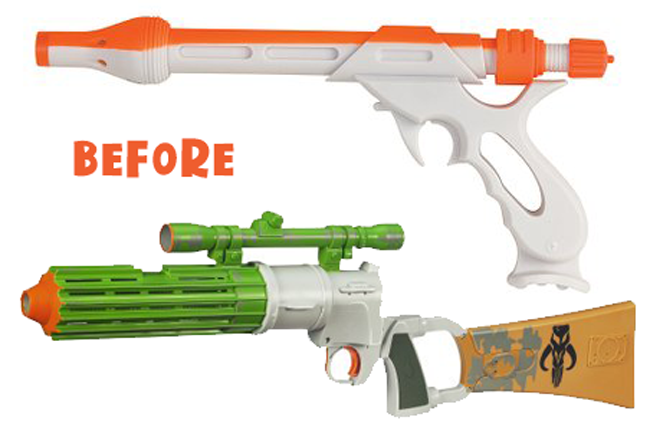 The main problems with this blaster repaint is ensuring the lighting is in no way damaged by the paint. Obviously a straight spray would just get in all the holes and thus land on the transparent plastic inside, that would mean the red light wouldn't get through. To get around this issue I taped off all the vent holes after sanding, but prior to spraying, I then hand-painted the vent holes around and in. Lighting preserved.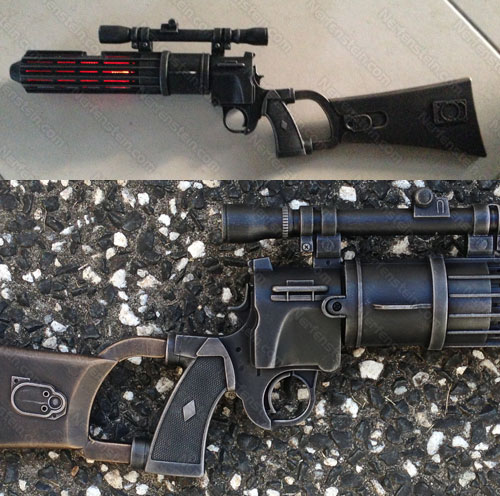 The Boba Fett blaster or EE-3 carbine rifle is actually based on the Webley Scott No.1 Mark 1 Flare Gun, with the addition of that nice vented sheathing over the barrel and a scope. In keeping with that I filled the stock attachment area and all screw holes (other than the battery compartment).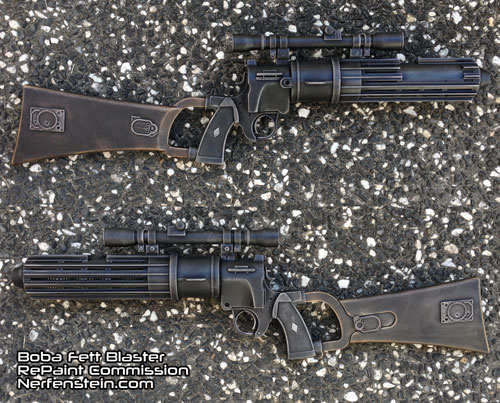 Now, you know I like to do my RAOK things from time to time. That's a 'Random Act Of Kindness' for those not in the know. I give away things for no reason, well other than it's nice to be nice, so if you commission me, well you never know. Cam – the guy who commissioned this – is a HUGE Star Wars fan, I am a HUGE Star Wars fan, so I threw in a Jango Fett blaster for his display shelf.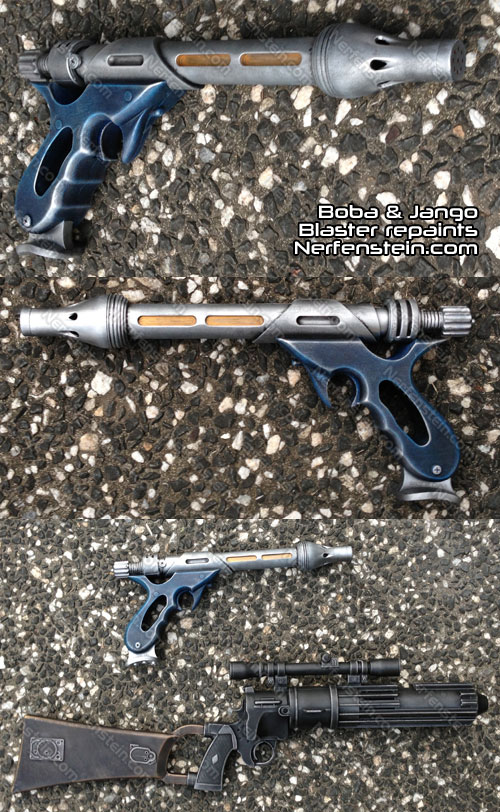 That's it, another commission done and he seemed very happy with it, which makes me also very happy with it. Hope you've liked this latest post.
Stay classy people!
Addendum:
Cam put up a video of the repaint.. he was so lovely and this is great feedback, so I'm embedding it here:
Till next time people… what do we say?! ….
DO GOOD THINGS!
———==oOo==———
Originally written for GirlyGamer.com.au home blog of Nerfenstein / GirlyGamer / BoardGameGran. Catch up with me on my Facebook page, or if you Tweet… there's always Twitter and guess what, I actually reply!