H.G. Wells Tesla pistol W13
I've gone Tesla crazy since finally sourcing some vacuum tubes (thanks again Carole!). First there was Claudia's mini Tesla pistol last week and now a H.G. Wells steampunk Tesla pistol this weekend! If you're wondering why a H.G. Wells steampunk Tesla over the regular Tesla, it's because H.G. is my favorite Warehouse 13 character and I'm still having trouble sourcing parts for the actual Warehouse 13 Tesla pistol prop. Anyway I figured it only right H.G. Wells get a Tesla all her own!
I LOVE the detail in this blaster, it is beautiful, I only wish I could remember where I got it from as I want more! I fully weighted it, so it's heavy to pick up and added the vacuum tube, after finding one that fit perfectly, after I had taken a saw to the gun itself.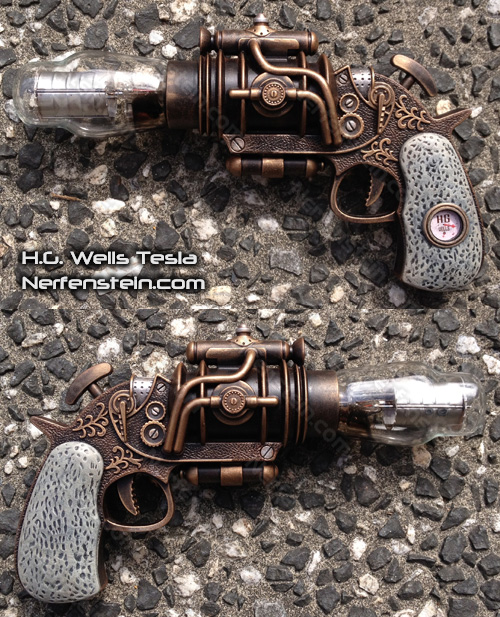 I've added a couple of other angles because in all honesty these images don't show this gun as it looks in the flesh so to speak. I did a multi-toned dry brushing and dragging technique on this and it worked really well. You can't see it but the colors include copper, brass, bronze, gold, lead and silver, that's without the 'bone' grip, which I did as opposed to black or brown as I thought it would look better against the darkness of the metals.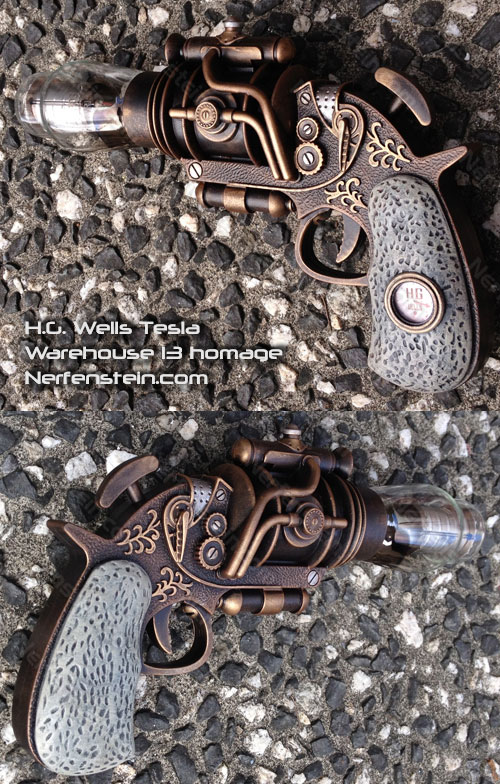 Anyway, there it is, the H.G. Wells steampunk Tesla pistol – A Warehouse 13 homage to Helena Wells. Hope you liked it.
This post written for GirlyGamer.com.au blog of Nerfenstein Blasters & Props. Jettisoned to other social networks by sky crane. Join me on Facebook if you haven't already.