Mini Tesla pistol build
Claudia's Mini Tesla Pistol from Warehouse 13 – I finally got a hold of some vacuum tubes! (special thanks to the lovely Carole for her help here). Needless to say that means Tesla props. I'm working on a full size Warehouse 13 Tesla prop at the moment (trying to source some parts), but here's a baby Tesla pistol as used by Claudia in Warehouse 13 because it's just so darn cute!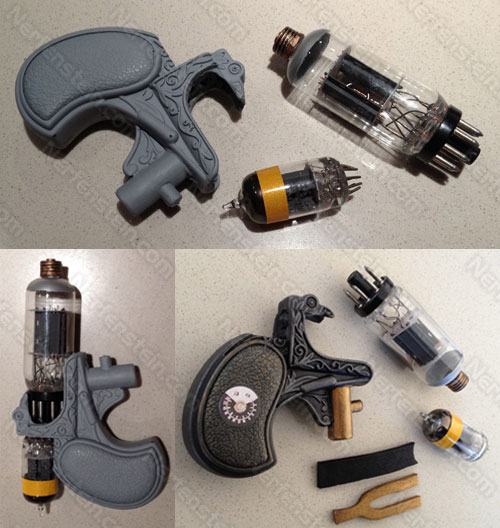 Hope you like it! Warehouse 13 is one of my favorite TV shows and it has some great prop weaponry and general gizmos (who doesn't want their own Farnsworth!), but the Tesla pistol is kind of iconic. The full sized Tesla has a lot of parts I have nothing like, the first draft build was a fail, so I turned my attention to Claudia's mini Tesla….
I had a spare Deringer model pistol, which just happens to be the base of Claudia's Tesla, I took the Dremel to it. Thanks to Carole I also now had the vacuum tubes, other pieces came together from spare plastic cutoffs from other mods, EVA and other bits and pieces. I changed the prop slightly by leaving the connector pins showing on one side, on Claudia's Tesla pistol these are covered, but I liked it more open so left them. Oh and I weighted it, so it's heavy and doesn't feel like plastic when you pick it up.
And that's it done, one Claudia mini Tesla prop, hope you liked it.
This post written for GirlyGamer.com.au blog of Nerfenstein Blasters & Props. Jettisoned to other social networks by sky crane.