Steampunk Batman blaster weapon – tri-barrel Nerf style gun
A certain movie is released today, so here's to "The Dark Knight Rises", a film I'm sure loads of people are looking forward to, myself included. I thought I'd do a Batman blaster mod in celebration, but rather than just doing a Batman Nerf mod that was mainly black and Batarang like, I'd go for something a little different… Steampunk Batman pistol! The idea for this came about thanks to Brandon, when we discussed this tri-barrel blaster here at my blog.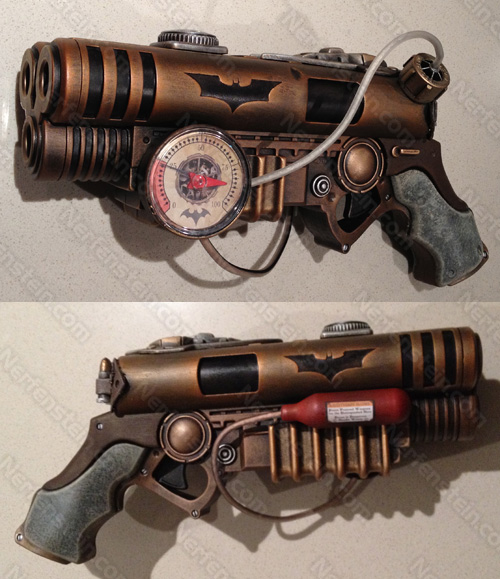 The "Triple Barrel Grapnel" gun by Mattel was reviewed on my favorite Nerf site Urban Taggers, the review stated the Batman Grapnel gun has "WOEFUL" performance, with the darts sort of dribbling out of all three barrels. Given I trust the reviews at UT, I decided this mod didn't need to work, so I started by hacking off the plunger priming handle and filling it. This had now become a prop only Batman blaster pistol and I was happy with that. I filled the screw holes, prepped it and found some additions to steampunk it up.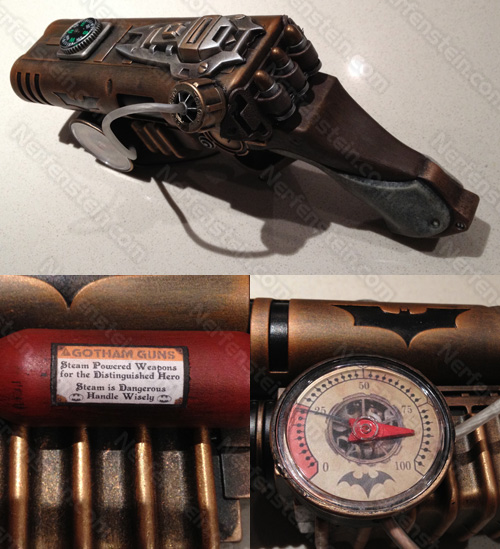 I usually make my own decals, but in this instance I found a "Gotham By Gaslight" steam gauge. This is a canceled steampunk Batman game allegedly by Day 1 Studios. I figured with it being canceled it would be okay to use it. The other decal I made myself and injected a tiny bit of humor as I like to from time to time.
I also added a small working compass to the top, why? Why not, it looks cool and it has a gauge like feel to it. All up this gun cost a fair bit, given the base price was around $35 (I thought I'd paid $25 until I found the receipt!), then there's all the additions and paints, time etc. Still if anyone wants it, it's for sale like everything else, just don't expect it to be a steal, more an art piece for display (Nerfenstein@gmail.com).
Well that's it for another mod, hope you liked it!
I'll probably go see the movie this weekend if I get time, hopefully it will be as good as I'm expecting.
Written for Nerfenstein's official blog GirlyGamer.com.au
Have a great weekend!