Daedric Dagger Skyrim scratch build prop mdf
Hi guys and girls, back with another scratch built prop, this time it's a shout out to the Daedric Dagger from Skyrim. I went for this weapon because I thought it looked awesome, it's sort of scary just to look at and the grip is beautifully detailed. I nabbed an official render and set to work.
My favorite part of the Daedric Dagger build is the grip area. The official image of the Skyrim Daedric dagger shows this to look like it's a bound twine grip, with leather strapping along it and nailed metal stripping along the length of it. I tried to get this as close as I could detail wise and it turned out to be my favorite part of the build. The detail brought out on painting looks really cool, at least in person, hard to see all the shading on my crappy iPhone camera images, but you get the idea.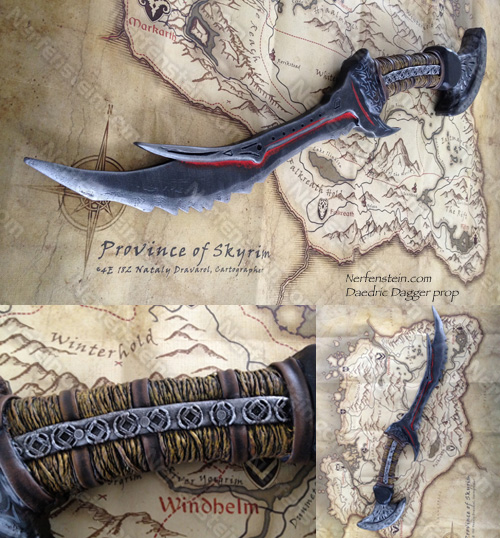 If you're wondering how to make the Daedric Dagger from Skyrim as a prop piece like this, there's a few things you'll need, most important is different thickness mdf sheeting and a scroll saw (and a filter mask, glasses etc). I outlined the dagger in photoshop and printed off a template to trace onto the base mdf, and a template of the additional outer pieces and cut those out too (in thinner sheeting) … glue and clamp. I used EVA foam on the grip, glued and bound with nylon string… also glued. Cut the other raised sections out of a mix of foam and mdf, glued on. for the butt cross guard / pommel I used moulded plastic, so it could have the detailing scored into it. I used the same plastic for the 'metal' detailing on the handle / grip. Needless to say there was plenty of bondo, filling, drying, sanding, filling, drying, sanding… rinse and repeat about 6 times over numerous days.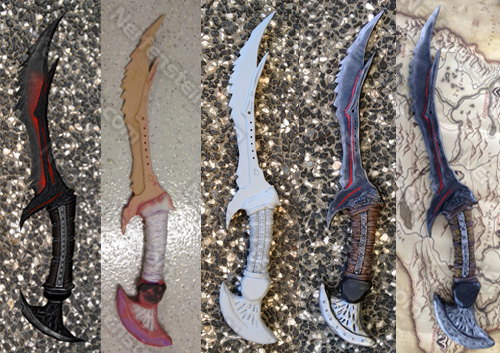 The detail really comes in with the painting process, lots of dry brushing and even some inks.
Anyway, that's the Daedric Dagger from Skyrim, done and dusted, I hope you like it.
Any specific questions I'm happy to help as always.
Post written for Nerfenstein's official blog at GirlyGamer.com.au for the Nerfenstein Facebook Page.