Abigail Whistler homage, the laser crossbow pistol mod
Abigail Whistler is one of my favourite action film characters. Jessica Biel totally kicked ass in the role and the character had some truly awesome weaponry, not least of all was her bow and funky laser slicer.
Though Abigail Whistler's bow was a full sized compound bow (and didn't she look awesome using it, ahh picture just for the hell of it below thanks!), I thought I would make this nifty little crossbow as a homage to her regardless.
I had some great Facebook feedback on this little bow with people throwing out some great thoughts on what it reminded them of.
I think I'll have to try and get a few more and maybe do the homages those people mentioned too as they were wicked ideas, including Scarlett's crossbow from GI Joe, Huntress and The Green Arrow.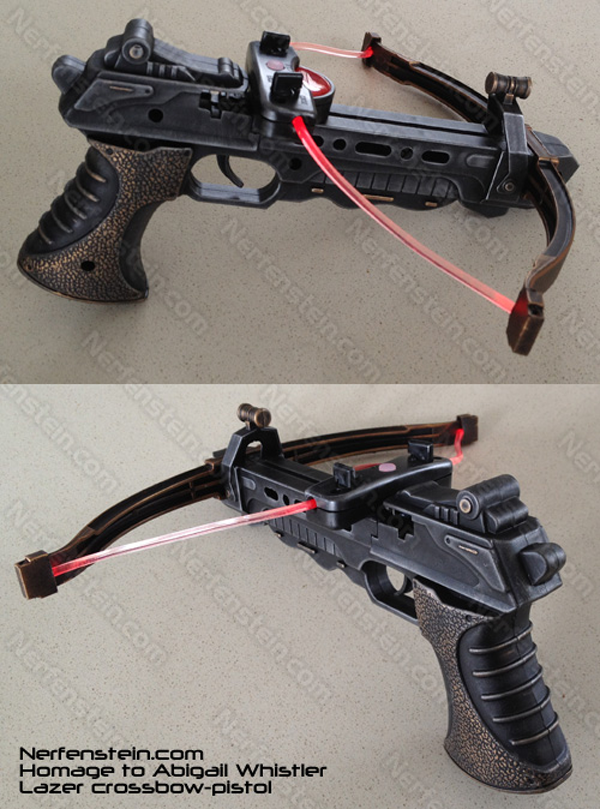 As you can see I replaced the black string with that sweet fibre optic cable attached to a double red control switch, so it can be on or pulsating. I used this same little gadget on my recent Steampunk Binocular mod only that one was green and this one is red, ya know because it's vampire related. Oh I also weighted this babe, so it's a bit heavier to pick up.
Post written for GirlyGamer.com.au and fired to Tumblr and other social networks via vampire slaying crossbow.
Why not join me on Facebook for more blaster and prop making madness!