Portal gun but it's a pistol!
Let me start by saying I LOVE the videogame "Portal", in fact I like a lot of the games Valve make, but "Portal" is just so clever it's actually kind of magical (to me). One of the iconic guns in the game is the Aperture Science Handheld Portal Device (ASHPD) aka the Portal Gun. Although the Portal gun is 'hand-held' it's still fairly meaty, so I got to thinking about how awesome it would be to have a truly portable hand-held Portal gun, or rather, one-handed Portal Pistol.
A Nerf Switch Shot EX-3 was sitting on my workbench, a completed mod I never posted because frankly it was so awful it would be like looking into the eye of Cthulhu (that's really bad for those not up on their Cthulhu Mythos). I kept it there as a reminder of how NOT to do a mod, but decided it needed a complete makeover Portal gun style! For those who wondered the original mod fail was based on The Joker from Batman… the theme really couldn't have been more apt.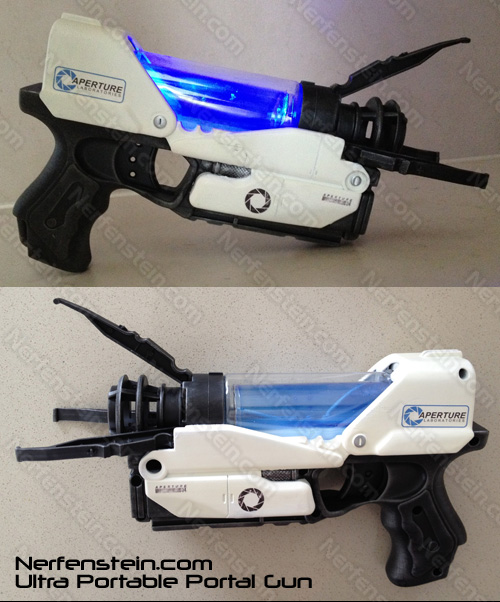 It's a Portal gun, but it's a pistol
Right, onto the ultra portable (one-handed) Portal pistol. First up I needed the prongs, I looked through my Nerf parts junk bin, nothing, then I was hanging out some laundry…. wait a minute! These pegs looks AWESOME! Portal gun prongs found! Next up the nice blue glowing glass tubes, I found an acrylic bottle that fit snuggly in the Nerf Switch-Shot, cut the cap area off on the scroll-saw, then used a small cylindrical tube inside that, so it's a tube in a tube. The central tube I filled with a cut to size piece of blue tinged transparent rolled plastic (made with pva and blue ink), this gives the inner portal tube a blue color when the LED light is off and a bright blue when it's turned on. To be honest I can't believe how well all the parts came together, it was almost magical how everything fit… there's that Valve Portal magic again.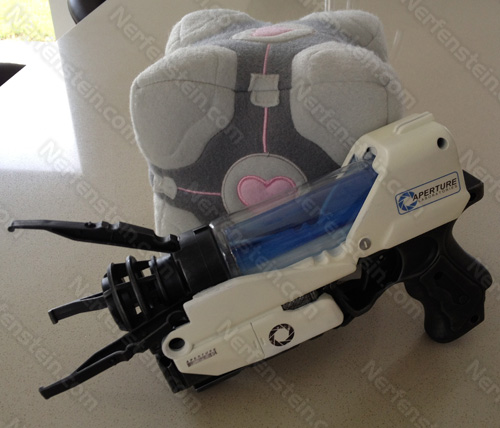 Needless to say I fit a slide-switch bright blue LED light into the top end of the Switch-Shot so it can easily be turned on and off, I also put an Aperture decal on the end so when you're looking down the gun you see it on the back. I may go back and add in the Portal prong wires, but I couldn't find anything that would look cool. When I add them I'll update with an image.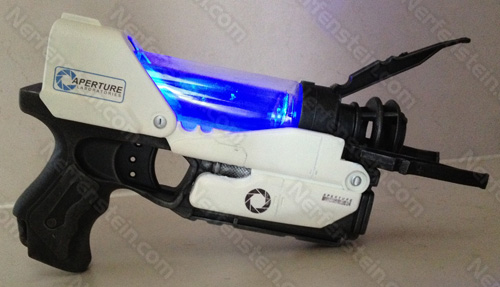 That's it ultra portable one-handed Portal pistol complete. Hope you liked it and if you use this idea, please give me a little shout out as I know no one else has done it. It came out of my brain, to share with you so help a struggling artist out with a shoutout!  
Post written for GirlyGamer.com.au and fired to Tumblr and other social networks via an Aperture Science portal pistol.
Why not join me on Facebook for more blaster and prop making madness!
Addendum: To those 'modders' who stole this idea and tried to pass it off as their own… shame on you. You know who you are.