District 9's awesome aesthetic
Hey folks. Been a busy week or so, but I found time to do a new mod, I give you the Nerf District 9 Bug Blaster Plus okay, okay The Nerf District 9 Assault Blaster… better.
This time I worked with Bondo / Body Filler / Bog (dependent on where you are from) for the first time. I'd like to thank my lovely Facebook folk for giving me lots of useful tips / help, as I had no idea what I was doing .. thanks Daniel, Chris M, Chris W, Harley and last but by no means least Martin 🙂
District 9 blaster build
Well that could have gone better
Figured I'd cover what went wrong with this mod, which was a few things, though in the grand scheme of things, nothing too heartbreaking. First-up the Bondo was hit and miss, first lot was too soft, second lot was too hard.. third, fourth, fifth lot… I think pretty good, well it worked, just call me Goldilocks.
Pay attention or Frak things up
I always try and keep my Nerf mods so they still work as intended (props like the Terra Nova pistol build aside), even though mostly they're for display. Man did I Frak that up here. I think I was snoozing, since I filled the slide area for the priming mechanism with Bondo LOL DUH! What a putz… Oh well, this became a display prop, which is probably safer, given it's partly made of Bondo, which I can only assume would be like resin if you dropped it.. though I haven't tested that theory, obviously.
District 9 Assault Blaster WIPs..
Primed gray, done black, then white. I have to say I preferred this in black, but District 9 weapons are generally thought of as white (even though there are black models) so I did it white with the orange panels obviously.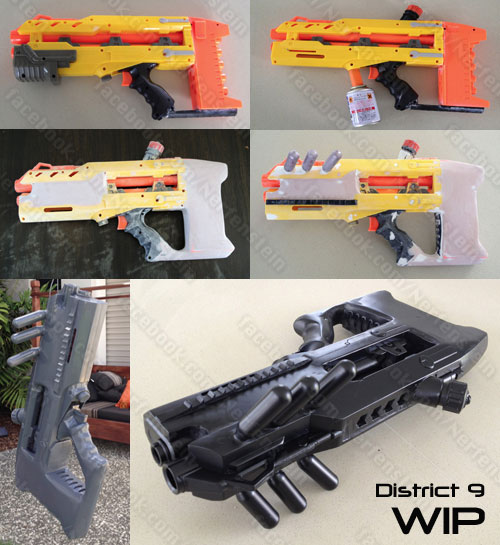 The main gun section is the front section of the Nerf Longshot CS-6, something I thought looked a bit weird / useless as it was. The stock base is the magazine from my least favorite Nerf gun, the Nerf N-Strike Magstrike AS-10 (it's never worked since I've had it, so losing the magazine to this project was no issue). Bracer for the stock was just part of a sturdy barrel I had laying around. The cartridges attached are spent CO2 canisters. I thought these resembled the ones seen on the original District 9 Assault Rifle, my first thought of spark plugs fell through… in the autostore they were $5 each… $30! Youch, so I went with the FREE option. Stock grip is part of a DBZ toy. Top canister is a hose connector. Added a cut arrow panel into the top section, because I thought it looked rubbish open.

District 9 Assault Blaster Finito!..
All done! The images aren't really showing up the weathering great, but they give an idea. I didn't do the over weathering like on the official guns, more an undermetal look with a little bit of 'dirt' here and there. I weathered the gas canister as well so it all matched.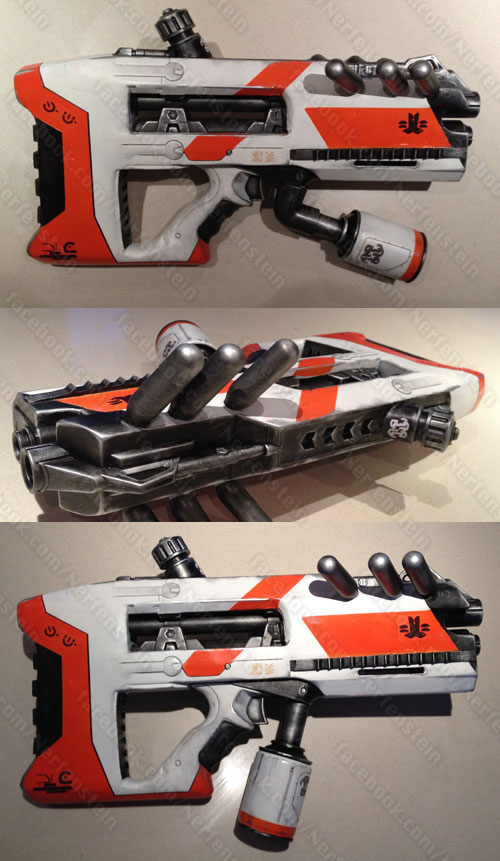 I'll finish off by saying I preferred this in black. White guns just seem a little.. meh to me, I mean unless you're in the snow, who wants a white gun ya know? Still this was a District 9 mod and white is the most iconic color for their weapons. Given the Bondo (body filler / bog) on this mod it's heavy, which makes is cooler.. shame I accidentally filled the hole the primer fit in, still, makes a nice prop / display piece.
Till next time!
Have a GREAT week!
If you're seeing this on posterous or tumblr, get your butt over to girlygamer.com.au to comment.. go on..