How to make the Nerf Terra Nova pistol – Tutorial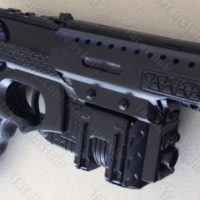 How to make the Nerf Terra Nova pistol fairly simply – Hi muchachos! This is a wee tutorial for those who would like to turn their Nerf Nite Finder into one of the pistols they use on the TV show "Terra Nova". It's now well publicized "Terra Nova" uses Nerf as the basis for at least some of their guns, including the iconic Terra Nova security sidearm (one of them, there appears to be 3 different models). If you want to have a crack at making a version of it (not exactly screen perfect, but close to it) you're going to need a few goodies….
Nerf Terra Nova pistol build – What you'll need
A Dremel or other rotary tool
Sandpaper
A Nerf Nite Finder
A Nerf tactical mission kit red dot scope
Glue (hot glue gun or strong epoxy)
Scrap bits of plastic
Paints
Sinkers (if weighting it like I have)
Time
Patience
Nerf Terra Nova pistol build – Tutorial
Okay.. time to get your mod on and build your very own "Terra Nova" security pistol… let's start by taking both the Nerf Nite Finder and the Nerf Tactical Red Dot sight apart. Sand the heck out of them, paying particular attention to the Nerf logo on the Nite Finder which you want to sand off (power sander recommended). My build doesn't use the red dot, but if you're feeling up to it, keep the Nite Finder red dot and you can mount it underneath.
Rather than try and explain all the cuts I made on the Nerf Nite Finder and Red Dot scope, I've taken a photo… looks a bit of a mess doesn't it, probably could have been neater, but this is the first time I've used my new Dremel.
I had no vice, so I was using the Dremel in one hand while holding the pieces in the other… I DO NOT recommend this, it would be far safer to have a vice holding what you're using the Dremel on and using both hands to hold the Dremel (I managed to sand the skin off a knuckle to the bone.. it was agony!). A final sanding once it's all together should sort out any errors, along with some epoxy putty or similar if needed.
Keep all offcuts because the Terra Nova guns have some scrap bits here and there. I used the original Nite Finder barrel covering (the yellow bit over the front most part on the barrel) as the Terra Nova gun barrel that sits under the shroud made out of the Nerf Tactical Red Dot. You could use PVC or the end barrel off another Nerf Gun that's a better fit, but as this was essentially a build based on just the NiteFinder and Nerf Tactical Red Dot for the most part, I didn't want to go cutting up another Nerf gun and I had no PVC laying around.
Nerf Terra Nova pistol build tutorial – Shroud
The shroud is made from the main parts of the Nerf Tactical Red Dot sight. You'll need to Dremel out most of the pieces inside so it slides over the Nite Finder body. You'll also need to Dremel the angled cuts on the ends and cut off the extended part. Lastly, those drill holes that run along the top. Simple, mask it (helps stop the Dremel or drill slipping on the bare plastic) mark where they go and drill them.
Start joining pieces together using the hot glue gun, and if weighting it, remember to do this before putting the gun back together. Putty along the entire inside of the shroud, so the holes have depth, but you can't see inside (after you've glued it). Add in any pieces that look similar to the additional bits from a picture of a gun in the show – use the scraps you have, or anything else you have laying around in your tool box). Once it's all together, deal with any errors (putty them) and also screw holes (nothing says toy gun quite like screw holes). Remember to let it all dry properly and re-sand the entire thing with a nice fine-grade paper.
Nerf Terra Nova pistol build tutorial – Painting
Pretty obvious, go for a matte / flat back base and make sure you sand the whole thing prior to priming it with the paint… every nook and cranny! The "Terra Nova" guns are all pretty flat, they are essentially your basic flat matte black with a few little highlights. Do multiple coats, waiting for each coat to dry (obviously). Dry brushing with some dark metal should bring things out just enough to make it look like some nice worn metal.
Tada Nerf Night Finder pistol and Nerf Tactical Red Dot sight becomes a fully fledged "Terra Nova" prop gun, just like the ones in the TV show. Now go hunt some dinos or Sixers!
This post was written by and for GirlyGamer.com.au and Nerfenstein.com so if you're seeing it on Tumblr or Posterous you need to nip over to one of those for more props, Nerf mods and other blaster mods and why not Like me on Facebook.. go on.. it's the right thing to do lol