EVA form cosplay helmet from Zelda
Another month another EVA foam prop build. I've done a few repeat commissions in the space in between also, but who wants double posts… ammmmm IIIIII rrriiigghhtt? So here we are with the first Midna helmet prop I've tackled for a lovely client.
A little background on the prop. Midna (Japanese: ミドナ Hepburn: Midona) is a character in 2006 Nintendo game "The Legend of Zelda: Twilight Princess", an epic game. Midna has a couple of forms, one of which is a small helmet wearing imp. When researching this before starting the build I looked at a LOT of images of Midna in this form. Given the discrepancies between the images I went with the one used most often. In the commission brief it was stated I needed to also include the ears as part of the build, so that's why they're joined as part of the helm.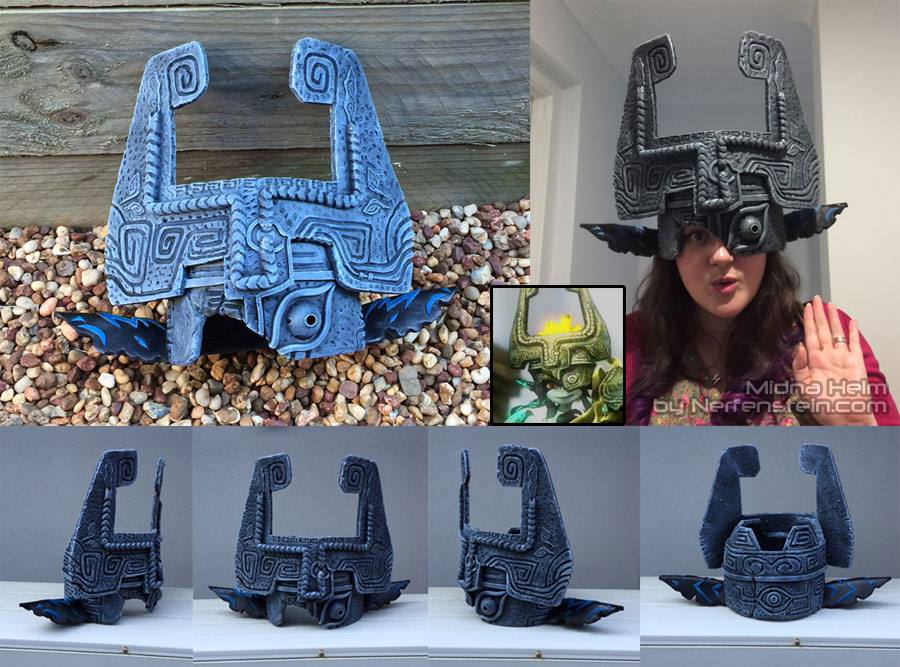 As part of the build I also did the hair dongle thing (Oh I don't know, what is it called?). This was made out of EVA foam also and it comes apart so it can go on the hair and then be held in place.
There was a whole heap of carving and Dremeling in this build, and that was pretty time intensive, but it was fun to do something with so much pattern to it. I added some texture to the back using stone paint and then coated it, this was mainly because I thought it looked too plain and also because the whole thing looks like it's made of stone, so it kind of made sense.
Well, that's it! Another build done.
Till next time people… what do we say?! ….
DO GOOD THINGS!
———==oOo==———
Originally written for GirlyGamer.com.au home blog of Nerfenstein / GirlyGamer / BoardGameGran. Catch up with me on my Facebook page, or if you Tweet… there's always Twitter and guess what, I actually reply!