My grandson cosplaying as Han Solo… melts me heart
Hello funsters! Been awhile. I'll have more regular updates soon, with new builds coming to an end. Before that though I wanted to talk toddler cosplay. That is, cosplay outfits and props for tiny people. This all came about because it was Stormtrooper Day at Dreamworld – a local theme park – and I wanted to take my grandson. Could I find a good toddler cosplay outfit? Nope. Sure you can get some toddler Star Wars costumes, but overall they were pretty dire and expensive. Given that was the case I thought I'd do my first foray into a full cosplay getup, toddler cosplay, so starting small.
Firstly I needed the toddler costume idea, I settled on Luke Skywalker, mainly because my grandson is a little blondie. I also added Han Solo because little blond Han Solo sounded adorable and options are good. I searched all over for a toddler gee (karate uniform) as I figured I'd need that for Luke, no joy, they start at a size 5, I needed size 2 (for someone under 2 years). Han Solo toddler cosplay it is.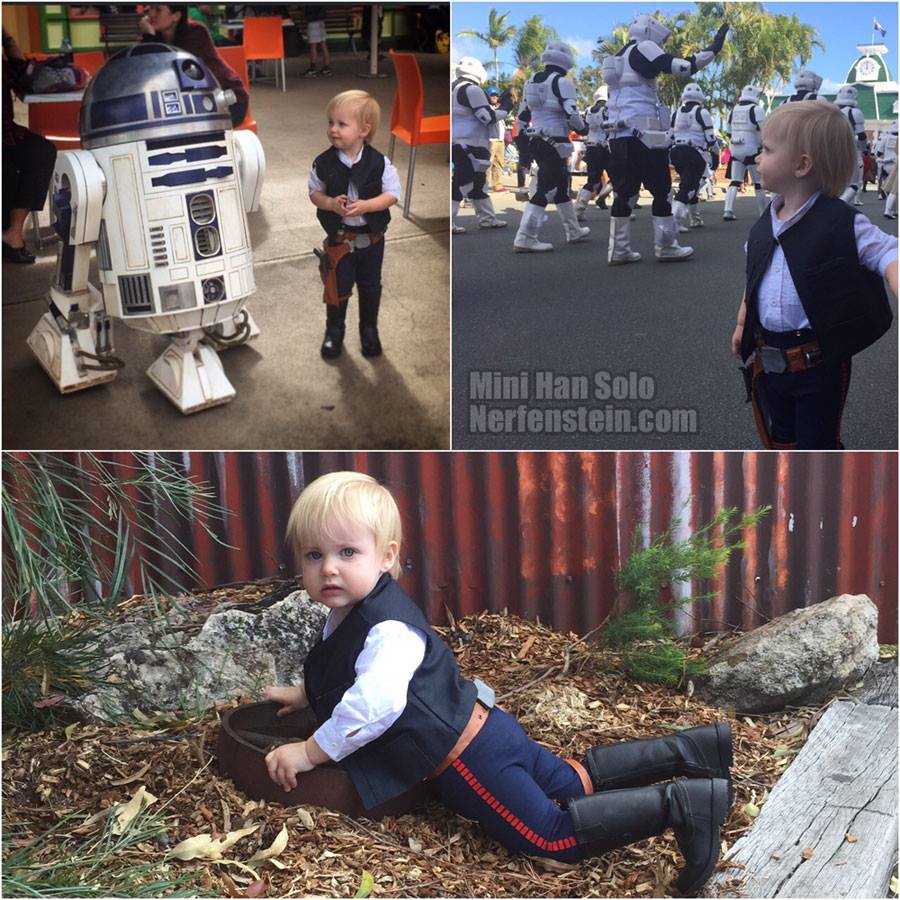 Next problem sourcing the parts. You know we learn to be weird about gender by socialisation. I mention this because Han needed almost knee high boots and who has those, girls. My grandson didn't care he was strutting about in little girls boots, he just liked the strutting and it was adorable. I tried a few different types on him and went for the ones I thought looked coolest and were – most importantly – the most comfortable. Han Solo wears quite tight trousers and boys don't have those either (the closest I could find was skinny jeans and they looked – unsurprisingly – like jeans). Girls leggings, perfect. Next up, a plain white shirt, which I cut the collar off, instant grandpa shirt collar. For the vest I enlisted my lovely mother-in-law and she sewed one up, little pockets and all. Toddler Han Solo is a go!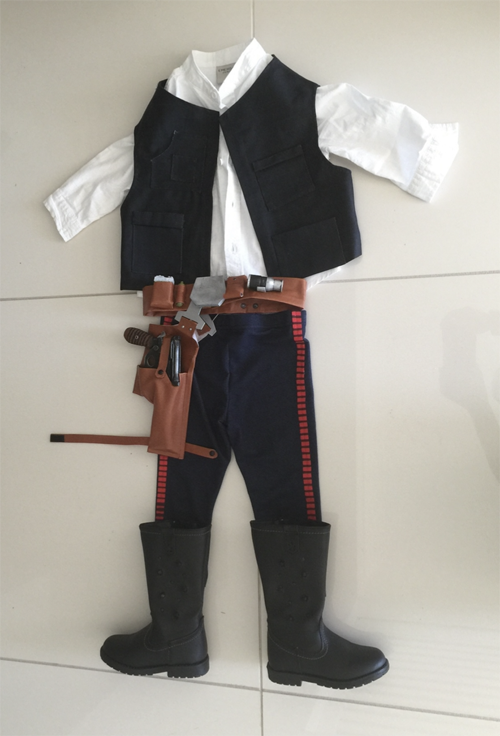 BlasTech Industries DL-44 heavy blaster pistol – Mini version
Of course toddler Han Solo cosplay needs a blaster, so I did a speed build DL-44 heavy blaster pistol in mdf and foam. Needless to say I did this tiny compared to the adult version as you can see in the image (and I have small hands). Toddler Han Solo also needed a utility belt, so I did that in some cheap faux leather I had in my workshop. Buckles made in foam and styrene, greeblies made from various bits and bobs I had in my junk bin.
Overall doing toddler cosplay was loads of fun and seeing my gorgeous grandson strutting about in it was beautiful. I imagine I'll definitely be doing more in future. I guess if anyone wants undersized props for little people they can of course contact me with details and their budget. I'd love to see / work on other toddler cosplay costumes.
Till next time people… what do we say?! ….
DO GOOD THINGS!
———==oOo==———
Originally written for GirlyGamer.com.au home blog of Nerfenstein / GirlyGamer / BoardGameGran. Catch up with me on my Facebook page, or if you Tweet… there's always Twitter and guess what, I actually reply!