Yeah sorry, it's another Warhammer 40K post
If you're a follower here or at my Facebook page you'll know I've been doing a few Warhammer 40K inspired Bolter guns lately. I love the 40K aesthetic, it inspires me no end. The Bolt Gun is the Volvo of sci-fi weaponry, "it's boxy, but it's good". These are more foam builds, at present my favorite build material, it also means they're great for cosplay and display because they look really heavy, but they're not.
Like "Mass Effect", "Fallout", "Borderlands" and "Half Life", the Warhammer 40K universe is full of beautifully designed weaponry. As an artist it's hard not to be swept up and inspired to create something of similar ilk.
These have all been made for a Warhammer 40K fan and he's been a joy to work with. There is something magical about working with another person who ignites your passion of the craft, someone who gets your mind ticking, I love that and I've loved these builds.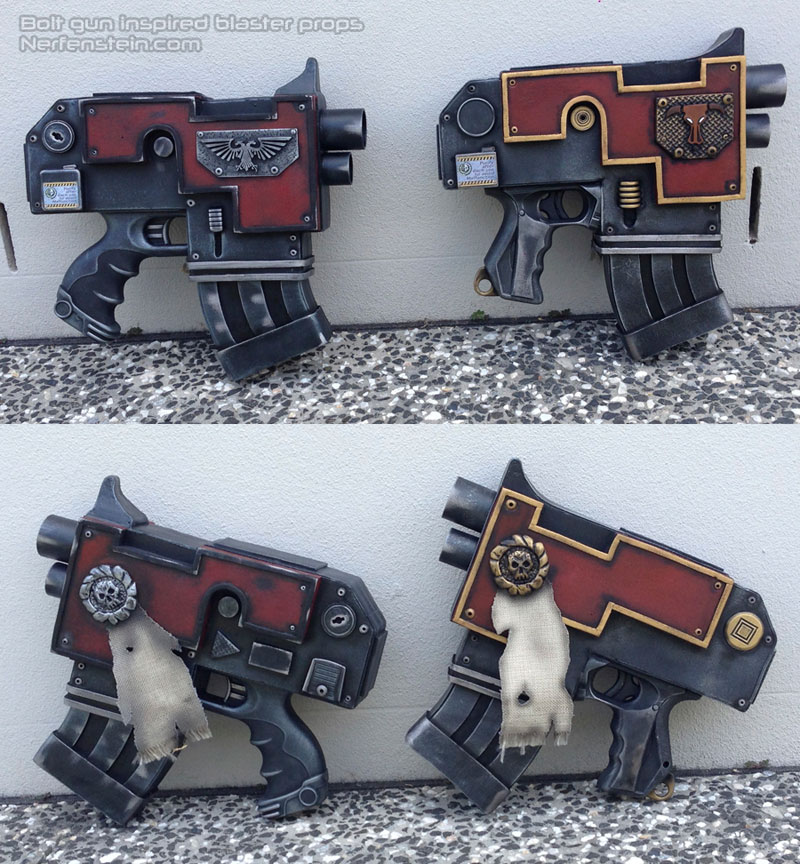 That's all for this week, just a quick update.
Til next time funsters….
Remember it's what's on the inside that counts.. now go do good things!
———==oOo==———
Originally written for GirlyGamer.com.au home blog of Nerfenstein / GirlyGamer / BoardGameGran. Catch up with me on my Facebook page, or if you Tweet… there's always Twitter and guess what, I actually reply!