Cheap ammo props for your cosplay
Feedback suggests y'all love it when I do prop making tutorials and modding tutorials, so here I am with what must be THE EASIEST way to make some pretty nifty looking prop ammunition. In this particular instance I did scifi shotgun shells and Mass Effect thermal rounds. I chose these because I figured futuristic looking shotgun ammo props might be of use to budding film makers and modders, whilst Mass Effect thermal round props.. no explanation needed.
If you follow me on Facebook you will know if I find something I think will be of use to the lovely people who follow me there, I post it. Everything from hair-rollers as rifle suppressors to tampon syringes as "Underworld" style blue glowing ammo (yeah, that actually happened lol). These everyday items that can be used in prop making are a lot of fun to me, finding something mundane and turning it into a nice display prop – fun. Take these match holders for camping for example.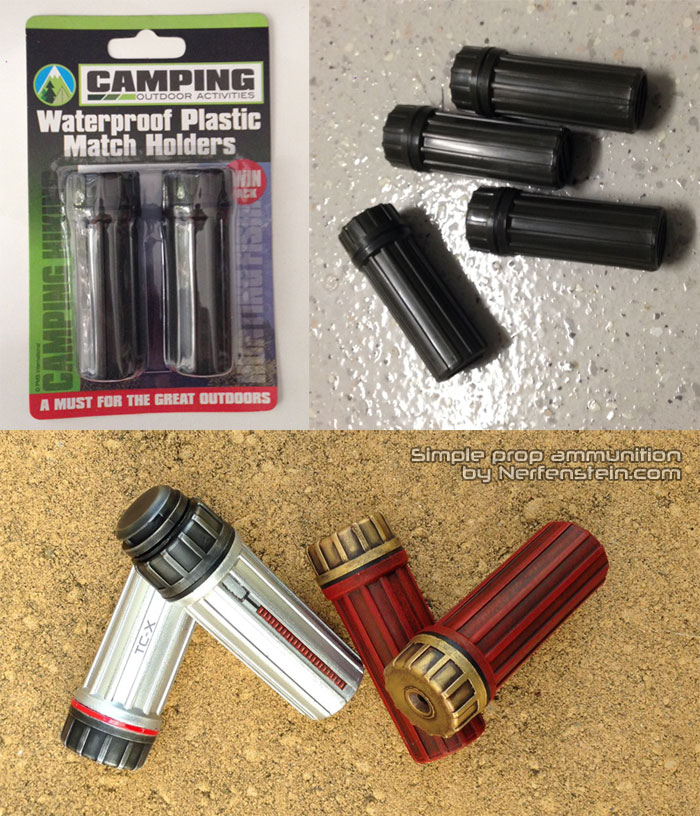 I don't know the availability of these outside my local area, where I got them in a dime store, but I'm sure you will be able to find similar in your local camping or disposals store. These little containers screamed ammo prop to me when I saw the.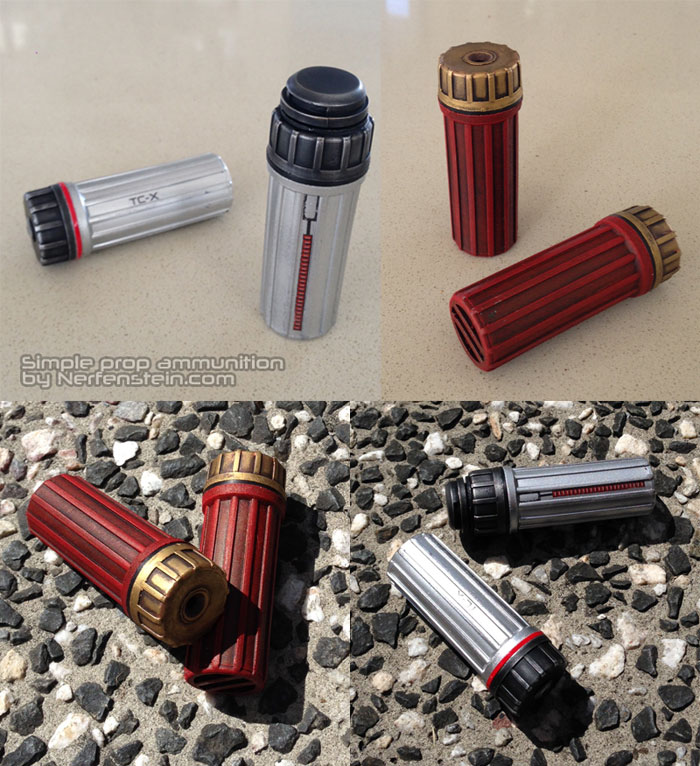 These were simple to make, took them apart, adapted the lids with either a drill press mark, or by gluing an additional bit of junk on, sanded each piece. sprayed them with a black base coat. Once dry, simply dry brushed the shotgun rounds red and the lid section brass, then gold. For the Mass Effect thermal rounds sprayed the main body silver, dry brushed the lids silver also (painted one of the retaining rings red on one) and added decals I made in photoshop. Presto futuristic shotgun shells and thermal clip props based on the ones from Mass Effect.. FIN!
Till next time people… what do we say?! ….
DO GOOD THINGS!
———==oOo==———
Originally written for GirlyGamer.com.au home blog of Nerfenstein / GirlyGamer / BoardGameGran. Catch up with me on my Facebook page, or if you Tweet… there's always Twitter and guess what, I actually reply!