Nerf Scout stipped naked!
Nerf modders ahoy! I've got something different for you. In the hobby of Nerf – as with humans – it's easy to be swept away by the external aesthetic, but really, what matters is what's on the inside (it's cliche, but it's oh so true). For that reason and because I thought it would make a nice Nerf art piece, I bring you 'Naked Nerf', what I hope will be a series of mods that show off the internal workings of Nerf blasters, but all painted up like they're made of metal and not plastic.
The first mod in the 'Naked Nerf' series is one of my favorite Nerf blasters, the Nerf Scout. I love the Scout, though of all the Nerf blasters I've modded, it is probably the one that is most prone to fire failure. For this reason it makes a great prop only modification, you can easily weight it, you can glue all parts together, you can add to it and for the beginner, it's lots of nice detail that isn't crazy hard to sand back. For this mod, it's made to still fire, though I do think that would play havoc with the internals paintwork, thus this being a display piece of art as opposed to a Nerf War weapon of choice.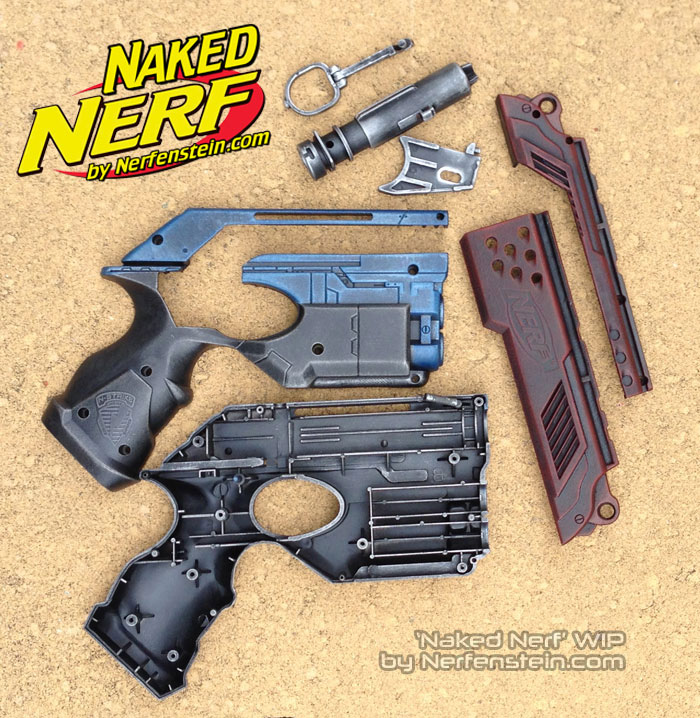 Stripped it all down, sanded EVERY piece (other than the plungers rubber ring.. those don't sand O_o), washed them in soapy water (removes all lubricants), re-sanded internals. Marked out where the internals run on one side of the shell, I chose the screw side as they are cool details also. Hit the bandsaw and carefully cut out the pieces, put it together to check it's all aligned, paint!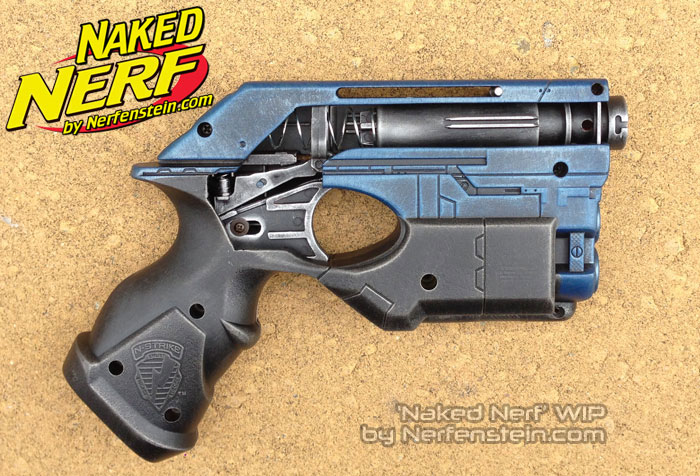 I went for heavily contrasting colors on the body and slide, so that the internal section pops, blue and red were my colors of choice, you could use any colors you like. I kind of wished I'd painted the internals of the shell in brass, so the gunmetal color of the internals popped more, live and learn.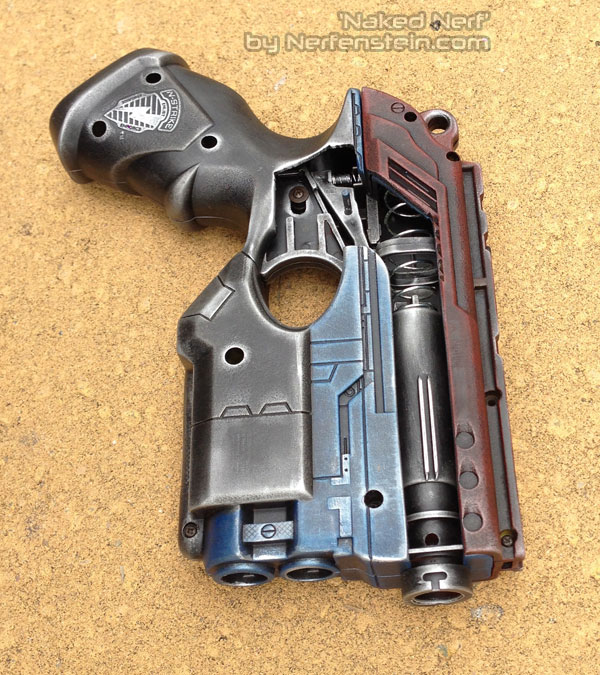 And the right side finished: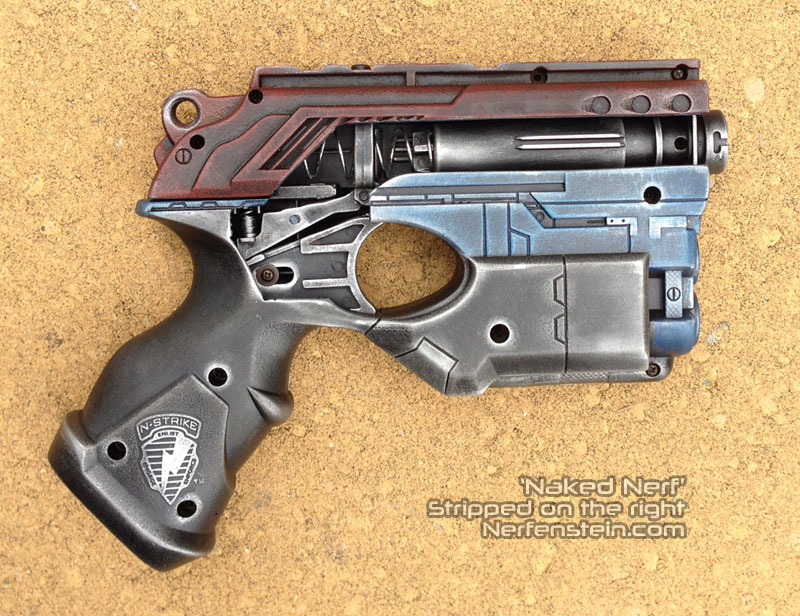 And that's your lot. I hope this little art piece has made you think about the hidden when we're modding Nerf blasters, all those beautiful details we just forget about usually, some really sweet curves and lines all hidden beneath the shell!
Till next time people… what do we say?! ….
DO GOOD THINGS!
———==oOo==———
Originally written for GirlyGamer.com.au home blog of Nerfenstein / GirlyGamer / BoardGameGran. Catch up with me on my Facebook page, or if you Tweet… there's always Twitter and guess what, I actually reply!