Halloween Dwalin Axe prop build
Man I am busy right now! Halloween is just around the corner and that means Halloween commissions. Though I am in Australia, I LOVE Halloween and think it's a shame it isn't bigger here. I know there are naysayers who will leap to "you're not American, why are you celebrating Halloween?", 'because it's fun' is the quick answer. A longer answer would be that the roots of Halloween are actually not American, but rather Scottish, much of my family is Scottish so we have an annual Halloween party, though I still refer you back to point one: Fun!
I recently became a grandparent and I want my grandson to see the world with wonder, I want him to get to use his imagination and be excited by the idea of creation. Halloween is a great time of year because it encompasses imaginative creation and real creation, kids and adults get to come up with a costume idea and then make it a reality, that doesn't change due to geographical boundaries.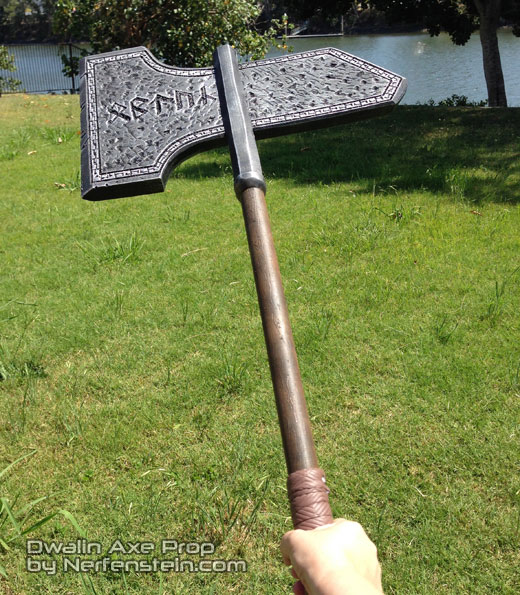 A member of my family is coming to our annual party as a Dwarf from the Tolkien universe. He needed a Dwarven style axe and I got on the case. Originally I was actually going to blur genre lines and do a Skyrim axe because I think it looks cooler. I opted to go for a take on the Dwalin axe because I thought Dwarves – generally speaking – use items that look more squared off and not all curves (like the Skyrim axe).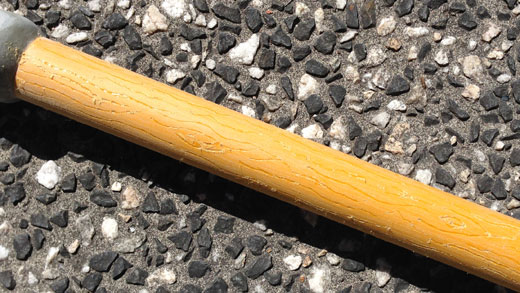 You can see in the above image I wanted the haft of the axe to look like it was made of wood, so I melted in some grain. This took ages, but the effect when painted was really great. I sanded all the strings off and actually found a good tip for when sandpaper isn't working (like for the tiny strings left after sanding), steel wool! I bought a bunch for doing cold cast resin buffing and it worked great at pulling away the strings on the wood grain effect.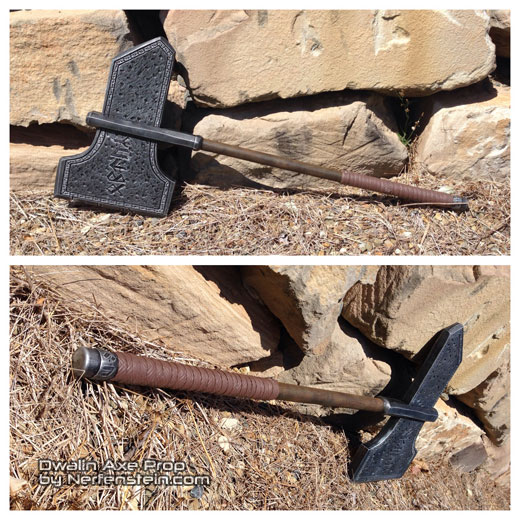 And here's the Dwalin axe finished. These photos aren't great for showing the detail, but overall I'm really happy with how it turned out. As you can see from the picture to the side, so was my son-in-law, which is more important. It looks bigger than it is in this image as he's holding it in front of himself, but you get the idea.
Given how well this turned out in foam I think I will definitely be doing more of these types of builds in the future, it was a lot of fun and is perfect for cosplay because it looks really heavy, but is in fact fairly light.
Right that's it, another Nerfenstein prop is complete and with its new owner, now back to all those other half finished jobs in the workshop….
In the month of scares and spooks remember, do good things!
———==oOo==———
Originally written for GirlyGamer.com.au home blog of Nerfenstein / GirlyGamer / BoardGameGran. Catch up with me on my Facebook page, or if you Tweet… there's always Twitter and guess what, I actually reply!