I designed some geeky  ID badges!
I've been looking for a series of smaller props to add to my portfolio and this is the result, the Nerfenstein prop Agency / Law Enforcement badges for cosplay. I hit a graphics package and designed two badges from the ground up, the Torchwood Institute Special Agent ID badge and the Resident Evil / Umbrella Corporation Special Ops ID badge, the Defiance badge was based on the badge used in the series.
I like the style of the police ID worn around the neck in pretty much every police / agency TV series, so I added a faux leather neck wallet style backing on a ballchain. This gives the right effect and it looks great for cosplay purposes, of course I could do them without that part of the build, but personally I think it makes it look cool!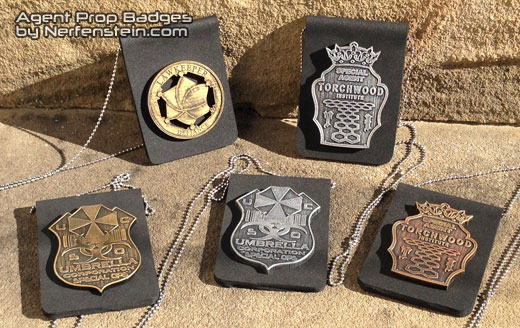 Get your ID on!
The Umbrella Corporation seem to like using flimsy laminated ID cards, but oddly, no actual agency badge, so I thought I'd design one and this is the result. It comes in any color, but I like the silver and bronze / gold finishes the best.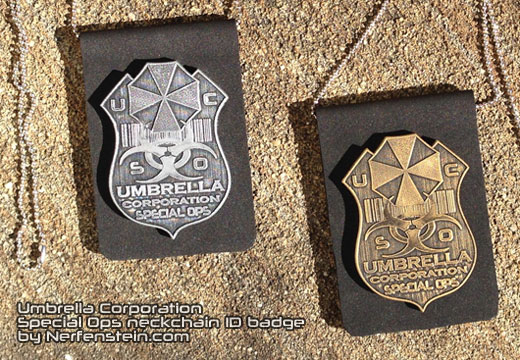 Each badge is cast in resin and hand finished. Next up there's the Defiance Lawkeeper Badge. This is based on the one used in the TV series "Defiance" on the SyFy Channel. I like the modern take on a wild west style badge.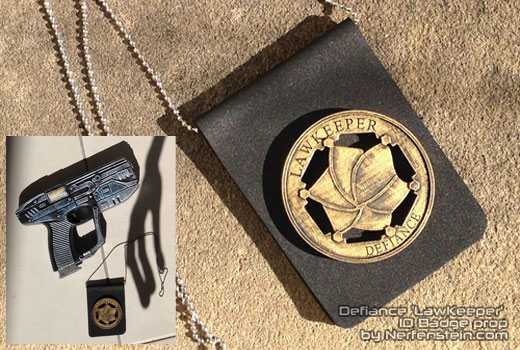 This one can be done in either silver or gold, but it is the gold color that is used in the show, so that one looks more authentic.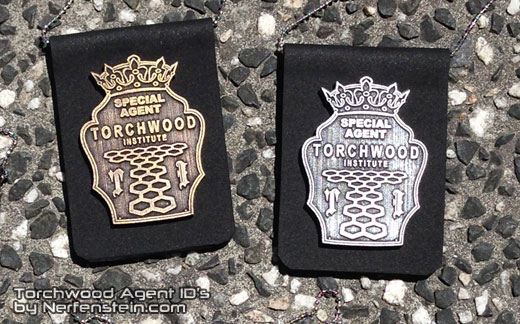 The Torchwood Institute is highly secretive, so the idea they would have ID badges might seem silly, but I figure if they drive around in huge black vans with the logo all over it, how secretive can they be! Again I know there's a few laminated cards around, but I wanted to create something more substantial / realistic.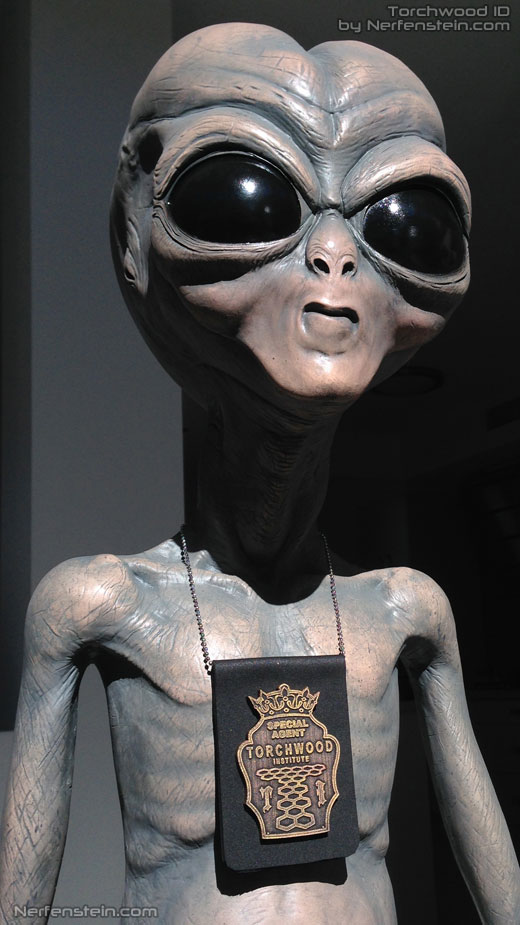 Above my buddy Zetan models the Torchwood Institute ID badge, he looks very serious, which is odd as he's usually really chilled, he must have been in character.. he's such a joker.
These new badges join my Judge Dredd badge and I'll be adding them to my store in the coming days for anyone who wants to add a little zing to their cosplay outfits. You won't find these anywhere else because I designed them, so they're also very limited. I'll be adding to this little collection also, so let me know if there's anything you'd like to see.
ADDENDUM: No longer being made (this post was written in October 2013)
Till next time people… what do we say?! ….
DO GOOD THINGS!
———==oOo==———
Originally written for GirlyGamer.com.au home blog of Nerfenstein / GirlyGamer / BoardGameGran. Catch up with me on my Facebook page, or if you Tweet… there's always Twitter and guess what, I actually reply!