Hello and Happy New Year to you! I hope you had a lovely holiday season in whatever way you celebrate it. Well it's 2013, we're all still here despite what those pesky Mayans had some people thinking, so it's time for more prop making, more modding and more geeking here at my blog. My first completed prop build of 2013 is the Trafalgar Law nodachi sword from Japanese shōnen manga series "One Piece".

Nick contacted me about this commission and I figured 6′ long sword, what could possibly go wrong!
I picked up a few new skills doing this courtesy of my wonderful neighbor Steve who gave me router lessons, so cheers to Nick for trusting me with this and to Steve for being a great mentor with noisy things that could cut off a finger.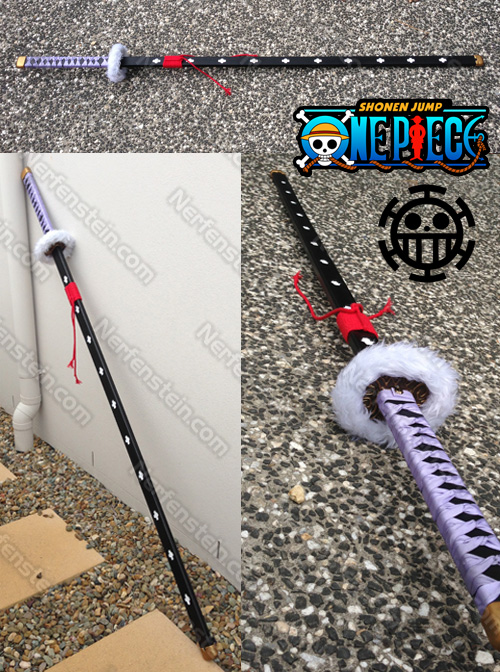 So above you see the finished product, the 6′ long Trafalgar Law nodachi sword from manga series "One Piece". This was a complex build, more so than I had anticipated, but I did try and get this as true to the images I had to go by (see image left of Trafalgar Law with his nodachi).
I actually ended up purchasing a lot of things I never used in the final product due to a mix-up with color matching the wrong thing, lesson learned. It also cost more than I had anticipated… the price of making it look as close to the original as possible I guess. Still I think the final result is pretty cool… and there's a fluffy bit… who doesn't love a fluffy tsuba!
I also added some detail where there was none in the original, like to both sides of the tsuba, just so it looked more like your stereotypical 'samurai sword'. Rather than making something that 'looked' fluffy, I actually made the tsuba surround real fluffy. Likewise with the red cord and the tsukamaki on the grip.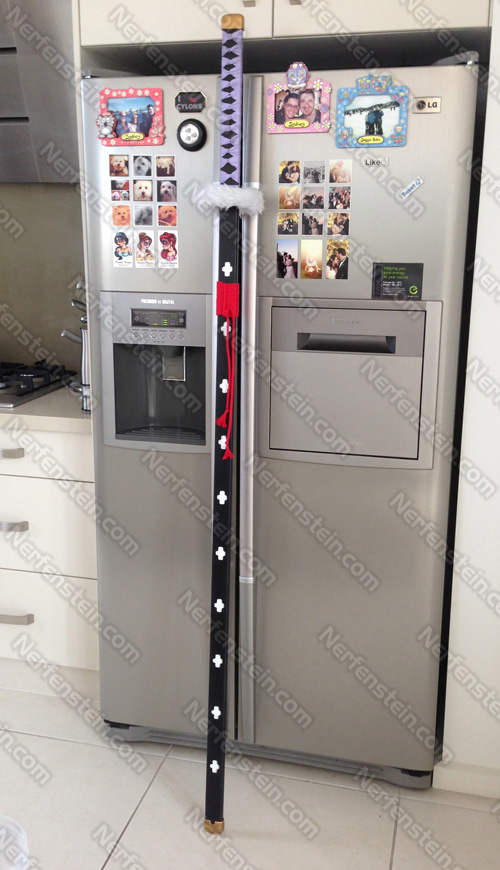 The above image is my fridge yes, but it is there for size context, my fridge is huge.. the Trafalgar Law nodachi prop sword is taller than it… so you can see this isn't some lame regular sized Trafalgar Law nodachi. Finally a WIP pic of the Trafalgar Law sword prop and all of that routing. Also another size context pic for you, that tiny sword top left in the picture below is my full sized practice katana!!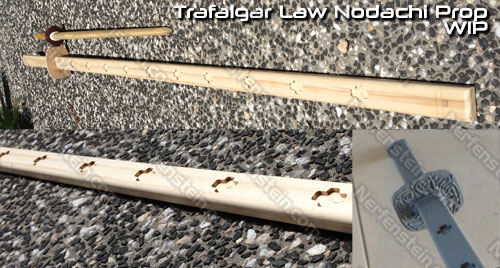 That cross routing was scary lol 
If you want to commission one of these you can and you can personalize the colors to suit yourself. Email me at Nerfenstein@gmail.com if interested.
I hope you've enjoyed this first finished prop build of 2013… there's many more to come.
ADDENDUM:
The finished sword with Nick, such a cool guy and he nailed this Trafalgar Law cosplay! Trafalgar Law character statue inset.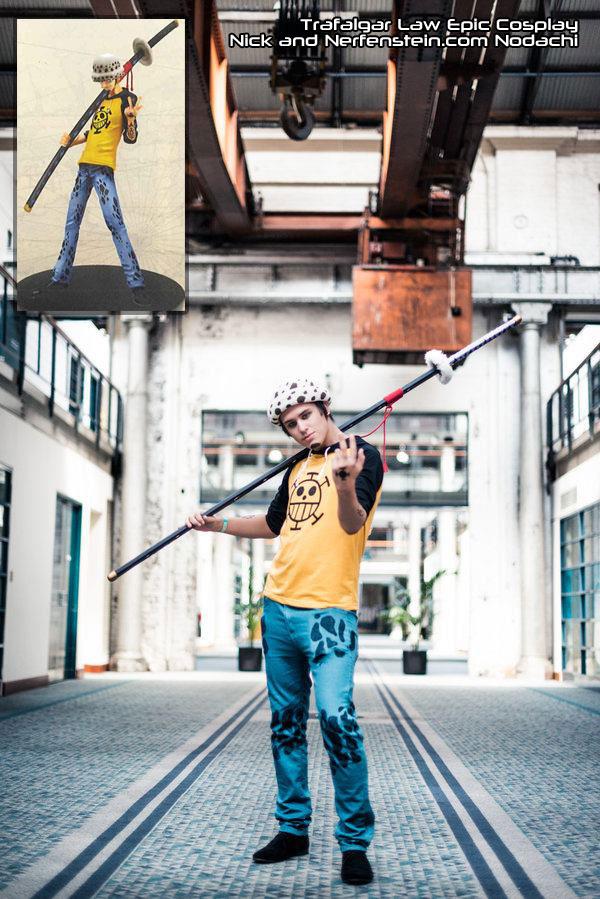 Till next time people… what do we say?! ….
DO GOOD THINGS!
———==oOo==———
Originally written for GirlyGamer.com.au home blog of Nerfenstein / GirlyGamer / BoardGameGran. Catch up with me on my Facebook page, or if you Tweet… there's always Twitter and guess what, I actually reply!