Judge Dredd cosplay props
Time for another foamidable prop gun build, but not just a foamidable, a foamidable blaster prop and a resin badge prop to set things off. I had done a test pull of the Racoon City police badge as I wanted something really detailed to practice on, they turned out fantastic, but I can't really sell them obviously as I didn't make the original. I wanted to rectify this by making my own badge of some description so it was completely made by me. I opted to make one of the Judge Dredd police badges, because I love the design and it wasn't so detailed I couldn't do it all by hand (oh to have a lazer cutter huh). I also wanted to finish my 2012 Judge Dredd gun that was still sitting in my workshop. This is the result of those two projects together.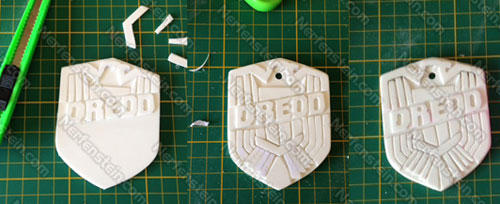 As you can probably tell the badge was quite the nightmare to do, lots of tiny pieces that all had to be cut precisely and sanded before gluing and again afterward. Still given it was all hand done, not too shabby. I put it on a ball chain and it looks pretty cool for cosplay, or on a shelf for display (or you could stick it in a frame with Judge Dredd / 2000AD memorabilia.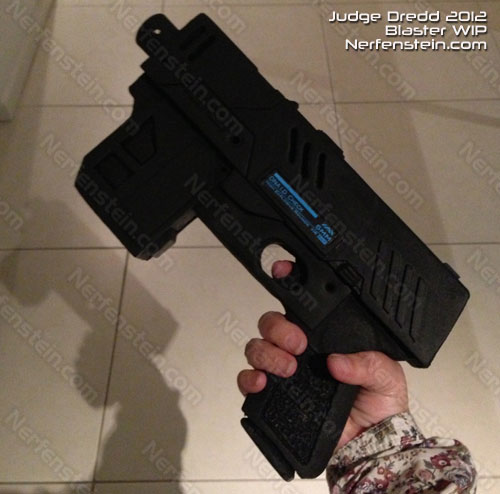 I didn't do too much to this foamidable prop because it is essentially a plain black metal gun, just some edging detail to make the paneling pop a bit and show up things like the sights and trigger detail.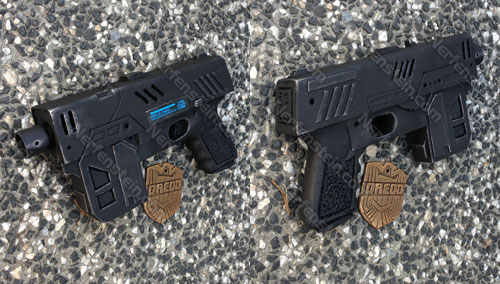 This was a fun build and if you need one, I can do either / both via commission. Hope you've liked it!
Til next time funsters.
Till next time people… what do we say?! ….
DO GOOD THINGS!
———==oOo==———
Originally written for GirlyGamer.com.au home blog of Nerfenstein / GirlyGamer / BoardGameGran. Catch up with me on my Facebook page, or if you Tweet… there's always Twitter and guess what, I actually reply!