Fallout AEP7 Laser Pistol RAOK foamidable prop build – Supanova is over and I had some spare time back… I had one thing on my mind: Random Act of Kindness, yes it's time for a RAOK prop build. I've done a few of these since starting my Facebook page, some I've posted, some have gone down quietly via email. Essentially I make or mod something for another human (I think they've all been human… that's what they tell me), just to be nice and at zero cost to the RAOK receiver. I find this really rewarding and would love to do it more often, but sadly like all of you I've got a mortgage and bills to think about, still, this week at least I'm saying 'meh' to that and have given my materials and hours to a chap named Mr Shaun Booth.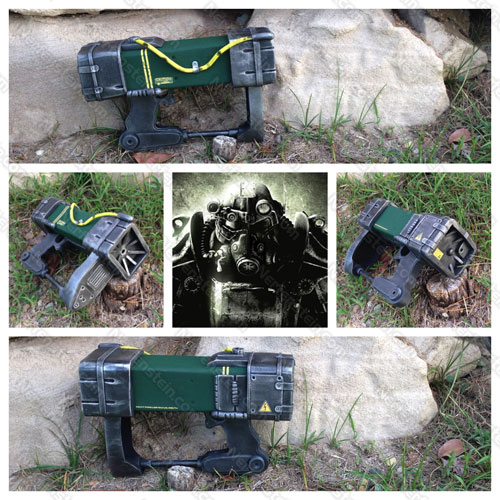 I met Shaun and his wife Cassie via my Nerfenstein Facebook page, they seemed like two awesome people with a bucketload of gorgeous children and how cool is this, Cassie owns and runs a Steampunk shop (Cassandra's Closet in Ipswich) and Shaun owns and runs a Roleplaying shop (Under The Stairs in Ipswich)… Yes, my kind of people. Anyway Shaun kindly dropped one of my guns off at Supanova this past weekend, as it had been in Cassandra's store, I appreciated it. He checked out my Fallout AER9 Laser Rifle and Fallout AEP7 Laser Pistol and mentioned really wanting the pistol for some cosplay he has coming up next year, my *RAOK brain started clicking.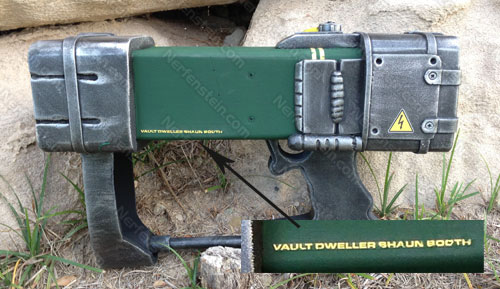 I'm a big believer is 'niceness' and I think Shaun will appreciate all the hours and materials that have gone into this build, I hope it looks cool in his shop and of course in hand next year when he's all kitted up Fallout style. I made this bigger than the previous AEP7 Laser Pistol build I'd done as this is a cosplay foamidable, whereas that previous build was a Nerf based mod rather than full scratch built prop. I also cut in a trigger hole so the user can use it with small hands, or go around the front of the trigger with big hands / gloves, seemed to work really well and doesn't look out of place (I bet you didn't even notice until I pointed it out).
Weathering the AEP7 Laser Pistol.. well I didn't over do it, I mean some of them must be fairly grime free no? I dirtied up the wiring as the bright yellow looked a little garish, if Shaun wants this grimy I'll add it in as I have a few detailing bits to add post this being published. I also personalized it to 'vault dweller shaun booth', just for fun, since it was made specifically for him.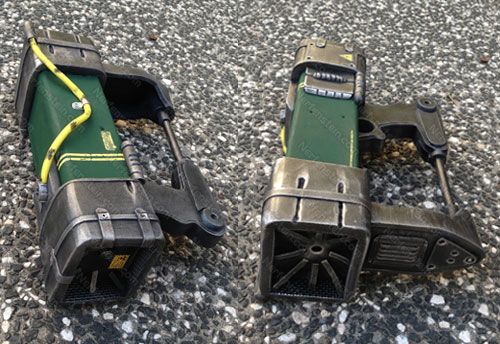 Almost this entire build is foam (thus it fitting into the Nerfenstein Foamidables section). It does have an mdf base and the cross bar too is timber. Needless to say the electrical wire is real, as are the dials and screws, but that's your lot.
I hope Shaun likes this gift, keep being a cool guy matey.
*RAOK – Random Act of Kindness
Till next time funsters!
ADDENDUM:
Help.. so.. I don't like being mean about anyone, but if anyone knows where Shaun and Cassandra Booth are now, let me know. I gave them a couple of thousand dollars in props to sell in their stores via consignment. Warhammer, steampunk and other props I worked hours and hours on. I'd forgotten about it due to all the moves and upheaval recently and when I went to contact them, they'd disappeared.

Needless to say I'm gutted. I'm going to guess I'm never going to see the money again, but I would like to know why. If you know them, please let me know. Thanks.