Yeah so Hunger Games is big right now
This is a bandwagon <- This is me jumping on the bandwagon -> Hunger Games weapon prop build. Yes it's a Hunger Games pistol, not that Katniss Everdeen uses a pistol, she uses a bow, but I didn't have a bow handy, I did however have a Nerf Scout handy… soooo…. Anyway if she'd had a pistol, I guess it would have been a lot shorter story / movie.
I went with a gold metallic theme here, to tie in with the gold Hunger Games mockingjay pin. There's 5 shades of different metallic, 3 for the gold brassy effect and another two for the pewter metal effect. The photo doesn't really show it up great, but I know it's there.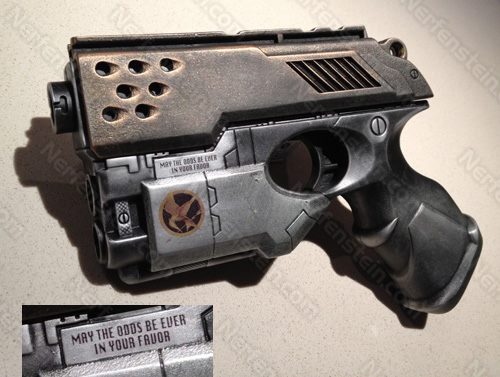 Anyways, there you have it a Nerf Hunger Games mod. Given the feedback I've had, this probably won't be the last.
That's it funsters… go back to your business and have a wonderful day! xx
If you're seeing this post anywhere other than GirlyGamer.com.au, my Facebook page or my other social media outlets, you've been shanked. Yes, some cheeky blighters do like copying and pasting my ENTIRE posts to their sites like I write for them… I don't, so head to my actual site if you want to comment, so I actually get to see your comment and can reply 🙂