Fallout AER9 Laser Rifle scratch build prop mod test non 1:1 scale – The AER9 laser rifle from the Fallout video games is one of the most iconic gaming guns. The overall design of the weapons is – to me – almost perfect in its execution. The AER9 laser rifle looks like something thrown together from scrap, whilst at the same time being so carefully crafted with everything in its place… it's a damn weapon masterpiece.
Anyway I wanted to try and scratch build an AER9, but I only had small pieces of wood so I decided a smaller than 1:1 build would be good for both materials issues and practice purposes. Let the nightmare commence!

When prop builds go bad!
Anything that could go wrong, did go wrong with this build, I even joked on Facebook this was the "AER9 Laser Rifle – AKA The gun from Silent Hill. Nope, not confused, I know the ACTUAL AER9 is from Fallout, but THIS cursed, evil, bedeviled, %$#@&! of a gun MUST be from Silent Hill, because at the start it was going AWESOME, then it was like my radio crackled, a siren blared and everything went to sh__. Anyway, on the upside many lessons were learned that will hopefully make the 1:1 easier / better".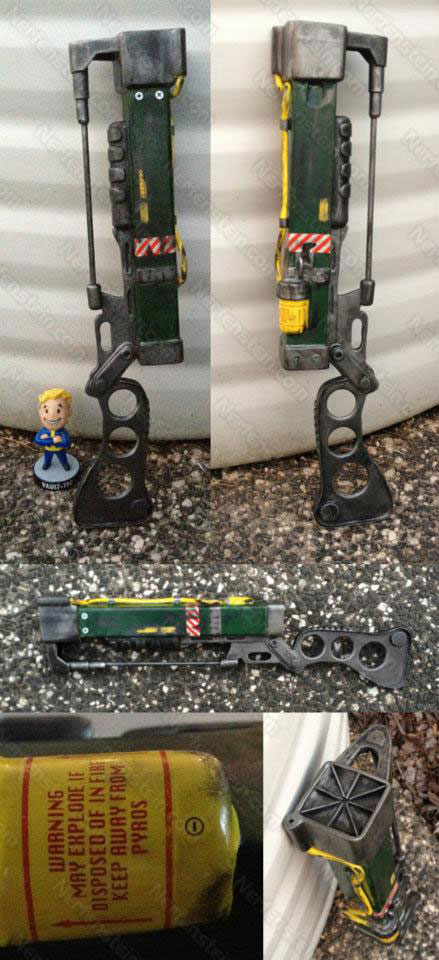 Needless to say this gun is almost all mdf. That includes the different thickness flat sheets and some dowel. It also includes a length of electrical wire, wire connectors, reflecting warning tape, pieces of plastic, part of a hair-roller, screws, some pvc, bondo / bog, spray putty and paint. Phew!
Post written for GirlyGamer.com.au
If you see it elsewhere someone has been cheeky, unless it's on my tumblr or posterous, where it's jetted to via magical means.